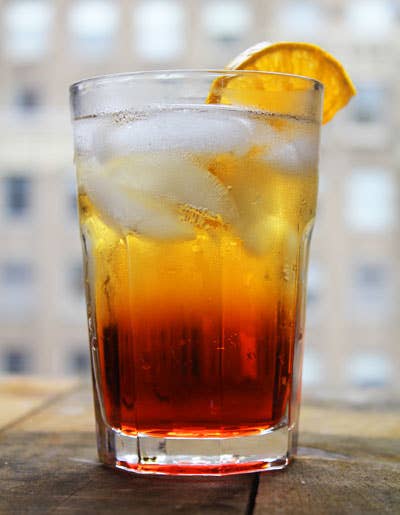 Drinks
Friday Cocktails: The Americano
While I've long been well acquainted with the Negroni, an Italian favorite made with gin, Campari, and sweet vermouth, it wasn't until recently that I met its younger, more summer-friendly cousin, the Americano. Bright red and bittersweet, the Americano was born as the "Milano-Torino" at Caffè Camparino in the 1860s (the Campari came from Milan, the sweet vermouth from Turin). The cocktail eventually became known as the Americano due to its popularity with American expats during prohibition.
I stumbled on the Americano earlier this season; my friends were on a Negroni kick, but the thought of all that viscous liquor seemed like too much for my empty stomach. Reading the look on my face, a lovely bartender suggested the Americano as an alternative, describing it as "like a Negroni, but more delicate."
It's true: with one part Campari to one part sweet vermouth, topped with soda and garnished with an orange slice, it's light enough for a pre-dinner cocktail, but rugged enough for James Bond (he downs one in Casino Royale). The Americano is perfect for late summer afternoon sipping, while you dreamily close your eyes and pretend you're on a terrace in Northern Italy — or at least, anywhere but the sweltering city.