Friday Cocktails: Whiskey Seduction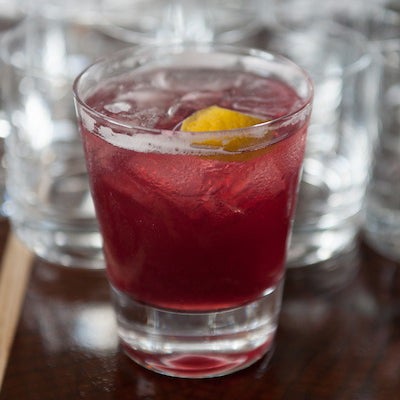 We just celebrated our fourth year together, my husband Andy and I. Our first date was on a cold evening in midwinter, a night where I was introduced not just to the idea of falling in love with Andy, but to a new drink: whiskey on the rocks. I'd avoided whiskey before then, but for some reason that night, the spirit surprised me with its pleasantly smooth taste. As Andy and I became inseparable, whiskey cocktails became a recurring part of our routine, and even now I love to browse through cocktail menus in search of new flavors and presentations for our favorite spirit.
It was with whiskey in mind that I signed up for a virtual cocktail-making class on Four Seasons Hotels' food website, Taste. I transformed my work-desk to a bar-desk, hovering over my computer monitor with earphones plugged in, pouring, stirring, and muddling, keeping up with the professional bartenders who lead the video class. (I can only imagine how I looked to the rest of the SAVEUR staff, furiously mixing drinks in a cubicle with my headphones on.)
All the drinks I made were good, but in the end, one in particular stood out: it's called the Seduction, and it was developed by Cory Cuff, who runs the bar at the Four Seasons Hotel St. Louis. The drink pairs slightly spicy rye whiskey with deep, fruity pinot noir wine, alongside creme de cassis and a squeeze of fresh lemon juice for brightness. My very first attempt came out on the sweet side, but a few tweaks and test-drinks later, I've found my perfect take on Seduction—including a little flair of my own, a maraschino cherry. I can't wait to share it with Andy.