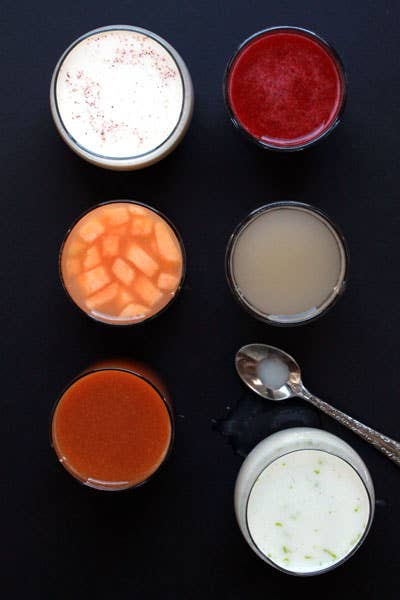 In Mexico, we accompany many of our meals with tasty drinks called aguas frescas, which literally translates to "fresh waters," made with all sorts of ingredients like fruits, seeds, nuts and grains. Horchatas, also called aquas de horchata are one of the most popular kinds of agua fresca. The original horchata was brought by Spanish colonists to Mexico from Valencia, Spain, where they make a drink by the same name with tiger nuts that have been soaked and blended with water and sweetened with sugar.
You won't find tiger nuts in Mexico, but you will find horchatas made from many different ingredients, the most common being made from rice and canela, Mexican cinnamon. Some are more watery, while others are creamier from being mixed with milk. Some are made with toasted rice, while others are made with soaked rice, and some are combined with other nuts, grains, or fresh fruits. These mixtures differ from region to region, and each household has their own favorite way to prepare horchatas. Whichever way you make it, a horchata is refreshing and thirst-quenching on a hot day, and is perfect for balancing out spicy and full-flavored Mexican cuisine.
I can never decide which is my favorite way to make horchata— I love them all! These six recipes cover each of my favorite variations: a thick and creamy dessert-like version, a barely-sweet and incomparably refreshing cantaloupe seed drink, a velvety smooth apricot and rice elixir, and more. Some of my recipes are traditional, while some are my own take on the theme. I always try to use fruits that are in season — the riper the fruit, the less sugar you'll need, so adjust each batch to taste.