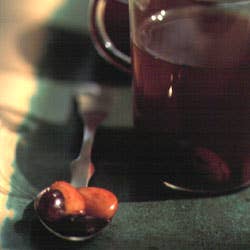 This lighter, but still deceptively powerful version of the traditional Swedish mulled wine and spirits stimulates the vocal cords, so be sure to serve it in close proximity to a piano.
**3 qt. tawny port wine
1 1⁄2 cups brandy
1 1⁄2 cups rye whiskey
1 cup whole, blanched almonds
1 cup seedless raisins, rinsed
4 1" pieces dried orange peel
4 large cinnamon sticks
10 whole cardamom pods, lightly crushed in mortar
10 whole cloves
**
1. Combine wine, brandy, and whiskey in a 6-qt. nonreactive stockpot. Add almonds, raisins, and orange peel. Tie cinnamon, cardamom, and cloves together in cheesecloth, add to pot, cover, and cook over medium heat. (Be careful not to boil it, and don't remove the lid.) When glogg reaches a simmer, reduce heat to low and steep for at least 30 minutes.
2. For those who dare to ignite the glogg, turn off heat and tell everyone to stand back. Hold lid against stockpot rim as a shield and carefully hold a lighted kitchen match near the rim until the fumes ignite. Let fumes burn for a few seconds, then cover pot to smother them.
3. Discard cheesecloth, ladle glogg into teacups, and serve with spoons so guests can eat the deliciously saturated raisins and almonds.