Tasting Notes: Craft American Vodkas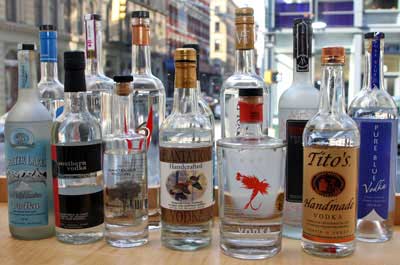 It ended 78 years ago, but Prohibition impeded America's artisanal distilling tradition for a long time. Prior to the establishment of the Eighteenth Amendment in 1919, when the making and selling of alcohol became illegal in this country, there were an estimated 1,200 distilleries in New York State alone. Today, thanks to changing laws, the influence of local food movements, and other factors, craft distilling is finally back, and it's going like gangbusters. Some of what's happening is a return to traditional American whiskey production. But whiskey takes years to age. What's a distiller to do while the whiskey sits in barrels? One answer is to make vodka. Saveur.com recently did a tasting of the distilled, filtered spirits. We were joined by Alexis Kahn, Director of Beverage Services, at the French Culinary Institute in New York City and Ethan Kelley, founder of drinkstraight.com, to sample an impressive lineup of American craft vodkas, some made from the 'usual' suspects—grain, rye, and potato—and others produced using innovative, local ingredients like grapes and maple sap. Here, some of our favorites.
•13th Colony Distillery, a two-year-old company in Americus, Georgia, produces Plantation Vodka, a clean, classic spirit that does well in savory drinks like martinis and Gibsons.
•13th Colony also makes Southern Vodka, a smooth, grain-based vodka with a slight hint of sugar and enough heat to stand up to ice. Try it in a citrusy cocktail, like a screwdriver or a greyhound.
•From the heart of bourbon country comes Pure Blue Vodka, made by Lexington, Kentucky's Barrel House Distilling. A well-balanced, Russian-style grain vodka with a pleasingly sweet finish, it's wonderful chilled and paired with caviar, pickled vegetables, or smoked trout.
•Grand Traverse's True North Vodka gets its chutneylike aroma and spicy flavor from rye. It makes for an interesting martini, and it's a perfect candidate for a masala mary, a South Asian twist on the bloody mary.
•Smooth, rye-based V6 Vodka by Florida's fourth-generation Empire Winery & Distillery is assertive yet balanced, with a marked acidity and spice, as well as a slightly sweet finish. It works well in sweeter drinks.
•"Vodka should be like this," Alexis Kahn, Director of Beverage Services at the French Culinary Institute, said as she sampled the corn-based Tito's Vodka, from Austin, Texas' Mockingbird Distillery. A neutral flavor, a slight burn, and a hint of sweetness make it a classic mixer for soda or tonic.
•Oak-aged Crater Lake Vodka made by Oregon's Bend Distillery is big and round with hints of vanilla. It pairs well with grapefruit.
•With a silky mouthfeel, a slight sweetness, and a smooth kick on the finish, Cascade Peak Spirit's Organic Nation Vodka goes nicely with herbaceous and citrus flavors.
•Maryland's maverick Dogfish Head Brewery might brew some unusual beers, but their Blue Hen Vodka, distilled in tiny batches, is neutral in flavor and true to classic form—the better to infuse it, as they do at Dogfish Head's Rehoboth Beach Brewpub, with a variety of fruits and spices.
•Vintner's Vodka, made from a blend of local grapes by Finger Lakes Distilling in upstate New York, has a depth of flavor with a hints of fruit, floral and grapes. The smooth spirit works well with all sorts of fruity and floral mixers.
•Maple Sap is the basis for Vermont Spirits' Vermont Gold Vodka, a spirit with a creamy, buttery finish just right for mixing into a White Russian, or any other cold-weather drink made with coffee, espresso, cream, or cake spices. As Kahn says, "It's an autumn vodka."
•Situated amid North Shore potato farms, Long Island Spirits, in Baiting Hallow, New York, makes the versatile, potato-based LiV Vodka. "Light on its feet," according to Kahn, and grassy with a touch sweetness.
•Spokane, Washington's, Dry Fly Distilling produces a very mild round vodka with notes of melon. It would be best mixed with fruity mixers, such as orange juice.