The Alchemy of the Solera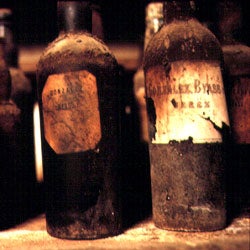 The secret of sherry—one of the things that makes it unique in the world of wine—is the solera system by which it is made. Devised some 270 years ago, this is a means of maintaining a uniform level of quality through graduated fractional blending. Sherry houses keep barrels of wine stacked in rows in their cool, dark bodegas, with the oldest blends at the bottom (solera is a corruption of suelo, Spanish for floor). When a certain portion of sherry is removed from the oldest barrels (usually about 20 percent of their content at a time), it is replaced immediately with sherry from the barrels on the next level up—and so on to the top, where the youngest wine resides. The new wine quickly assumes the character of the older one to which it is added.
Unless a sherry has been kept separately, away from the solera system—like the single-vintage añadas of Gonzalez Byass—it is impossible to state the age of any particular sip of sherry. But some soleras were started at least a century ago. And if, say, 20 percent of the existing stocks of sherry are released by a company every year—pretty much the industry average—that means that the sherry in each bottle necessarily averages a minimum of five years in the casks. Rare sherries are much older: The average age of Valdespino's old amontillado, Coliseo, for example, is about a century.