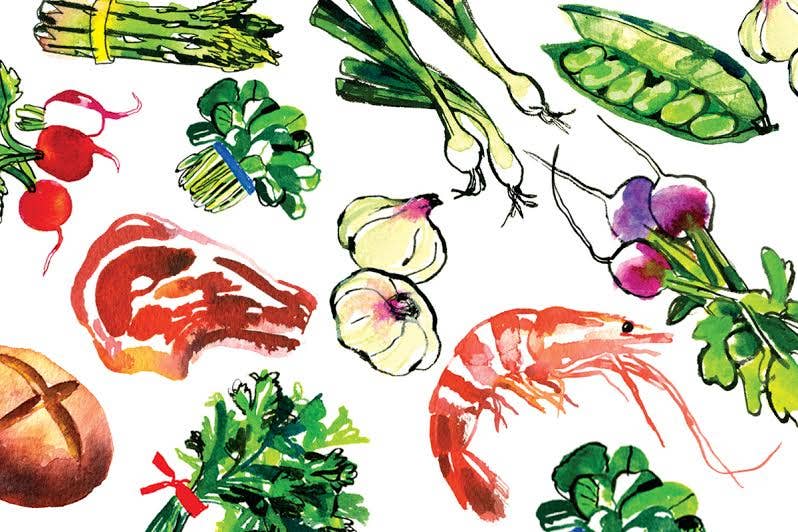 I'm sitting at a white-cloaked table in the foyer of La Maison Rose, a handsome old pink villa in the lakeside Swiss wine village of Cully, five or six miles east of Lausanne. The front door is open, and a soft autumn breeze wafts in. I can see sunlight skittering off the inky blue frosted-glass surface of Lake Geneva (which the Swiss call Lac Leman), across the road, and, in the distance, emerging from the late-morning haze, the terraced slopes of Dezaley—efflorescences of dense green vines alternating with steep, sinuous gray stone walls—ascending gently from the curving coastline.
La Maison Rose is the headquarters of the Louis Bovard winery, among the best producers in the canton of Vaud, one of Switzerland's nine major wine regions—and on the table in front of me are six examples of the produce of those terraced slopes along the lake: six vintages of Bovard's extraordinary Medinette dezaley.
Through my travels in Switzerland over the past two decades, I've discovered a fact that I suspect remains unknown to much of the world: This insular, mountainous nation produces some of the best and most interesting wines in Europe. And I've come to love these wines in all their unexpected variety—the luminous gamays of Geneva; the austere, well-made whites of Neuchatel and Fribourg; the light but flavorful pinot noirs of the Zurich region; the rich Italianate merlots of Ticino; and, most of all, the wines of the Vaud and its neighbor the Valais—especially the fresh, bright, sometimes downright glorious whites based on the grape called chasselas.
Switzerland grows about 90 percent of the chasselas in the world (the balance is grown mostly in Germany and Alsace), and the grape accounts for roughly 60 percent of the country's total wine production. Chasselas is particularly prevalent in western Switzerland, and nowhere is it more important than in the Vaud. "Here, we are in the heart of chasselas," says Louis-Philippe Bovard, an amiable, courtly, white-haired gentleman who serves as managing director and enologist for his family's winery in Cully. It is easy to see the basis for his claim: La Maison Rose sits in the middle of the region of Lavaux, which runs along the northern shore of Lake Geneva between Lausanne and Montreux. There, it is said, chasselas ripens with the benefit of three suns: the one burning above in the sky, the one reflecting off the lake, and the one radiating from the stone walls winding through its vineyards. The result is that the grape develops perfectly, yielding wines that are always deliciously fragrant, subtly flavorful, and wonderfully mouth-filling.
Legend has it that chasselas comes from Egypt (this is disputed), and it may have been grown around Lake Geneva as early as the 12th century. "What is interesting here," Bovard explains, "is that the grape is dramatically marked by the smallest differences in soil and climate, so that contiguous villages give us wines that are very different from one another." All the wines of Lavaux can be very good, but almost everybody agrees that those of Dezaley are best—and I have lingered long, at many a Swiss table, over a bottle, and sometimes another bottle, of Medinette dezaley, in the belief that Bovard's just may be the best of all.
Tasting six vintages of the wine in a row confirms my suspicion. The 1995 all but fills the foyer with its greenish, herbaceous aroma, leading to a faintly smoky, faintly lemony flavor. (_Vintners in both the Vaud and the Valais consider 1995 to be one of the best vintages of the century; all wines mentioned in the following pages are '95s unless otherwise specified.) _The '94 has developed a complex bouquet and the citrus character is almost gone; the wine feels perfectly in balance and the finish is long and attractive. The smoky character has intensified in the '92, and the wine is almost meaty in structure, with the beginnings of an attractively bitter mineral flavor. The '90, my favorite of the lot, has a different nose altogether, complex and elusive, and is very well developed in the mouth, with a lovely exotic-fruit intensity that reminds me of condrieu—the great, eccentric viognier-based white of France's northern Rhone. (Bovard says that recent studies suggest a chromosomal relation between viognier and chasselas.) In the '88, the predominant note in the bouquet is one of honey; the wine is delightful, though considerably less complex than the '90. The '86 has a faint iodine smell, which seems off-putting at first, but is unexpectedly rich and flavorful in the mouth, and still very lively.
I don't know when I have genuinely enjoyed a tasting of consecutive vintages this much. These are not wines that presume upon their pedigree—asking you to consider their sharp-edged feebleness as a sign of breeding, or to forgive their overbearing oak as an excess of youth. They are modest and sensible (as we expect the Swiss to be), but also surprisingly opulent and luxuriant, and immensely satisfying. They are surely some of the finest "unknown" wines in the world.
The Rhone, the fabled river of Burgundy and Provence—which courses for hundreds of miles through the very heart of France before debouching into the marshes of the Camargue and the Mediterranean—starts life as a torrent of melting glacier water near the town of Gletsch, below Switzerland's Furka Pass. From there, it rushes down past Brig, widening into the vast Alpine valley of the Valais, then composing itself into a straight-sided canal leading up into Lake Geneva. It is said that the Rhone flows into the lake with such force—by the time it gets there, it has dropped nearly 6,000 feet from its mountain origins—that it literally pushes through that large body of water intact, retaining its fluvial integrity until it flows out of the lake again at Geneva.
The Romans probably introduced winemaking to Switzerland around the first century b.c. Today, there are vines all over the country—almost everywhere but in its mountainous core and its far eastern reaches—but the vast majority of Swiss wine production is found along the Rhone, westward from Visp, and on the shores of Lake Geneva. These regions yield around 75 percent of Switzerland's annual production of about thirteen million cases, placing it twenty-first among the world's winegrowing nations.
The Swiss also boast the world's sixth highest per capita wine consumption, but are able to produce only about half of what they drink. This means, first of all, that Switzerland is an excellent market for wines from other countries and, second, that, apart from a few wines exported mostly for reasons of prestige over the years, the Swiss have never seen much point in selling their bottlings abroad. Until now. In 2001, Swiss borders will open to free trade—which means, among other things, that the local wine market will become more competitive. Thus, Swiss vintners are looking seriously at foreign markets—especially the U.S.—for the first time. "We have great hopes for the American market," says Claude Becker, director of Robert Gilliard, a top Valais winery in Sion. "In Europe, before you try something new, you must watch others do it. In America, the open mind is typical. If you see something new, you try it, and if it's good, you keep it." Perhaps with this in mind, a Swiss Wine Information Council has been staging monthlong promotions in New York since 1995 (with Florida added this year)—bringing Swiss chefs and winemakers to town and helping to place Swiss vintages on wine lists at top restaurants.
The problem is one of price. Vineyards tend to be small and difficult to work; agricultural workers are highly paid, and grape yields are strictly limited by law. (Last fall, I saw vineyards littered with whole bunches of grapes, cut from the vines to be discarded.) As a result, by the time they get to the U.S., the best Swiss wines are apt to cost $20 or more per bottle. (And Medinette dezaley goes for around $30.) Considering that the names of Swiss wine regions and producers are almost unknown in America, and that many of the most interesting grape varieties are all but unique to Switzerland, it becomes apparent why Swiss wine is a hard sell.
Next door to Cully, in the hamlet of Treytorrens, is the wine firm of Jean & Pierre Testuz—where I was welcomed by Myriam Broggi, the winery's maitre conseil en vins (master wine consultant). Broggi is a sommelier by profession (she was named third best sommelier in Europe in 1994 and is president of the Swiss Sommelier Association), and she approaches tasting as an educational experience. She has maps. She has charts. She has soil samples and big chunks of limestone and chalk, which she hefts, lifts to her nose, and sniffs. "The aroma of chasselas itself is that of the linden tree," she says. "But it takes on the aroma of the soil in which it is grown. If you smell the soil, you will smell the wine."
She pours a Le Roitelet fechy from La Cote. "When chasselas is grown in light, sandy soil like this one," she explains, "it produces very light wine, fragrant, to drink young." The fechy is fresh, sharp, faintly sparkling, and refreshing. Of the Coup de l'Étrier epesses, she says "Clay soil. You can taste it." (I taste dripping-ripe grapes and a faintly tinny but not at all unpleasant backbite.) The Roche Ronde st-saphorin is wonderfully dry and crisp, with a hint of that gasoline character that sometimes informs good German rieslings. "The mineral character," Broggi assures me, "is limestone." She picks up a hunk of limestone, rubs it on her hand, presses her hand to her face, and inhales deeply. Meanwhile, I am cheating a bit, moving ahead to a 1992 L'Arbalete dezaley, which has a good, clean, direct flavor, but seems simpler and lighter than I had expected. "It will develop more," Broggi assures me. "You should taste it again in four or five years." "Save me a bottle," I reply.
The Valais is a long, wide, verdant valley in the heart of the Alps, naturally dry despite the presence of the Rhone, sunny and fogless, with summer temperatures as high as 90 to 95 degrees and more hours of daylight during the growing season than Provence. Only precipitous plunges into icy winter cold remind the local flora that they're in western Switzerland. Sitting at a picnic table with winemaker Jean-Bernard Rouvinez on a small, grassy plateau behind his winery on the Colline de Geronde, overlooking Sierre, it is easy to imagine that we are perched on a sunny hillside in north-central Italy. Looking out across the valley, I see waves of green—vineyards in full flush; tidy, luminescent orchards—transected by the winding broad blue band of the Rhone. From the bottom of the hill come the sounds of a workers' party: A band—guitars and accordions—plays dance tunes while a tenor croons in syrupy Italian; cascades of laughter tumble through the warm breeze.
The wines, though, are purely Swiss. In the Valais, chasselas goes by the name fendant. "It is a relative newcomer here," Rouvinez tells me, "brought from the Vaud in some quantity only earlier this century to replace an old, acidic, traditional variety called reze." Reze has virtually died out, but there is renewed interest in other ancient varieties, known here as les specialites. These include amigne (of which there are said to be only 20 hectares—about 50 acres—in the world, all in the Valais), petite arvine, humagne rouge, and cornalin; all are believed to be Roman in origin. Amigne produces white wines of some delicacy, often sweet. Petite arvine gives fragrant, full-bodied, faintly spicy whites. Humagne rouge and cornalin can yield rich, plummy, concentrated wines reminiscent of the reds of the central French Rhone Valley. It may well be wines like these, unparalleled anywhere in the world, that gain Switzerland international attention for its vintages.
Rouvinez's tart, attractively citrusy Chateau Lichten petite arvine is a good example of what a specialite can be. Also notable are his fendant; his malvoisie vendange fletrie (a pinot gris-based dessert wine with beeswax and honey in the nose and an intense flavor of apricots); and his charming, accessible, fresh young '95 reds—especially a stalky, cherry-bright gamay and an immediately engaging dole (the Valais's most famous red, made from pinot noir, often—as here—blended with gamay).
Rouvinez's hillside is a gentle incline compared with the three-hectare all-chasselas Domaine de la Cotzette owned by the Gilliard winery in Sion. The only entrance to the vineyard is through a gated tunnel in the hillside. Winery director Claude Becker leads me through the darkness to emerge onto a precipitous shale-covered slope that would give a mountain goat pause. The vines are planted on narrow ledges framed by high stone walls built without mortar. I think of Myriam Broggi, and wonder if the wine produced here will taste like shale.
Later, sampling the wine on flat ground, I discover that it doesn't particularly—but it is a crisp, well-made, mildly flavorful chasselas of the kind that I could drink all afternoon. Even better are Gilliard's luscious Les Murettes fendant, softly seductive Pierre Ollaire petite arvine (Pierre Ollaire is not a man's name, but the local name for the old-fashioned tile stove once found in every Valais vineyard hut), and Reserve des Choucas ermitage de sion (made from marsanne, the important French white Rhone variety).
Gilles Besse-Germanier, winemaker (and founder's great-grandson) at the Bon Pere Germanier-Balavaud winery, in Vetroz, is a former saxophonist who might rather be living in Geneva than here in vineyard country. There is no question about his dedication to his craft, however: I thought his 1995 Les Terrasses fendant was pretty nearly a flawless wine, generously fragrant, both opulently grapey and elusively citrusy on the palate, teasingly petillant, harmonious, elegant, clean. And his reds were dazzling: a dole that was one of the best I encountered anywhere, spicy, vivacious, and redolent of summer berries; a rich, firm, elegant syrah; and an amazing humagne rouge, dark, tannic, and concentrated, with hints of licorice and dried cherries—a wine so good, and so (French northern) Rhone-like, that if it were imported into California, it would probably start a vintners' craze.
I think a lot of Swiss wines would excite American oenophiles, if they were given a chance. The Swiss have seen it happen. "When we first started pouring Swiss wines at wine fairs around the world," Claude Becker tells me, "people laughed and passed us by. The next two or three times, they'd pass by with just a smile." He offers a pleased smile of his own. "Now," he says, "they come with their glasses held out."