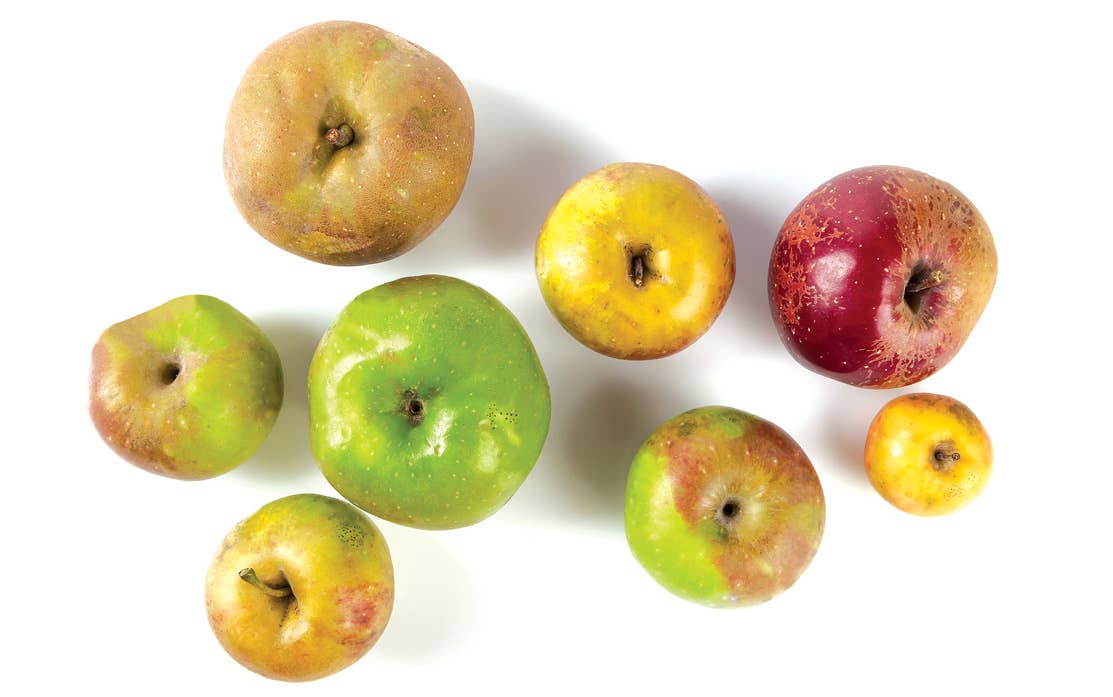 Drinks
Hard Cider: An Apple a Day
Diverse, dry, and delicious, American hard cider is making a comeback
Last fall I paid a visit to Wilklow Orchards in upstate New York. I was looking for apples but not the kind you put in pies. I pulled up to a warehouse on a winding road. Inside, plastic tanks held the autumn's first harvest in potent liquid form—fizzy, fermenting hard cider. One of approximately 170 cideries in the United States, Wilklow is part of an American cider renaissance that has led to an efflorescence of flavors and styles. When I heard about this turn toward cider—some of it involving my favorite beer brewers—I knew it was time to learn more.
Greeting me at the farm was Albert Wilklow, who grew up working on his family's apple orchard. The tall, stocky 30-year-old formed Bad Seed Cider with a friend a few years ago, pressing a portion of his family's harvest into sweet juice to which he added yeast, converting its sugars to alcohol to make hard cider.
Wilklow pried off the cap of a bottle and poured me a glass. It smelled like wet slate and hay. I took a sip. It was bone-dry with gripping tannins, nothing like the candy-sweet ciders I'd tried over the years. It tasted as if it were from another era. As I drove back to New York City with a few bottles clinking in the backseat, I thought about how ordinary a cider like this must have seemed a few centuries ago.
Until the 20th century Americans were heavy hard cider drinkers. Colonists brought a taste for the drink from England, where it was wildly popular. Safer than water and cheaper to produce than beer, it traveled west with the frontier. Settlers planted apple trees and routinely put up a barrel or two of cider to consume through the winter.
That all changed with the tempeance movement. Hard cider generally requires apples high in tannins and acids, which are often inedibly bitter. While these apples form the building blocks of rich, complex ciders, they aren't good for much else. When Prohibition went into effect, cider apple trees (many of them the legacy of John Chapman, aka Johnny Appleseed) were felled to make way for sweeter fruit more suitable for eating out of hand or cooking. After Prohibition was repealed, beer and spirits eventually recovered, but cider did not; the apples were gone.
When hard cider did start reappearing on supermarket shelves in the 1970s and '80s, it was a pale imitation of what it once was, made from apple concentrate or pasteurized juice in lieu of real cider apples. This allowed big manufacturers to make a consistent product year-round instead of only in the fall when apples are harvested. But the resulting ciders lacked the complexity of those once made from whole fruit, and tended to be very sweet.
It wasn't until the late 1990s that a growing number of enthusiasts started reviving old styles, looking to the past for inspiration, as well as to Europe, where cider making remains firmly rooted in tradition. Before long, new cideries started popping up in parts of the country where pockets of cider apples remained—mostly on small orchards in New England and the Great Lakes states. Today, these places are home to a burgeoning American hard cider movement.
On a recent visit to southwest Michigan's Allegan County, I made my way through hills thick with apple trees to Virtue Cider, where I met founder Greg Hall in an open-sided barn filled with stainless-steel tanks. A bearded and tattooed 48-year-old, Hall was the brewmaster at Goose Island Beer Company, which helped lead the revolution in American craft brewing. In 2011, when Goose Island was purchased by Anheuser-Busch, Hall left to start Virtue, helping to launch a similar revolution with cider. "When we first started brewing, people felt like you could only make one style of beer. That's not the case now; brewers take chances," Hall says. "The same thing is happening in cider."
Rather than work with champagne yeast, favored by cider makers for its minimal impact on apples' taste, Hall tested 30 yeasts from his beer-brewing days with 20 different apple varieties looking for combinations yielding specific flavors, then blended the results. Today Virtue's blended ciders have layers that unfold like fine wines.
Hall is just one of a new generation of cider makers exploring the range of the drink. There are ciders infused with bitter hops; bacony ciders made from smoked apples; boozy ciders aged in whiskey barrels; ciders flavored with orange peel, cardamom, and pumpkin.
But with all of this experimentation, it's the traditional ciders that surprise me most. Some have sweet fruit on the nose and a dry finish. Others boast an herbaceous aroma. Some ciders, carbonated after the initial fermentation, or refermented in the bottle with new yeasts, are sparkling; others are still. Some are filtered, appearing crystalline; others are cloudy. Some are better cold, others at room temperature. And many are superb with food.
Not far from Virtue, in St. John's, Michigan, Mike Beck, a fifth-generation apple farmer, makes Uncle John's Cider. His sole ingredients are apples, champagne yeast, and time. "I want to capture the inherent characteristics of the fermented fruit," he says. Beck's ciders range from bright and bubbly to a dusky rose one made from red-fleshed fruits that has an almost charcuterie-like savoriness. All are delightful. And the credit goes to the apples, Beck says. "Put good things in the tank, and good things should happen."