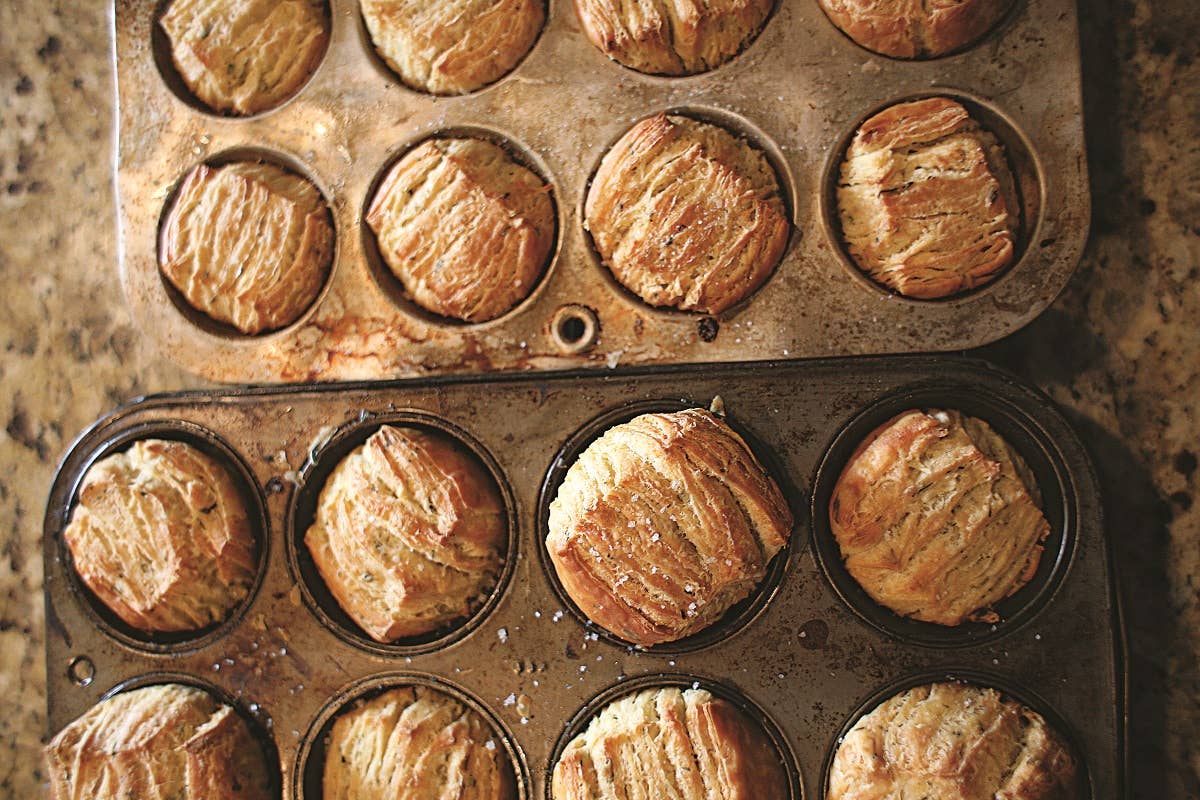 Culture
All is Calm, All is Bright
Along the New Jersey waterfront, a small family gathers for a big holiday feast
It's a mild Sunday afternoon in late December and I'm driving my car southbound on the Garden State Parkway to my home in Cape May, New Jersey. Christmas is two days away, and as an old Bing Crosby carol comes on the radio, my mind shifts into Dickensian mode, delivering me back to Christmas Past.
Suddenly there I am, a long-haired teenager in the 1960s, pilfering sips of homemade red wine from the grown-ups in the crowded confines of my grandparents' row house in the Overbrook section of Philadelphia. It's Christmas Eve, and my grandfather, Michael DiRenzo, a tailor by trade, is dressed to the nines, while my grandmother, Nancy, labors in the musty basement kitchen (there's a nicer kitchen upstairs, but she enjoys the privacy). She's soaking salt cod in milk in an enormous utility sink, and my mouth waters knowing how good it will taste later, mixed with tomatoes and capers for a traditional baccalà alla Vesuviana.
Like many families in the neighborhood, mine is Italian-American—proudly so. Dozens of us squeeze around the dining room table to enjoy the Feast of the Seven Fishes, one seafood platter after the other passed around as my grandfather sloshes wine into glasses. On years when the crowd is too big—with aunts, uncles, cousins, neighbors, the occasional widower or widow facing his or her first Christmas alone—my brothers, Andy and Steve, and I, along with cousins of varying ages and personalities, are relegated to the adjacent living room where we take our meals on fold-up TV trays.
As I got older, those festive gatherings gradually ended. By the time I reached my 20s, I was a chef, spending my Christmases among line cooks and strangers at Manhattan restaurants like the Four Seasons, Tavern on the Green, and Windows on the World. It was only when I started a family of my own and traded in my knife bag for a microphone and plum jobs hosting a TV and radio show that I once again found myself home for the holidays. But by then, times had changed.
As the parkway takes me through New Jersey's lonely Pine Barrens, the gray sky hangs low and I mourn the loss of my extended family; my grandparents, my parents, even my brother Andy, all of them are gone. I think about how infrequently I get to see my own small family, too. I spend my weekdays in an apartment in New York City, a sacrifice I make for my jobs. Meanwhile, my wife Heijung and my two boys, Sean, 24, and Gianni, 21, live almost three hours away in Cape May. With just the four of us, Christmas is far more modest than it was back in Philly. Still, family is at its heart. It's dusk when I arrive in Cape May, but before heading home I stop at the Lobster House, a rambling restaurant and fish market along the harbor that's been in the same family since the 1920s. My reasons for coming here are twofold. I need to pick up some smoked whiting and fresh scallops for the chowder that will kick off Christmas dinner. But I've also come to visit Gianni, who works the counter. I'll see him at home later tonight, but what can I say, I miss the guy.
After a rough hug over the counter, I head back to the car, a plastic bag of seafood in hand, and drive through suburban streets toward the house. Every weekend I return here, I am reminded of the charms of my adopted hometown. Cape May, founded 400 years ago as a whaling village, is full of Victorian-era houses, and during the holidays, it really dresses up: Elaborate wreaths are tacked on front doors, and lights are strung over just about every shrub and tree limb. As soon as I get home, I take off my shoes and Heijung opens a bottle of wine. We catch up on the past week, and I exhale.
Two days later, on Christmas Eve, it's a pretty laid-back affair. My only task is preparing the one dish I always make ahead of time—the fish and scallop chowder. It's a variation of Scottish cullen skink that I started making in the '80s when Heijung and I owned a restaurant called The Globe here in Cape May. The chowder is built on a smoked whiting-infused milk base and finished with diced scallops, carrots, celery, and potatoes.
As a nod to my Italian grandparents' Seven Fishes tradition, that night Sean, Gianni, and I fry up some squid, scallops, and clams, and then, in keeping with our own custom, hunker down in front of the television to eat. I'd like to say we're watching some holiday classic like It's a Wonderful Life, but I'd be lying. We're watching Jaws.
On Christmas morning I sleep in until 8:30, then go for a long run on the beach. The weather is warm for December, and I relish being alone along the water; just two days here and the hurried crowds and tight schedules of my life in Manhattan slip away, my small-town surroundings serving as an instant decompression chamber. When I get home, I pour some coffee and watch the boys open a few gifts around the tree before heading into the kitchen with Heijung to cook.
Heijung grew up in South Korea and came to the U.S. in the 1970s to study printmaking. We met in '81 while both attending the Culinary Institute of America. After graduation, we worked together at The Maurice, a French restaurant in Manhattan, where she spent nearly a decade as the pastry chef. This is why I cede all baking to her.
It's meditative watching Heijung measure and mix her ingredients, and I zone out for a bit before realizing it's time I got to work too. I brown slabs of bacon, then add garlic, onions, and the crisp South Jersey cabbage Heijung picked up at the farmers' market. Once the cabbage is wilted, I cover it and let it simmer for an hour until it's smoky and tender.
Next up is a quick sauté of mushrooms, fried with butter and shallots, and a potato gratin recipe I learned from the great French chef Alain Senderens at The Maurice. After a sprinkling of cheese and an hour in the oven, it emerges bubbling and bronzed. Now it's time to start cooking the main course, a boneless prime rib that I season with salt and pepper, sear in a cast-iron pan, then pop into the oven.
At four o'clock, we dim the dining room chandelier, light some candles, and dig in. Everything is so casual, the boys and me dressed in flannel shirts, but it's all I could ever ask for, and it's over way too soon. After wolfing down their pineapple upside-down cake, Sean and Gianni are out the door to visit friends in town for the holidays, at a neighborhood bar. Once the dishes are done, Heijung and I take a walk, enjoying the lights and the cool night air. Back home we collapse on the sofa with a plate of cookies and turn on a football game. I think for a moment of those big raucous Christmases past and hope that one day my boys will look back on our little Christmas and realize how good we had it.