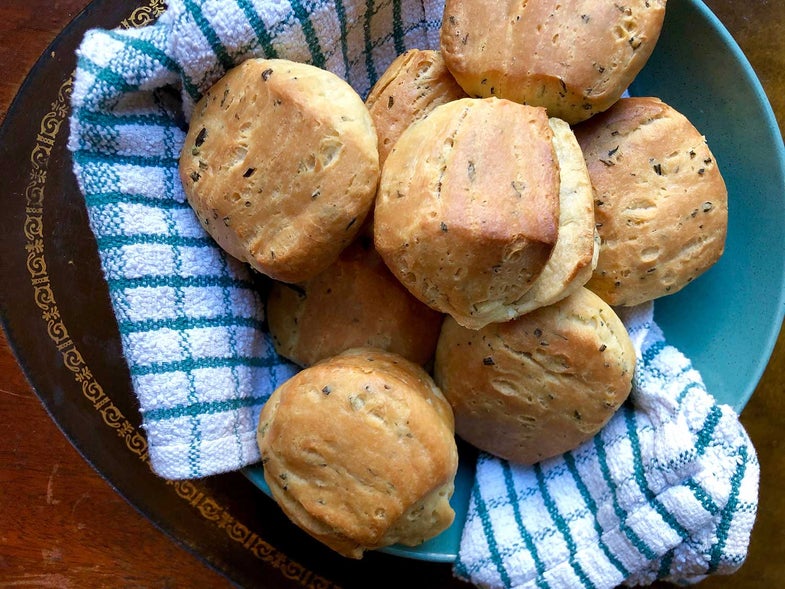 The accordion-style layers in these herb-laced buttery rolls are achieved by repeatedly folding and rolling the dough. This recipe first appeared in our December 2013 issue along with Mike Colameco's article All is Calm, All is Bright. See our step-by-step tips on forming the rolls »
Herbed Butterflake Rolls
The accordion-style layers in these herb-laced buttery rolls are achieved by repeatedly folding and rolling the dough.
Ingredients
2 tbsp. sugar
2 tsp. active dry yeast
13 tbsp. soft, unsalted butter, divided
2 tbsp. dry milk powder
1 tbsp. plus 1 1/2 tsp. vegetable shortening
2 tsp. kosher salt
2 tbsp. finely chopped rosemary
1 tbsp. finely chopped basil
1 tbsp. finely chopped parsley
2 cups plus 2 Tbsp. (10 oz.) bread flour, plus more for dusting
Olive oil, for greasing
Instructions
In the bowl of a stand mixer fitted with the hook, add 1 cup tepid water, the sugar, and yeast. Stir just to combine and set aside let sit until the surface is foamy, about 10 minutes. Add 9 tablespoons of butter, the dry milk, shortening, salt, rosemary, basil, parsley, and flour and mix on low speed until a very wet dough comes together. Increase speed to medium-high and continue mixng until the dough is smooth, 3–4 minutes. Cover loosely with plastic wrap and set aside at room temperature until puffed and not quite doubled in size, 45-50 minutes.
Line a baking sheet with well-oiled parchment paper then transfer the dough out onto it. Using oiled hands, press the dough out into a 6″ × 13″ rectangle about ½" thick. Cover the dough tightly with plastic wrap and transfer to the fridge to chill for at least 4 hours or overnight.
2 hours and 45 minutes before you plan to bake the rolls, retrieve the dough from the fridge. Lightly dust a clean work surface with flour and unwrap the dough. Spread the remaining butter over the dough an an even layer. With the butter layer on the inside, fold the dough in thirds as you would a letter. Rotate the dough 90°, then re-roll the dough out to a 6″ × 13″ rectangle; fold in thirds again, rotate, roll, and fold the dough in the same manner twice more. Return the dough to the lined baking sheet, cover with plastic wrap, and return it to the fridge to chill until firm, 45–50 minutes.
Preheat the oven to 375°F. When the dough is firm, remove from the fridge, unwrap, and return it to the floured work surface. Cut the dough into twelve 2″ squares and place each square, cut side up, in an ungreased muffin tin. Cover the rolls loosely with plastic wrap and set it aside to rest at room temperature until puffed, gassy, and nearly doubled in size, 60–70 minutes.
When the rolls have risen, transfer them to the oven and bake, rotating once halfway through, until evenly golden brown and cooked through, about 30 minutes. Let cool slightly in the pan before serving.