Little Lad's Herbal Corn
A mysterious blend of seasonings lend a distinctly umami flair to this seriously addictive popcorn.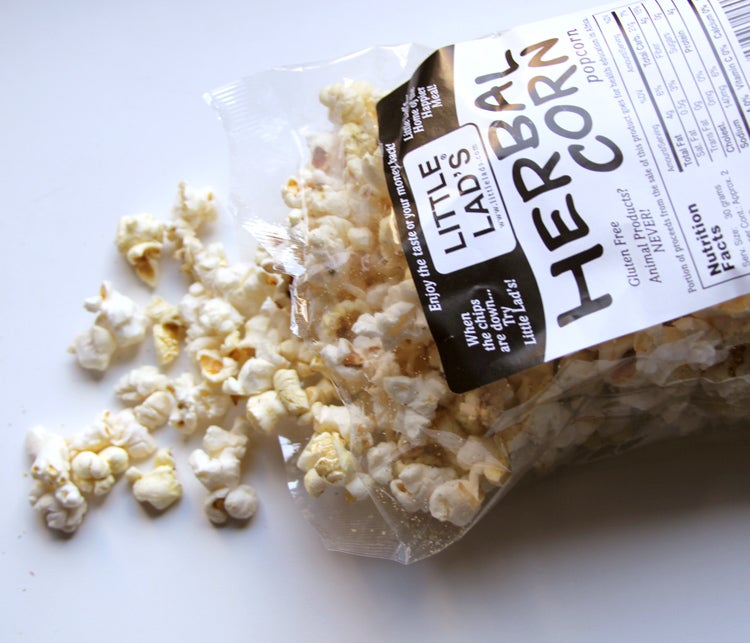 We may earn revenue from the products available on this page and participate in affiliate programs.
Little Lad's Herbal Corn is the umami snack I just can't quit. Packed in stickered, cellophane bags in Corinth, Maine, the popcorn is doused in a mysterious, flaky seasoning that is both tangy and deeply savory. Devotees speculate that the secret recipe includes nutritional yeast and dried dill; all I know is that once I've opened a bag, I can't put it down until the last green-flecked, golden crumbs have been squeegeed down with a moistened finger. Little Lad's owner Larry Fleming first gave the popcorn away as a plate filler to accompany the sandwiches served at his family's Little Lad's vegan restaurant in Portland, Maine. Soon, customers were clamoring for the popcorn, asking his staff to fill empty bread bags with twist-ties. Fleming believes that people get addicted to his popcorn because it's high in nutrients, like B vitamins, that their bodies crave. A Seventh Day Adventist and vegetarian since the '60s, he is passionate about improving people's health through diet at the restaurant, cooking classes, and through the snack products made at the Little Lad's factory. Little Lad's Herbal Corn also happens to be gluten-free and vegan, but don't let its nutritional value distract you from how dangerously addictive it is.
Little Lad's Herbal Corn, $5.99 for 13 oz. at littlelads.com