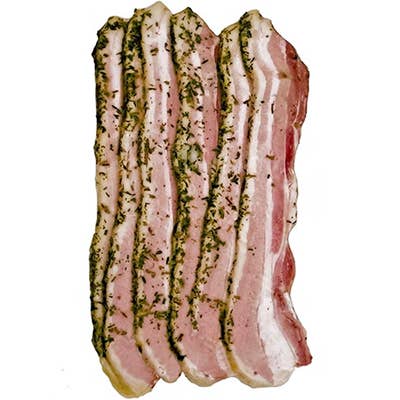 Shopping & Reviews
One Good Find: Spice-Rubbed Bacon
We thought all-natural, thick cut bacon couldn't be improved upon—until we tasted the Herbes de Provence variety from Aux Délices Des Bois
"Spice-rubbed." "Artisanal." Such a cliché, I thought as I read the package of all-natural bacon from Aux Délices Des Bois. Nonetheless, I took home the Herbes de Provence variety, which I promptly forgot about until later that week when my boyfriend discovered the bacon in the vegetable crisper. Clearly untroubled by its trendiness, he was eager to try it. I sighed and heated a skillet.
The first thing I noticed as I opened the package was the thick cut of the cured pork, which is hard to find in a pre-packaged variety. Still, I was skeptical of the green, herbal coating on each slice—does a food product as rich as bacon really need spices or herbs? But as the slices sizzled, the sweet, tangy scent of rosemary and thyme began to bloom, making my mouth water. I flipped the hearty strips and pulled off a crispy edge. The fresh flavor of the herb crust gave way to the salty smokiness of the bacon. It was utterly delicious.
At Transatlantic Foods, parent company of Aux Délices des Bois, Amy and Thierry Farges and François Baumont do more than label their packages with the latest buzzwords: They actually hand cut and spice their pork using fresh herbs and natural spices, without preservatives, and their pigs are Certified Humanely Raised. The resulting products are both packed with flavor and environmentally and ethically responsible.
As I stood in my kitchen, slowly devouring the entire pan of bacon, I imagined all the dishes I could make: What about herbes de provence bacon-wrapped sole? Or spinach sautéed with pepper and garlic bacon? How about spicy Southwestern-style bacon tossed in a pot of pinto beans? My cynicism dissolved as I succumbed to the pleasure of the taste, inspired anew by Aux Délices des Bois's simple, flavorful twist.
Southwest Kick, Black Pepper & Garlic, Herbes de Provence or Original bacon, $9.75 for a 10-oz. package or $36.50 for one of each at Earthy Delights.