One Good Find: Surryano Ham
Old world cured ham, American-style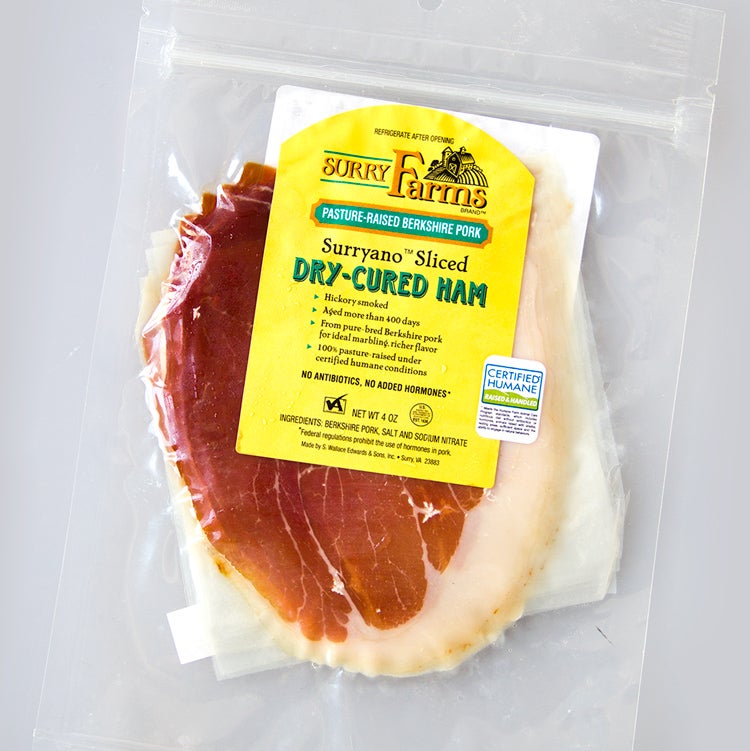 We may earn revenue from the products available on this page and participate in affiliate programs.
I was writing some recipe corrections in the SAVEUR test kitchen recently when I realized my stomach was growling. I headed to the refrigerator and started pawing through the drawers until I happened on a package of cured meat. The label read Surryano ham. I laughed to myself, "Surryano? Isn't it spelled Serrano?"
I peeled off a slice of the paper-thin pork and put it in my mouth: A wave of hickory smoke hit my tongue, melting into a perfect combination of savory and sweet, balanced by a buttery layer of fat. This was nothing like the cured meats I was used to. I looked back down at the package and noticed the fine print: "Made in Surry, Virginia."
Many of the fine cured hams that I come across, like Prosciutto or Serrano, are imported from Spain and Italy, but S. Wallace Edwards & Sons, owners of Surry Farms in Virginia, created their own, distinctly American version using American Surryano heritage hogs raised on a diet of peanuts instead of acorns like their European counterparts. Their pork is hand rubbed with a dry-cure, smoked for seven days over hickory wood, and then aged for 400 days to intensify the savory flavor. The resulting meat has a delicate, yet complex flavor with a hint of sweetness and rich marbling that liquefies and disappears as the meat hits your tongue, much like the packages themselves, which, once discovered, have a way of vanishing from test kitchens and home refrigerators alike.
Virginia Surryano Ham Slices, $39 for 3 4-ounce packages at edwardsvaham.com