One Good Find: Vintage Cheese Markers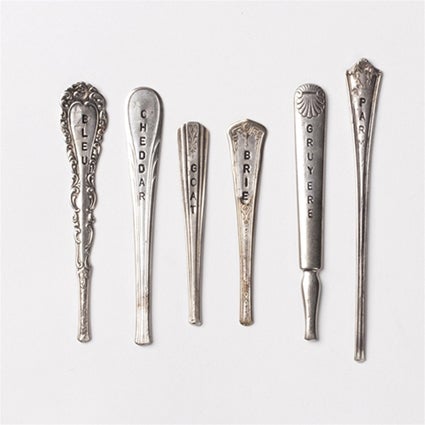 We may earn revenue from the products available on this page and participate in affiliate programs.
I love entertaining guests, and one of my favorite ways to do so is to break out the cheese and charcuterie, especially when catering openings at a friend's local art gallery. I love pouring wine while chatting with the artists and patrons, but somehow I can never seem to get away from the question of the night: What cheese is this? I found that the guests could not distinguish between the milky yellow hues of an aged sheep's milk and the orange-tan of gouda, or guess by the lovely aroma that they were snacking on pungent Camembert. Not wanting to rely on plastic labeling tabs, I've been searching for a classy and elegant solution. I finally found one in Cake's vintage cheese markers. Fashioned from antique silverware repurposed for a modern use, each sturdy, beautiful piece is unique and individually stamped with all the right notes to hit on a perfect cheese plate: bleu, cheddar, goat, brie, Gruyère, and parm. They also make packing up cheese a breeze; I just pull them and lay them flat against the cheese when wrapping. The only drawback: Now I fear people are talking more about these beauties at the art galleries than they are the art!
Vintage cheese markers, $30 for a set of six at Libastyle.com