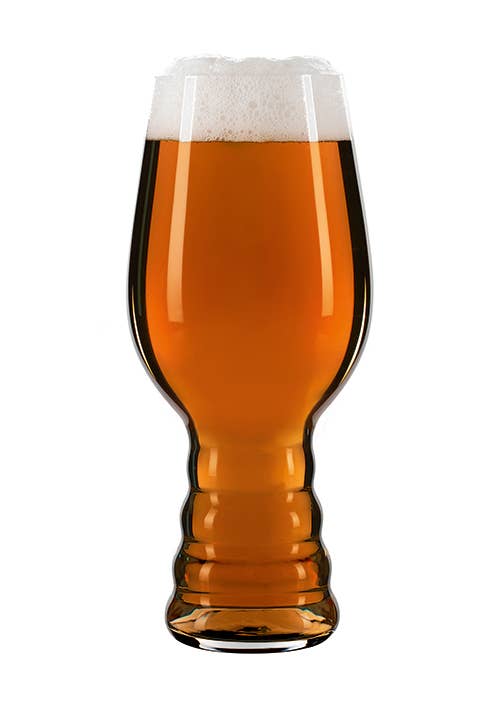 Shopping & Reviews
One Good Find: IPA Glass
A clever glass made specifically for India Pale Ales
My mind began to wander the other night as my wife, Amy, and I sat on the sofa watching an episode of American Idol. Despite my strong assertions that the show has lost whatever luster it may have had following the hair-brained days of Sanjaya, she remains a devoted fan. And so I sauntered off into the kitchen to perform a little competition of my own.
Reaching into the fridge, I grabbed two cold bottles of Sierra Nevada's Torpedo Extra India Pale Ale, and then headed to the cupboard for my favorite drinking vessel: a scratched-up old Guinness glass I'd lifted years ago from a subpar Irish pub in Midtown Manhattan. I poured one of the bottles into the glass and took a sip. The beer tasted good. Floral. Hoppy. Bitter. Just like an IPA should.
For the second bottle, I tried something different—a new, crystal-clear glass I'd just (legally) acquired from Spiegelau, a German manufacturer of what's purported to be some of the best glassware in the world. "Ooh, Spiegelau," Amy murmured from her Idol-induced coma in the next room, as she watched me unpack the glass from its logoed box.
I was curious about this glass. It's the brainchild of two of my favorite brewers: Sam Calagione of Dogfish Head, and Ken Grossman of Sierra Nevada. There's a video about it in which Sam and Ken talk about the R&D involved in designing the glass—how they were looking for something that optimized the flavors of IPAs, delivering what Calagione described as "an olfactory canon that shoots the hops toward your nose."
Despite my admiration of Sam—despite the fact that, at a press event one night, I drunkenly addressed him as my "beer-o" (I cringed, just now, writing that)—I was skeptical of the alleged powers of this glass. The whole thing struck me as unnecessary. Gimmicky, even.
The glass itself is a peculiar looking thing. Its ridged, stem-like base, which resembles a coiled up spring, opens up to what is essentially a fancy-schmancy wine glass with a thin, tapered lip. Compared to the heft of my old Guinness glass, it was as light as a Champagne flute. Too dainty, I felt, to deliver on its promise.
As the voice of one of the Idol finalists belted out an admittedly stirring rendition of Ben E. King's "I Who Have Nothing" from the other room, I took a sip. And, well, Sam was right: the difference was extraordinary. The IPA burst forward, just as he'd promised, in all of its hoppy, fruity, and piney glory, each sip as fresh-tasting and bracing as the first. The ridges of the glass aerated the beer, pushing it toward my mouth so all of the inherent aromatics of the IPA shone on and on—and on. Going back to the IPA in my Guinness glass for comparison, the beer tasted weak, watered down, almost stale. In his video, Sam talks about how, in testing the glass, he went "from skepticism to evangelism." Same here, Sam. Not only are you my beer-o now; you're also my Idol.