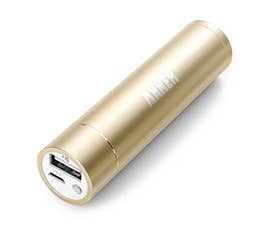 Shopping & Reviews
SAVEUR Selects: December 2014
We come across all sorts of great products in the SAVEUR office. Check out our favorites for December: a sleek flask, the ultimate espresso machine, and more selected by senior editor Mari Uyehara.Sign up for the monthly SAVEUR SELECTS e-mail newsletter »
Tweeting, photo editing, and Instagramming drains my iPhone battery in a flash. This sleek little battery charger gets me back up and running.
Lipstick-Sized Portable External Battery Charger, $20 at Amazon.com
With this brand new countertop espresso machine, amateur coffee geeks can get their hands on a La Marzocco, the gold standard for serious cafés, for the first time.
La Marzocco Home, $8,069–8,269 at La Marzocco
I love candles, but find candleholders a little old-fashioned. This gorgeous glass piece from Portland's Esque Designs brings them up to date.
Wax Collector, $300 at Esque Shop
A good flask is a winter (and fall and spring and summer) essential. But the standard stainless steel version is bit ho-hum. My new go-to is this hand-made copper beauty.
Surname Goods Copper Flask, $215 at Surname Goods
GOING SOUTH OF THE BORDER
With chefs like Rene Redzepi and Sean Brock getting in the game, Mexican food is trending right now. I'm going straight to the source with this big, beautiful cookbook of 700 recipes from Margarita Carrillo.
Mexico Cookbook, $30 at Amazon.com
This spring green Dansk stovetop pot is billed as a butter warmer, but the enamel-coated steel vessel is also great for heating up sauces, leftover soup, and whatever else fits.
Kobenstyle Butter Warmer, $40 at momastore.org
MARI UYEHARA, senior editor
All-time favorite cookbook: I just adore Nigel Slater's Kitchen Diaries. You can flip to whatever month it is to find seasonal dishes. His recipes are sometimes unexpected, but always doable, inspiring, and super delicious.
The best restaurant dish you've had lately: Everything on the menu at Danny Bowien's new Vietnamese breakfast at Mission Cantina. A beautifully clean chicken pho, duck liver smeared on a crusty split baguette with fried egg, and lemongrass sausage patties with broken rice and fish sauce-lime dressing. I've been there three times in less than two weeks.
Favorite winter ingredient: Pomegranates. Some people have a special trick for removing the seeds, but I enjoy the treasure hunt of plucking those little gems out by hand.