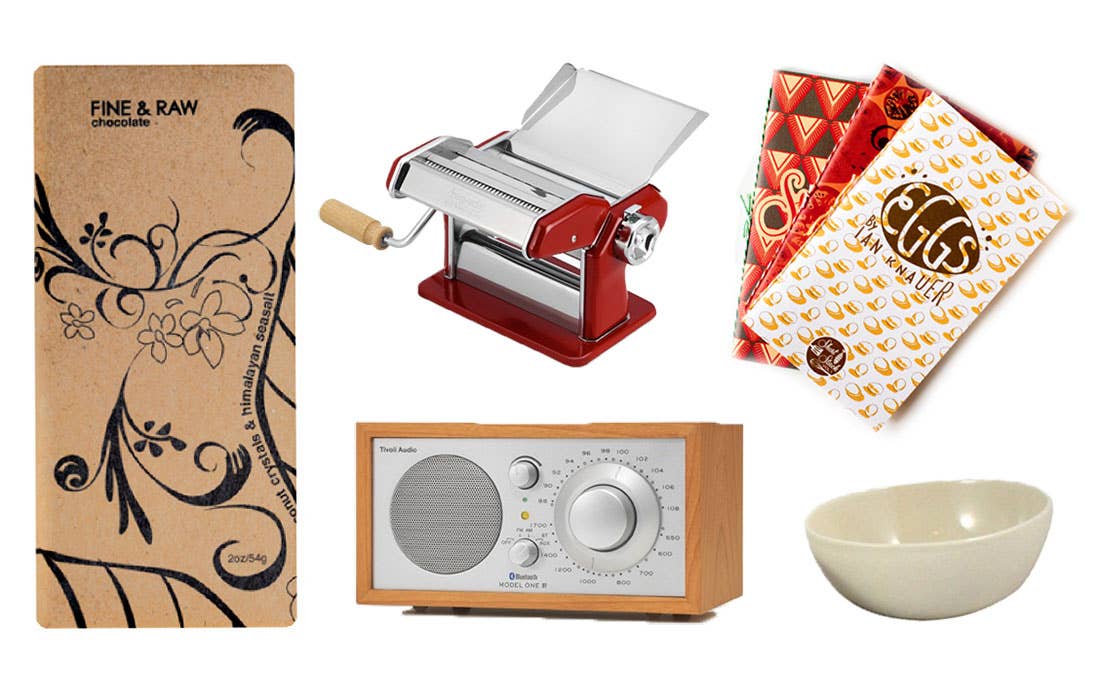 Shopping & Reviews
SAVEUR Selects: February 2014
We come across all sorts of great products in the SAVEUR office. Check out our favorites this month: kitchen radios, chocolate, cute bowls, and more, selected by assistant editor Laura Loesch-Quintin. Sign up for the monthly SAVEUR SELECTS e-mail newsletter »
Elegant and understated, this heat-resistant, Japanese-made teapot is just right for tisanes.
Hario teapot, $40 at abchome.com
I'm in love with these small-format, one-ingredient cookbooks; you can buy single issues or get a year-long subscription.
Shortstack cookbooks, $12 each at shortstackeditions.com
There's nothing like dark chocolate after dinner—my current obsession is Fine & Raw's sea salt bar.
Fine and Raw sea salt bar, $8.50 at fineandraw.com
I love listening to NPR while I cook, and couldn't resist buying this small, sleek model from Tivoli.
Tivoli blue tooth AM/FM radio, $259.99 at tivoliaudio.com
A birthday gift from my friends, this pasta machine occupies a well-deserved spot on my kitchen shelves.
Imperia pasta machine, $79.95 at williams-sonoma.com
I always have olives on hand and these tiny bowls are perfect for their pits; they're also great for mise en place.
Small bowls, $6.50 each at canvashomestore.com
LAURA LOESCH-QUINTIN, assistant editor
All-time favorite Cookbook: Whenever I'm in need of a little culinary inspiration, I turn to Suzanne Goin's Sunday Suppers at Lucques for her fresh, seasonal, California cuisine.
Favorite dish to cook at home: Though broccoli rabe can often be bitter and tough, Saveur's recipe for cime di rapa fritte turns the dark green stalks, spiky leaves, and clusters of broccoli flowers into a meltingly tender side—it's a dish I return to again and again.
What you like best about your job: I'm constantly learning about different regions and their culinary traditions—and I often get to try their recipes, too!