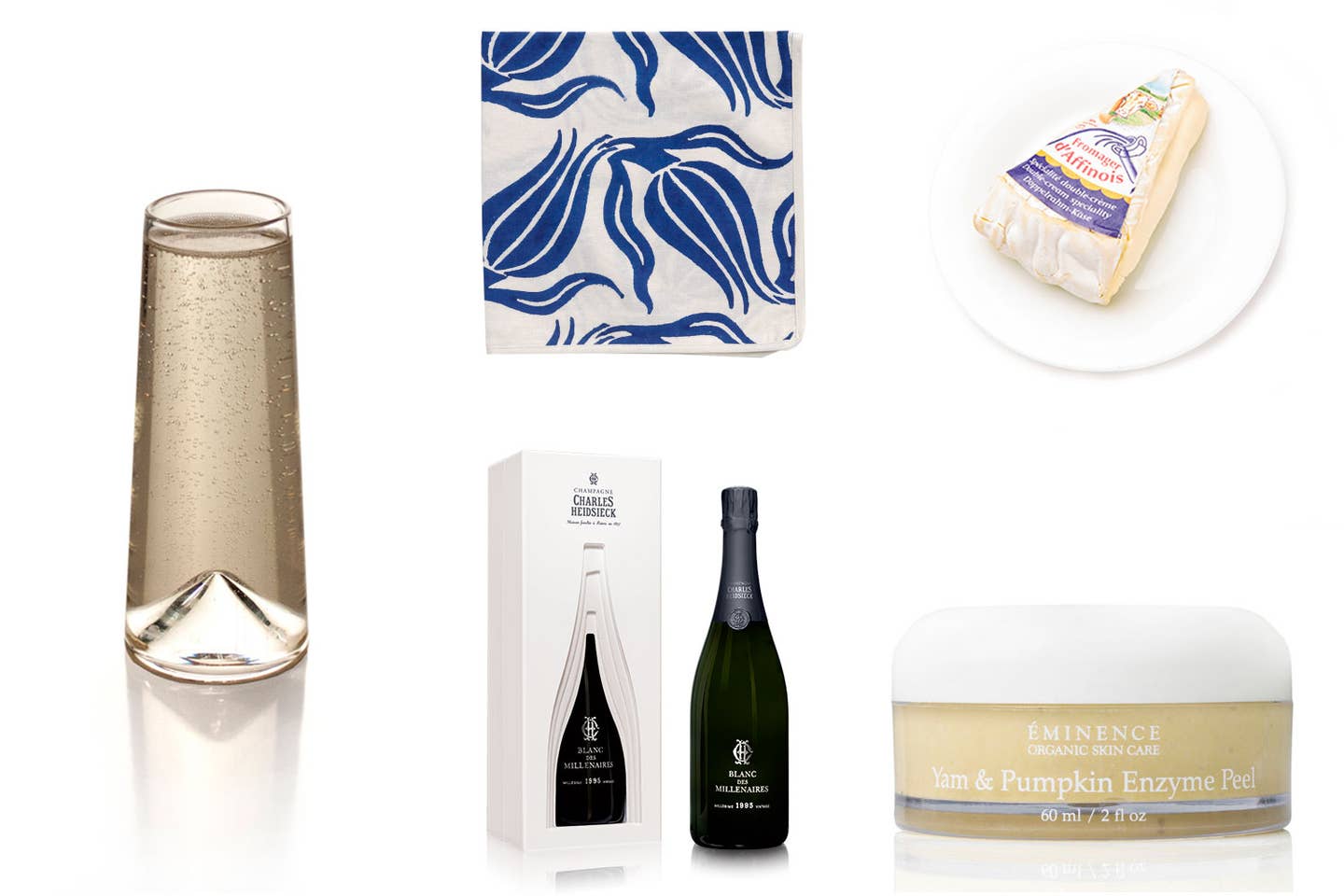 Shopping & Reviews
SAVEUR Selects: November 2014
We come across all sorts of great products in the SAVEUR office. Check out our favorites for November: holiday champagne, graphic napkins, and more selected by food and prop stylist Judy Haubert. Sign up for the monthly SAVEUR SELECTS e-mail newsletter »
Aged for almost 20 years, Blanc des Millénaires Vintage 1995 champagne is wonderfully complex—perfect for holiday meals and toasting the New Year.
Charles Heidsieck Blanc des Millénaires Vintage 1995, $170 at klwines.com
With its tapered curves and stemless design, I love this champagne flute for its modern elegance as well as its no-nonsense practicality.
Monti-Flute, $50 for a set of 2 at shop.sempli.com
Made with organic ingredients, this mask contains a mixture of botanicals chock-full of antioxidants, enzymes, and amino acids for hydrated, revitalized skin.
Eminence Yam and Pumpkin Enzyme Peel, $46 at lovelyskin.com
I love the bright colors and eye-catching designs of these graphic napkins—they make a striking visual impact at the dinner table.
Madeleine Weinrib Napkins, $120 for a set of 6 at madeleineweinrib.com
Slightly salty with a smooth tang, this creamy, mild cheese rounds out a cheese plate like nobody's business and pairs beautifully with bubbly.
Fromage d'Affinois, $15/lb at murrayscheese.com
An authentic Spanish clay cooking pot, or olla, can be used directly on the stovetop for flavorful, slow-simmered stews and beans.
Extra Large 7-Quart Olla, $90 at spanishtable.com
JUDY HAUBERT, food & prop stylist
My all-time favorite cookbook: MFK Fisher's The Gastronomical Me has been the most influential book about cooking in my life. Reading about her evolution from a sheltered twenty-something into a seasoned traveler and accomplished cook through her exploration and love of food really resonates with me.
My favorite dish to make at home: Roast chicken and vegetables is my go-to comfort food. Stuff the cavity with lemons, shallots, thyme, salt, and pepper; rub softened butter underneath the skin; toss into a roasting pan along with some seasoned, oiled vegetables; roast until insanely juicy and shatteringly crisp. Devour.
Where I'm planning my next trip: I've been to Iceland twice this year and plan to go back this January. I love how the wildness of the landscape contrasts so vividly with the friendliness and warmth of the people. I've been there in December when it's mostly dark, and in summer when there are over 20 hours of sunlight, and I actually prefer the cozy, inclusive mood of dark, wintry Iceland.