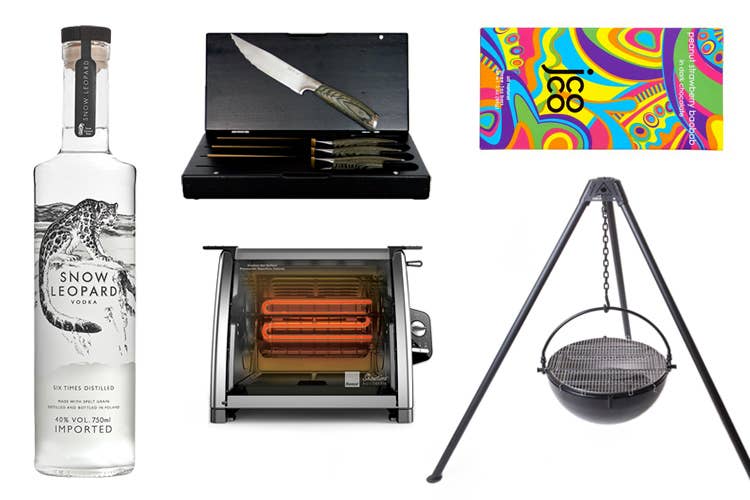 Shopping & Reviews
SAVEUR Selects: October 2014
We come across all sorts of great products in the SAVEUR office. Check out our favorites for October: sturdy steak knives, a home rotisserie, and more selected by executive editor Betsy Andrews. Sign up for the monthly SAVEUR SELECTS e-mail newsletter »
I love the gorgeous black-ash handles on these hefty serrated blades made by Schmidt Bros.
Strip House Knives, $120 for a set of four at shopBRguest.com
My countertop rotisserie oven turns out a perfectly juicy, bronzed bird in a couple of hours with very little effort on my part.
Ronco 5500 Rotisserie Oven, $180 at ronco.com
Jcoco's peanut strawberry baobab bars taste like the world's best peanut butter and jelly sandwich—dipped in chocolate.
Jcoco Chocolate, $7.95 at shop.seattlechocolates.com
15% of profits from the sales of this sweet, smooth, Polish-made brand go to conservation efforts to save the endangered namesake big cat.
Snow Leopard Vodka, $40 at astorwines.com
These exquisite little white anchovies—meaty, mild, and packed in olive oil—are caught off the coast of Peru using seine purse nets, a sustainable fishing method.
Wild Planet White Anchovies, $6 at vitacost.com
Cowboy Cauldron fire pits and grills make it fun to gather and cook outside, even when temperatures start to dip—and they're perfect for making s'mores.
Cowboy Cauldron, $895–$2995 at cowboycauldron.com
BETSY ANDREWS, executive editor
The best meal I had this year: I had an awesome dish called "Milk and Cereal" at Jose Garces' Volver: It's asparagus-infused milk poured from a lucite pitcher shaped like a milk carton over top a bowl of delicious things: bacon, oysters, mushrooms, a soft quail egg, thyme marshmallows, and rice flakes.
My go-to dish for entertaining: I love to make slow-cooked ribs. I rub them down with a boatload of fragrant and fiery spices, douse them in smoky-sweet, spicy sauce (concocted them from whatever good stuff I have in the larder) and leave them covered in the oven on very low heat to bake until they're so tender that they'll break your heart.
My favorite drink as of late: Any good ginjo junmai sake I can come by—it's aromatic and not too sweet. I adore sake.