Recipes
Afghan-Style Cauliflower with Tomato Sauce (Gulpea)
Green chiles give this vegetarian Central Asian stew a spicy kick.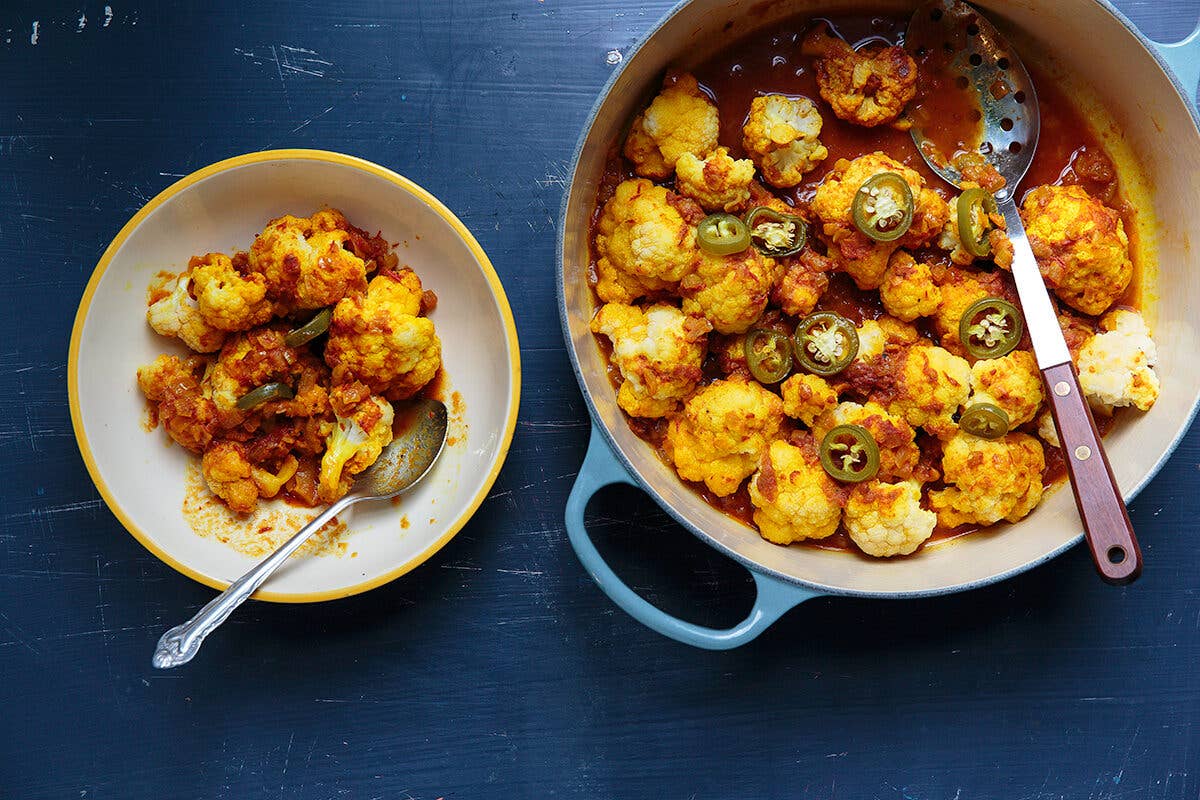 Cauliflower florets are stewed in a fragrant garlic-laced tomato sauce of fried onion, spices, and jalapeño in this Afghan dish from Nawida Saidhosin, a home cook and teacher at New York's League of Kitchens. When she emigrated to America, Saidhosin substituted jalapeños as an ingredient, and now prefers their flavor to the green chiles of her homeland. Check out all of our cauliflower recipes here.
Ingredients
5 garlic cloves, peeled
4 medium tomatoes, cored
1⁄2 cup vegetable oil
2 large yellow onion, chopped
1 tbsp. ground turmeric
1 tbsp. kosher salt
2 1⁄4 tsp. ground coriander
1 tsp. freshly ground black pepper
2 small heads cauliflower, cored and cut into large florets
1 jalapeño, seeded and sliced into ¼-in. rings
Instructions
Step 1
In a blender, purée the garlic and tomatoes; set aside.
Step 2
To a large Dutch oven, add the oil and onions and cook over medium-high heat until soft and beginning to brown, 10–12 minutes.
Step 3
Stir in the turmeric, salt, coriander, and black pepper, and cook until fragrant, about 30 seconds. Turn the heat to medium, pour in the reserved tomato mixture, and cook, stirring occasionally, until the sauce has thickened, 10–12 minutes.
Step 4
Add the cauliflower and ½ cup of water, scatter the jalapeño over the top, and bring to a boil over high heat. Turn the heat to medium-low and cook, covered and without stirring, until the cauliflower is tender, about 50 minutes. Serve hot or at a warm room temperature.