Recipes
Cracked-Wheat Porridge with Hen of the Woods Mushrooms and Turnip-Top Salsa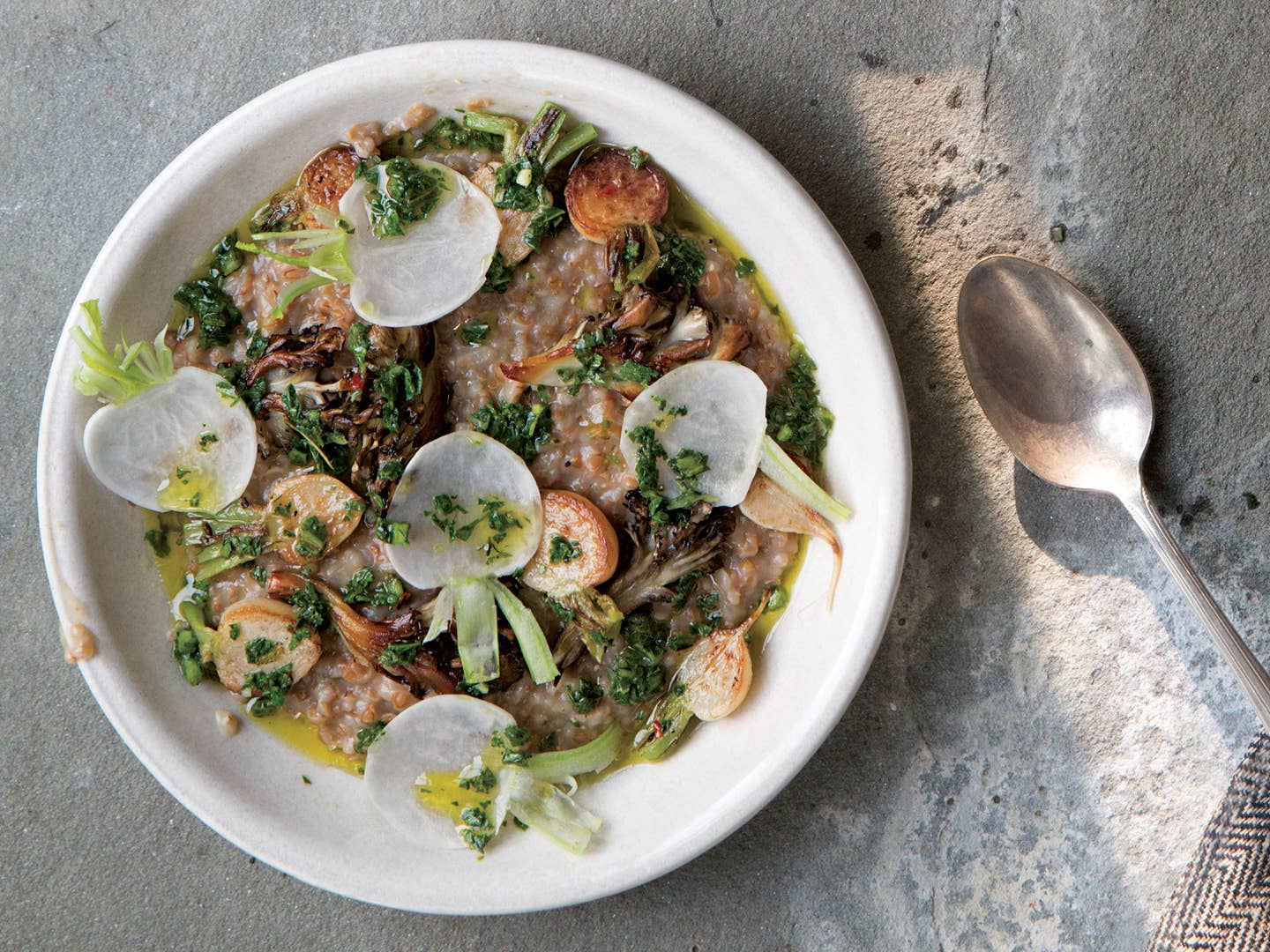 Made with a range of grains, gruel has become fashionable, thanks to restaurants like England's The Fat Duck, where the tasting menu recently featured an oat porridge crowned with snails, Iberian ham, and shaved fennel. This hearty porridge from chef Yoni Levy of San Francisco's Alta CA restaurant is bolstered by roasted vegetables and enlivened with a salsa of turnip greens. This recipe first appeared with the 2015 SAVEUR 100 item Porridge for Dinner.
Ingredients
For the Porridge
1 lb. hen of the woods mushrooms
8 oz. small white turnips with green tops (½ quartered, ½ thinly sliced using a mandoline, greens chopped for salsa)
1⁄4 cup olive oil
3 cloves garlic, unpeeled
Kosher salt and freshly ground black pepper, to taste
1 small yellow onion, minced
1 2⁄3 cups cracked wheat
1⁄3 cup white wine
7 cups mushroom or vegetable stock
2 tbsp. unsalted butter
1 cup grated Pecorino Romano
For the Salsa
2 tsp. red wine vinegar
1 1⁄2 tsp. thyme leaves
1⁄4 tsp. crushed red chili flakes
1 large shallot, minced
Kosher salt, to taste
1⁄4 cup minced parsley
3⁄4 tbsp. olive oil
Instructions
Step 1
Make the porridge: Heat oven to 400°. Toss mushrooms, quartered turnips, 1 tbsp. oil, the garlic, salt, and pepper on a baking sheet; roast until vegetables are golden and slightly crisp and garlic is tender, 25–30 minutes. Set mushrooms and turnips aside; peel garlic and mash into a paste.
Step 2
Heat remaining oil in a 6-qt. Dutch oven over medium. Cook onion until golden, 6–8 minutes. Stir in cracked wheat; cook until slightly toasted, 2–3 minutes. Add wine; cook until reduced by half, about 1 minute. Add 1 cup stock; cook, stirring until absorbed, about 2 minutes. Continue adding stock, 1 cup at a time, and cooking until absorbed before adding more, until wheat is very tender and creamy, about 1 hour total. Meanwhile, melt butter in an 8″ skillet over medium; cook until browned, 8–10 minutes. Stir butter, reserved garlic paste, the pecorino, salt, and pepper into porridge; keep warm.
Step 3
Make the salsa: Combine vinegar, half the thyme, the chile flakes, shallot, and salt in a bowl; let sit 20 minutes. Stir in reserved turnip greens, remaining thyme, and the parsley; whisk in oil. Serve porridge in shallow bowls; top with reserved roasted mushrooms and turnips. Garnish with sliced raw turnips; drizzle salsa over the top.