Recipes
Perkedel Kenteng (Padang-Style Mashed Potato Fritters)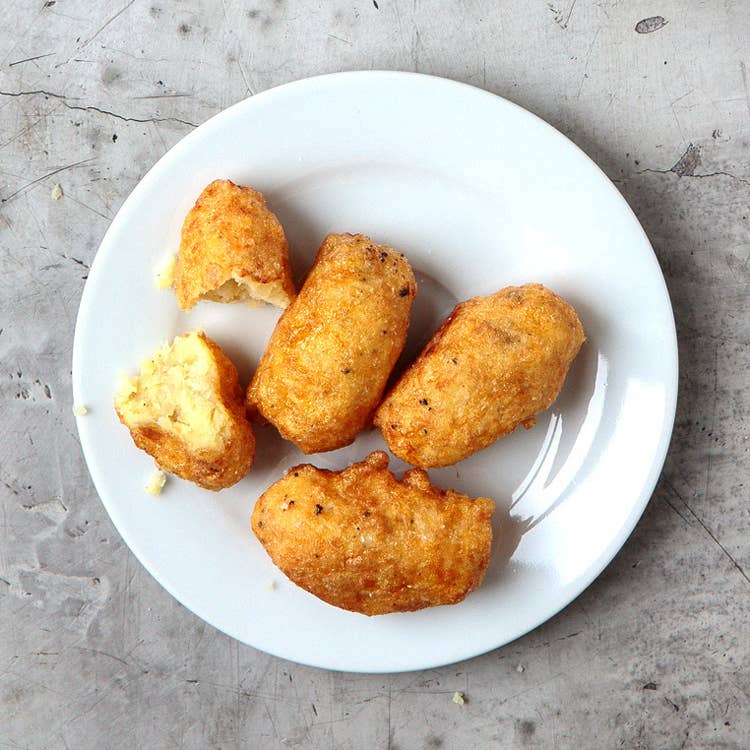 To make these crisp-crusted fritters popular at nasi padang meals, mashed potatoes blended with pan-fried shallots and freshly grated nutmeg are dipped in beaten egg before frying. This recipe first appeared in our March 2014 issue with the story Spice World.
Ingredients
2 lb. Yukon gold potatoes, scrubbed
Kosher salt, to taste
12 small Asian shallots or 3 regular shallots, peeled
1 tbsp. canola oil, plus more for frying
3⁄4 tsp. freshly grated nutmeg
2 egg yolks, plus 3 eggs
Freshly ground black pepper, to taste
Instructions
Step 1
Boil potatoes in a 4-qt. saucepan of salted water until tender, about 25 minutes. Drain and let potatoes cool slightly, then peel and return to pan; place over low heat. Mash until smooth; set aside.
Step 2
Pulse shallots in a small food processor into a coarse paste. Heat 1 tbsp. oil in a 10" skillet over medium heat. Add shallot paste; cook, stirring occasionally, until golden, 8–10 minutes, then stir into potato mixture along with nutmeg, egg yolks, salt, and pepper. Form potato mixture into thirty 1-oz. balls; shape into 2" long patties about ½" thick and let sit, uncovered, 10 minutes.
Step 3
Heat 2" canola oil in a 6-qt. saucepan until a deep-fry thermometer reads 350°. Whisk remaining 3 eggs with salt and pepper in a bowl. Working in batches, dip patties in egg mixture and fry until golden and crisp, 1½–2 minutes. Using a slotted spoon, transfer fritters to paper towels to drain; season with salt.