Recipes
Rishta bi Laban wa Bassal (Tagliatelle with Yogurt and Fried Onions)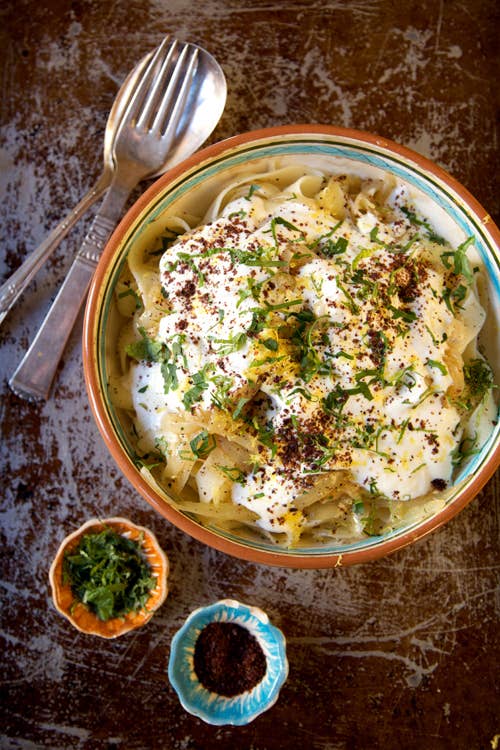 Copious amounts of lightly caramelized onions are piled atop pasta and served with yogurt and herbs in this recipe inspired by Claudia Roden's The New Book of Middle Eastern Food. This recipe first appeared in our March 2014 issue.
Ingredients
1⁄2 cup olive oil
8 cloves garlic, finely chopped
4 large yellow onions, sliced 1/4" thick
1⁄2 tsp. ground cinnamon
1⁄2 tsp. ground coriander
1⁄4 tsp. freshly grated nutmeg
1⁄4 tsp. ground cardamom
Zest and juice of 1 lemon
Kosher salt and freshly ground black pepper, to taste
14 oz. dried tagliatelle or fettuccine
4 cups plain full-fat yogurt, room temperature
3 tbsp. thinly sliced parsley
2 tbsp. thinly sliced mint
2 tsp. sumac
Instructions
Step 1
Heat 1⁄3 cup oil in a 6-qt. saucepan over medium heat. Add garlic and onions; cook, stirring occasionally, until slightly caramelized, 30–35 minutes. Stir in cinnamon, coriander, nutmeg, cardamom, lemon zest and juice, salt, and pepper; set aside.
Step 2
Bring a large pot of salted water to a boil; cook tagliatelle until al dente, about 7 minutes. Drain pasta and divide between 6 serving bowls. Top with garlic-onion mixture, yogurt, parsley, mint, sumac, salt, and pepper; drizzle with remaining oil.