Recipes
Roasted Sweet Potato Sandwich with Rajas Salsa
Serves

makes 2 sandwiches

Cook

40 minutes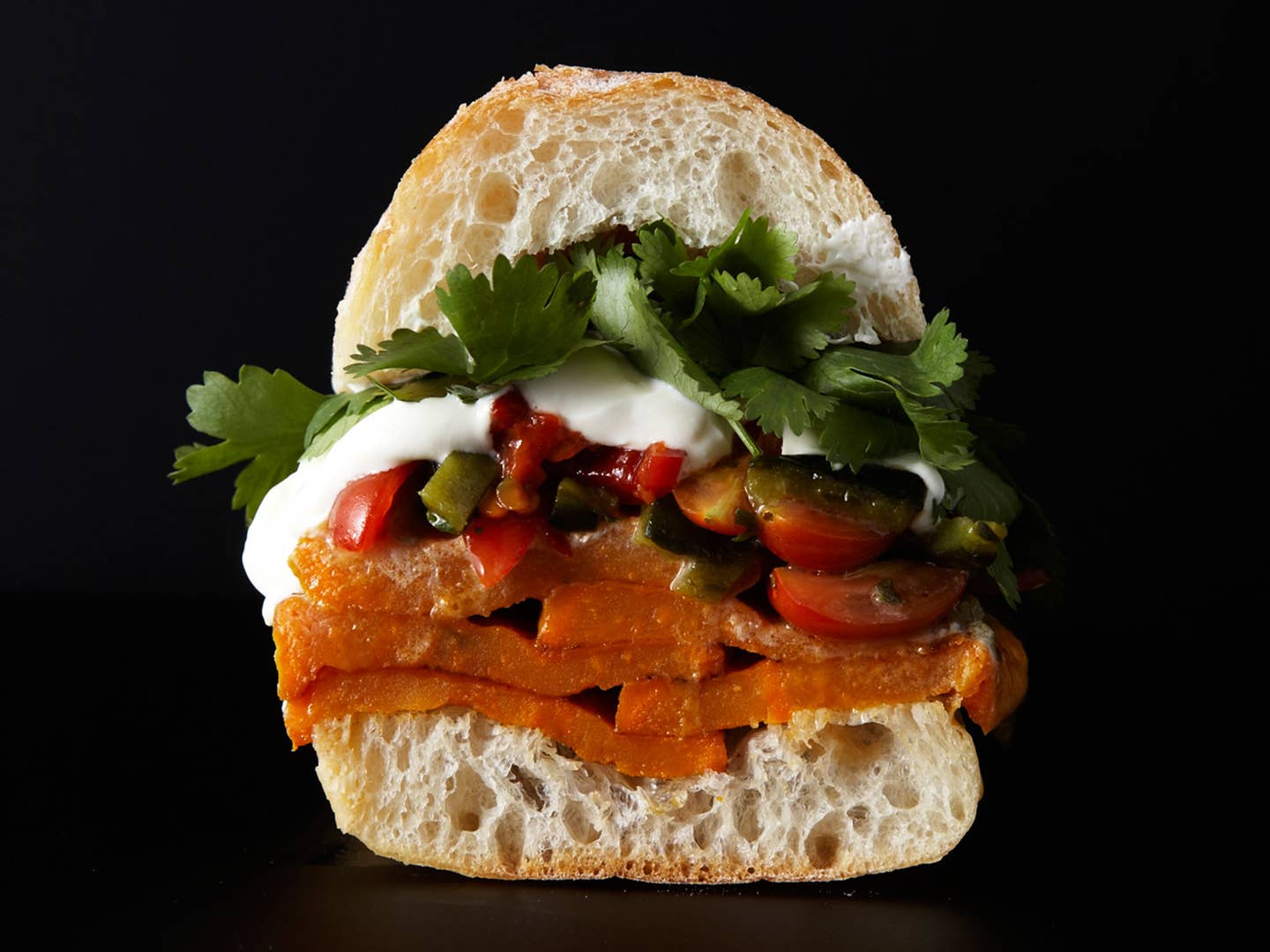 William Mote, at Butcher & Bee in Charleston, South Carolina, uses meaty sweet potatoes (which can be roasted a day in advance) as the base for this vegetarian sandwich. His salsa, made of tomatoes and strips of roasted poblano and cherry peppers—rajas in Spanish—can also be used as an accompaniment to meat or fish.
Ingredients
1 lb. sweet potatoes, peeled and sliced 1/2" thick lenghwise
1 tbsp. olive oil
1 tsp. ground cumin
1⁄2 tsp. ancho chile powder
Kosher salt and freshly gound black pepper, to taste
2 1⁄2 tbsp. fresh lime juice
2 tbsp. mince cilantro, plus 1/2 cup leaves and tender stems
15 cherry tomatoes, quartered
6 sweet, jarred cherry peppers, thinly sliced
2 roasted poblano peppers, thinly sliced
1⁄4 cup sour cream
2 hoagie rolls, halved lengthwise
Instructions
Step 1
Heat oven to 400°. Toss potatoes, oil, cumin, chile powder, salt, and pepper on a baking sheet and spread into an even layer; roast, flipping once, until cooked and browned, 20 minutes. Mix 2 tbsp. lime juice, minced cilantro, the tomatoes, peppers, salt, and pepper in a bowl; set salsa aside. Stir remaining lime juice and the sour cream in a bowl. To assemble the sandwiches, layer bottom halves of hoagie rolls with potatoes, salsa, sour cream, cilantro leaves, and tops of rolls.
Make Your Own Roasted Sweet Potato Sandwich