Boston Uncommon
In this historic New England town, centuries-old restaurants offer up classics, and a new generation of talented chefs digs into the city's storied cuisine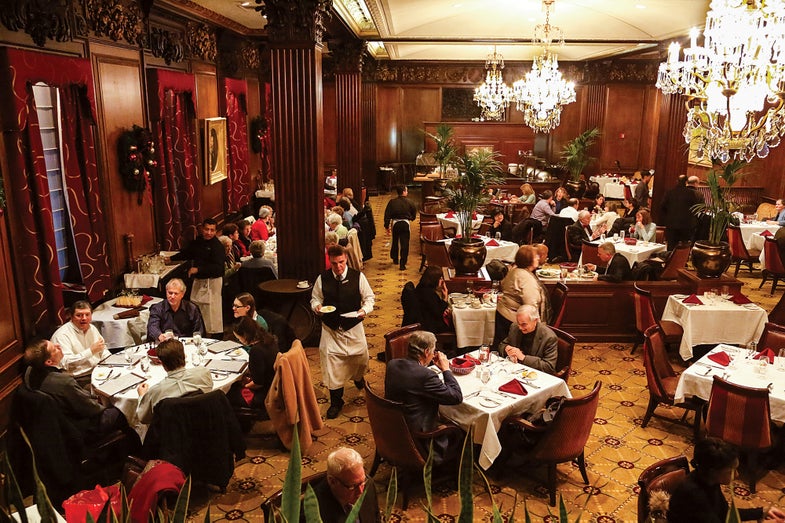 Snow is falling. Communal tables are being set. A Pixies song plays as a rush of seafood purveyors carry in the day's delivery of bluefish, swordfish, and clams. Dinner at Will Gilson's two-year-old restaurant, Puritan & Company, in Cambridge, Massachusetts, won't start for a few more hours, but already the barnlike dining room, strung with Mason-jar chandeliers, feels busy and inviting.
At 32 years old, Gilson is a youthful, the-world-is-my-oyster kind of guy who is always smiling, and with good reason. He's running one of the Boston area's hottest restaurants. He's getting a lot of love from the local press. And if that weren't enough, he's being credited with reviving, if not saving, some of New England's most beloved dishes.
Boston can lay claim to a particular cuisine: salt-pork clam chowders, hearty molasses-laced beans, and that perplexing cut of fish called scrod. Gilson, a 13th-generation descendent of a Mayflower passenger, is making sure regional specialties like these stay relevant in the brave new world of farm-to-table everything. Take, for example, his "boiled dinner." Rather than letting a mess of corned beef and root vegetables simmer for hours into typical Yankee-Doodle dreariness, Gilson gives it a fresh treatment. Using produce from New England farms, including his parents'—and tweezer-wielding precision—he composes a visually alluring salad of Brussels sprout leaves, hay-roasted carrots, pickled cauliflower, and thinly sliced house-corned Wagyu beef. The crisp, savory, artfully assembled dish would make a convert of even the most pious of Puritans.
"When you talk about the regional foods of New England, it's all about nostalgia and comfort," Gilson says. "But that doesn't mean these dishes can't be elevated. What we set out to do is find the things that are visceral to people from this region, and take them to the next level."
That level is well-represented by a smoked bluefish pâté seasoned with fresh parsley and tarragon and served with New England hardtack crackers. Hardtacks, a bland staple of 19th-century fishing vessels, were notorious as much for their bricklike texture as for their ability to endure long voyages without spoilage. In Gilson's hands, however, they are crisp, buttery, and highly addictive. Equally compelling is his finnan haddie chowder, made with cold-smoked, salted haddock and potatoes.
Puritan & Company is part of a resurgence in Boston dining, one that's been amply celebrated in the past decade. But Boston isn't just a culinary boomtown. What sets it apart is that so many of its old-guard restaurants—the kinds of places that inspired chefs like Gilson—are still around. It's why I love this town. At a time when everything old is new again, Boston is home to some of the most bona fide dining rooms, taverns, and seafood shacks in the country.
It's not just New England food they're serving, either. Centuries of immigration—from Italy, Ireland, Germany, and beyond—have left an indelible and delicious mark. On a cold Tuesday evening, I find myself in Jacob Wirth restaurant, sitting in a swarming barroom drinking pints of Guinness among ball-capped college students and happy-hour businessmen loosening their ties while a Bruins game plays on the flat-screens. Jacob Wirth was established in 1868 by its namesake, who grew up in the same German village as the Anheuser family and became the first New England distributor of their St. Louis-based Anheuser-Busch beers.
Back then, the restaurant was in a German Catholic neighborhood, a gathering place for Teutonic immigrants who landed here in the 19th century. Today, that same area is Chinatown. The building alone is a sight to behold—two adjoined tatty Greek-Revival row houses with dilapidated dormers and a massive old clock that looks like it was rescued from a Hollywood prop yard. Inside, tin ceilings, schoolhouse lights, and a battered piano make Jacob Wirth seem almost artificial—like a modern-day replica of itself. While the menu is filled with such crowd-pleasers as hamburgers and chipotle turkey sandwiches, I decide on the jaeger schnitzel, a breaded veal cutlet served with meaty wild mushrooms, sweet pea spätzle, and a thick sauce enriched with the spicy digestif Jägermeister, delectable proof that Jacob Wirth retains its Old World chops.
My mother, who was born in Massachusetts, was a teenager back in the 1960s when she ate at Durgin-Park restaurant, in the Faneuil Hall Marketplace. She was treating her older brother, George, to lunch here, celebrating his graduation from law school. That's one of the great things about Boston: You can revisit the same places your parents—heck, even your great-grandparents—once did, and eat pretty much the same food.
I'm guessing that successive generations have been served by the same staff at Durgin-Park, too. Standing in one of the restaurant's second-floor rooms, I read the framed obituary of Nancy Greenfield, a retired employee of the Post Office who went on to become one of the restaurant's "surly, celebrated waitresses" from 1976 until 1991. According to the article, Mrs. Greenfield held court at station 12, a table for 25 where single male customers were seated communally. Glancing toward that station, I notice an older man with a shock of gray hair enjoying a bowl of clam chowder. I figure he might've known Nancy. I'd bet he misses her.
Durgin-Park was born as a nameless dining hall that catered to Faneuil Hall vendors and fishermen, who would dock their boats in what was once—before numerous engineering projects—the nearby harbor. In 1827, a regular customer named John Durgin teamed up with merchants Eldridge Park and John Chandler to buy the place. Since both Durgin and Park died soon afterward, Chandler named the restaurant in their memory. Over the years, it became known as the spot to get your New England fix, with such dishes as Boston baked beans, cornmeal-based Indian pudding, caramelly apple pandowdy, and an intimidating 32-ounce prime rib that makes my mouth water as a waitress named Regina delivers it to another table.
When my equally formidable portion of Yankee pot roast arrives, I shred the tender, flaky meat into the accompanying mashed potatoes. It's the kind of dish I remember eating countless times as a kid, usually halfheartedly. But there's something about having it here, in this history-laden dining room, that makes it almost transcendent. I finish off the meal with the most curious item on the menu, coffee gelatin, which arrives in a ceramic mug topped with whipped cream. The caffeinated dessert, made with the leftovers from yesterday's pot, has been served here for ages, and as I swallow my last quivering bite, I can't help thinking of the incongruity of a bunch of salty sailors spooning up these cute little cubes before heading out to sea.
"Let's get us some oy-stas," one of a group of five men says, affecting a Boston accent, as I make my way into the Union Oyster House. These are young guys, suited, draped in overcoats, and wrapped in expensive scarves. My guess is that they're in town for a convention. My guess is that they're a little drunk. One of them, a dead ringer for a Citizen Kane-era Orson Welles, looks up to the restaurant's wood sign and scoffs, "This whole city feels like Disney World."
His words get to me, but I understand where he's coming from. There are parts of Boston that do feel like historic re-creation. You can't walk a few footsteps without happening upon a plaque signifying some legendary event or celebrated birthplace. One morning I casually strolled by the Old State House, where, in 1770, the Boston Massacre gave way to the American Revolution. Walking down the street from my hotel to buy dental floss, I passed the tombstones of Paul Revere, Samuel Adams, and Benjamin Franklin's parents.
But despite young Orson's skepticism, Union Oyster House really did open in 1826, making it among the country's oldest restaurants. While it has expanded threefold into neighboring buildings over the years, its main room looks almost exactly as it did in the 19th century, when a blowhard senator named Daniel Webster riled his fellow patrons after too much brandy. Upstairs is the wooden booth where, back in the 1950s, another Massachusetts senator—John F. Kennedy—spent his Sundays reading the newspapers and mulling his political future over bowls of lobster stew.
While I long to sit in that booth, it is already taken up by a group of Harvard undergrads, so I settle for the one directly across from them instead. I order a cup of clam chowder and take in the restaurant's wood-beamed ceilings, nautical light fixtures, and a Victorian Christmas tree that looks as if it had been decorated by Dickens himself.
The chowder arrives smelling of briny shellfish and smoky salt pork. I tear open a bag of oyster crackers, mixing them in with the tender meat and potatoes. Taking my waitress's recommendation, I follow it up with a classic seafood Newburg with succulent scallops, lobster tail, and shrimp, all of them sautéed in butter and doused in a spicy Worcestershire-and-sherry-spiked cream sauce with a flaky vol-au-vent. By the time I'm finished, the Harvard students have gone back to Cambridge, so I sneak into Kennedy's booth and order a Jameson on the rocks.
After settling my tab, I make my way up the block to the Omni Parker House hotel, where I'm staying. But before heading to my room, I make a split-second decision to duck into Parker's Restaurant, just off the main lobby. While some may call it stodgy and outdated, this circa 1920s dining room is one of my favorite places on earth. With its opulent chandeliers, handsome hardwood paneling, and heavily draped floor-to-ceiling windows, it harkens back to a time when black-tied men and white-gloved women maintained an almost absurd amount of decorum, at least until the third martini kicked in.
Following in the footsteps of illustrious Parker's chefs Jasper White and Emeril Lagasse, the current executive chef, Gerry Tice, serves New England mainstays: chowder, lobster, the fluffy namesake Parker House rolls, and, of course, scrod, which he sautés in white wine and coats in bread crumbs. It's a quintessentially New England food whose name, my tuxedo-clad waiter tells me, was an acronym for the phrase "Special Catch Requested of the Day."
While this seems an apocryphal tale for a term that, according to most dictionaries, is derived from the British term "scrawed," which refers to a split and salted young fish, I order it anyway. As I slide my fork into the moist white fillet, I'm reminded that it's far better tasting than it sounds. I settle into my plush leather chair and surrender myself to the Parker's experience. A World War II-period soundtrack plays in the background. I gaze toward a corner table where, more than half a century ago, it is said that a young man named John proposed to a beauty named Jacqueline. The hushed, largely empty dining room springs to life, at least in my imagination.
In 1875, inside a small brick building on Bosworth Street, a dream came true. Here, a young French immigrant to Boston named Henry Marliave opened what would become one of the city's most revered restaurants—The Marliave. For more than a century, it would be celebrated for its menu of French, Italian, and New England dishes. But starting in the 1990s, the food began to suffer; the crowds began to thin. In 2003, Henry Marliave's dream ended when the restaurant was shuttered, many believed for good. Its unlikely resurrection came less than two years later, thanks to chef Scott Herritt, who grew up not in New England, but in Oklahoma. Much like Gilson's approach at Puritan & Company, part of Herritt's plan for The Marliave was to make it a showcase for refined New England classics. And if the tender pan-roasted local swordfish served with Swiss chard, red bell peppers, and potatoes is any indication, The Marliave might still be here a hundred years from now.
After finishing my meal, I take a seat at the restaurant's reassuringly crowded bar, the old mosaic tile floors and pressed tin ceilings still intact, and watch as good-humored patrons imbibe Prohibition era cocktails. I order a boozy Boston Tea Party made with tequila, ginger, lemon, and Earl Grey. A couple sitting next to me asks if the Bruins won tonight. I say I'm from New York, and they tell me that's okay. "Blue Christmas" starts playing in the background. And while this timeless Boston restaurant is nearly a century and a half old, right now, it feels to me like opening night.