Recipes
Seafood Newburg (Lobster, Scallops, and Shrimp in Sherry Cream Sauce)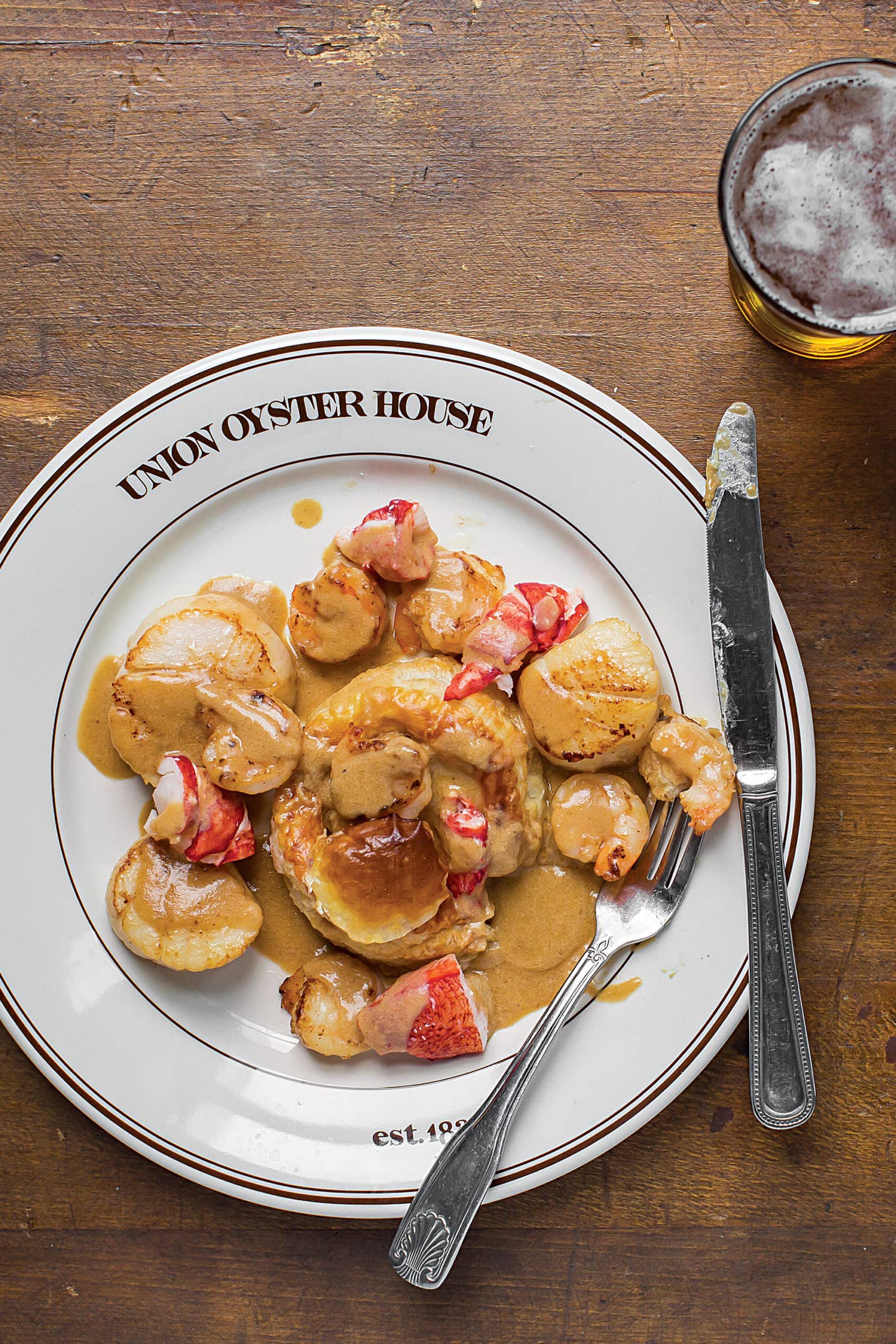 While Lobster Newburg was first served New York City's Delmonico's restaurant in 1876, Boston's Union Oyster House does a first-rate job with the dish, incorporating not just lobster, but scallops, shrimp, and a vol-au-vent, a puff-pastry shell filled with creamy Newburg sauce. This recipe first appeared in our December 2014 issue with the story Boston Uncommon.
Ingredients
Kosher salt, to taste
2 (1 1/2–2-lb.) live lobsters
8 tbsp. unsalted butter
2 carrots, chopped
2 stalks celery, chopped
1 medium yellow onion, chopped
1 lb. medium sea scallops
1 lb. medium shrimp, peeled and deveined, tails removed
2 tbsp. flour
1⁄4 cup dry sherry
1⁄4 cup half & half
2 tsp. hot sauce
1 tsp. Worcestershire sauce
1⁄4 tsp. ground white pepper
1 egg yolk
Instructions
Step 1
Bring a large pot of salted water to a boil. Cook lobsters 5 minutes; drain and transfer to an ice bath until cold. Drain lobsters; separate claws and tails, reserving legs. Halve tails lengthwise and remove meat; crack claws and remove meat. Roughly chop lobster meat; chill until ready to use. Roughly chop legs and shells.
Step 2
Add 3 tbsp. butter to pot; melt over medium-high. Cook carrots, celery, and onion until soft, 6–8 minutes. Stir in chopped legs and shells and 8 cups water; boil. Reduce heat to medium; cook 1 1⁄2 hours. Strain stock and return to pot; simmer until reduced by three-quarters, 1 hour.
Step 3
Melt remaining butter in a 6-qt. saucepan over medium-high. Cook scallops and shrimp until just cooked, 4–5 minutes; transfer to a bowl. Sprinkle flour into pan; cook 2 minutes. Whisk in reserved stock; boil. Reduce heat to medium; stir in sherry, half & half, hot and Worcestershire sauces, white pepper, and salt and cook until thickened, 6–8 minutes. Whisk 1 cup sauce with yolk in a bowl and return to pan; add reserved seafood; cook 2 minutes. Divide vol-au-vent bottoms between plates and ladle seafood mixture over top; top with vol-au-vent lids.