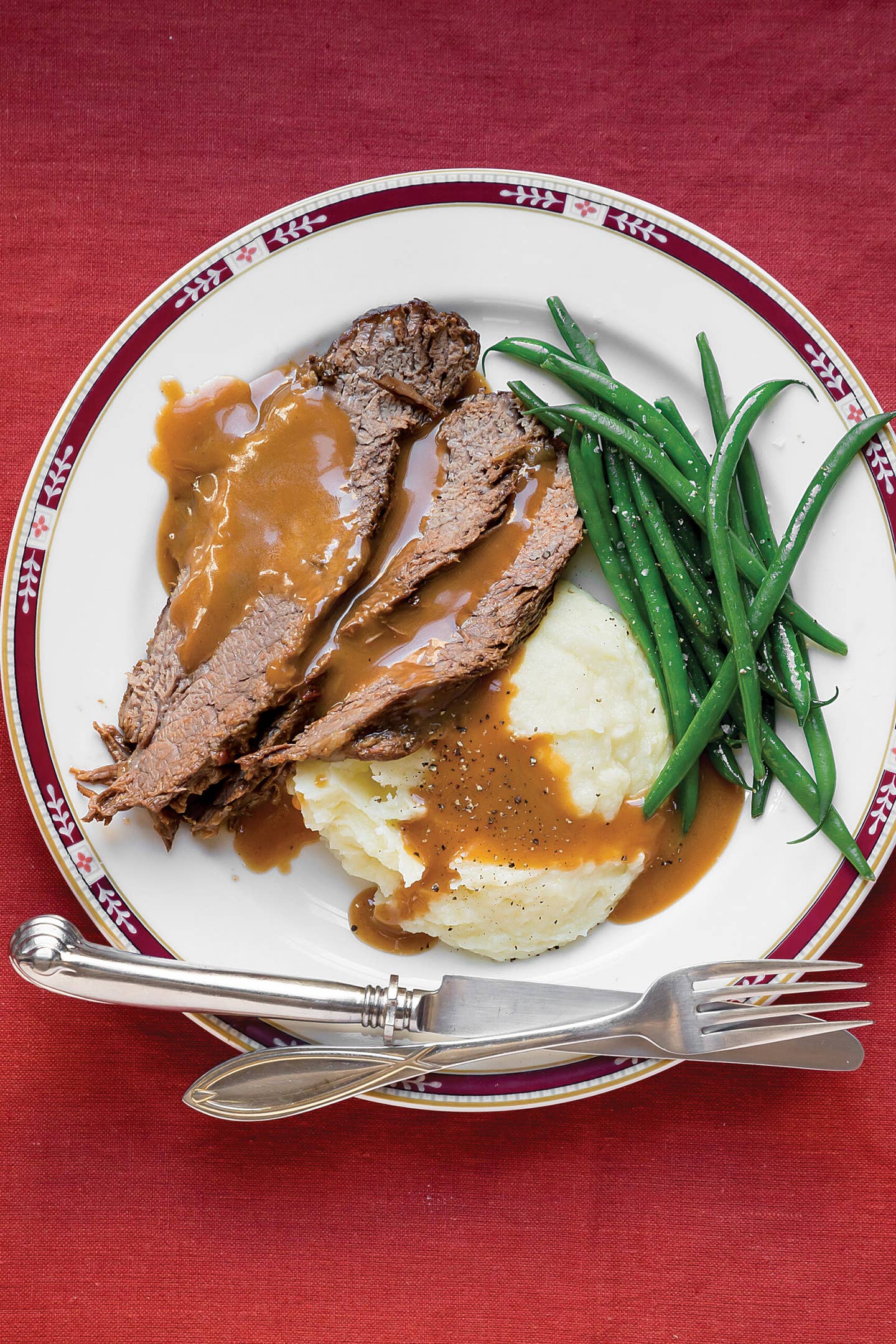 For many a New Englander, there's nothing more comforting than a rich and flaky pot roast served with mash potatoes and carrots. At Durgin-Park restaurant, good old-fashioned A-1 steak sauce adds zip to the gravy for this tender braised brisket. This recipe first appeared in our December 2014 issue with the story Boston Uncommon.
1 (5-lb.) beef brisket, trimmed
Kosher salt, to taste
2 tbsp. ground white pepper, plus more to taste
1 cup flour
3 tbsp. canola oil
3 cups beef stock
½ cup A.1. steak sauce
2 tbsp. celery salt
1 tsp. poultry seasoning
6 bay leaves
6 carrots, chopped
2 small yellow onions, chopped
2 stalks celery, chopped
1 (15-oz.) can whole peeled tomatoes, drained and crushed by hand
Mashed potatoes and green beans, for serving (optional)
Heat oven to 325°. Pat brisket dry using paper towels; season with salt and 2 tbsp. white pepper and dredge in ½ cup flour. Heat oil in an 8-qt. Dutch oven over medium-high; cook brisket, turning as needed, until browned, 18-20 minutes. Add stock, steak sauce, celery salt, poultry seasoning, bay leaves, carrots, onions, celery, and tomatoes; boil. Cover and transfer to oven; cook until brisket is tender, about 4 hours. Transfer brisket to a cutting board; let rest 10 minutes before carving. Strain pan juices through a fine-mesh sieve into a bowl. Whisk remaining flour and 1 cup water in a 4-qt. saucepan over medium-high; cook 2 minutes. Whisk in reserved pan juices; simmer until gravy is thickened, 6-8 minutes. Pour gravy over brisket; serve with mashed potatoes and green beans, if you like.