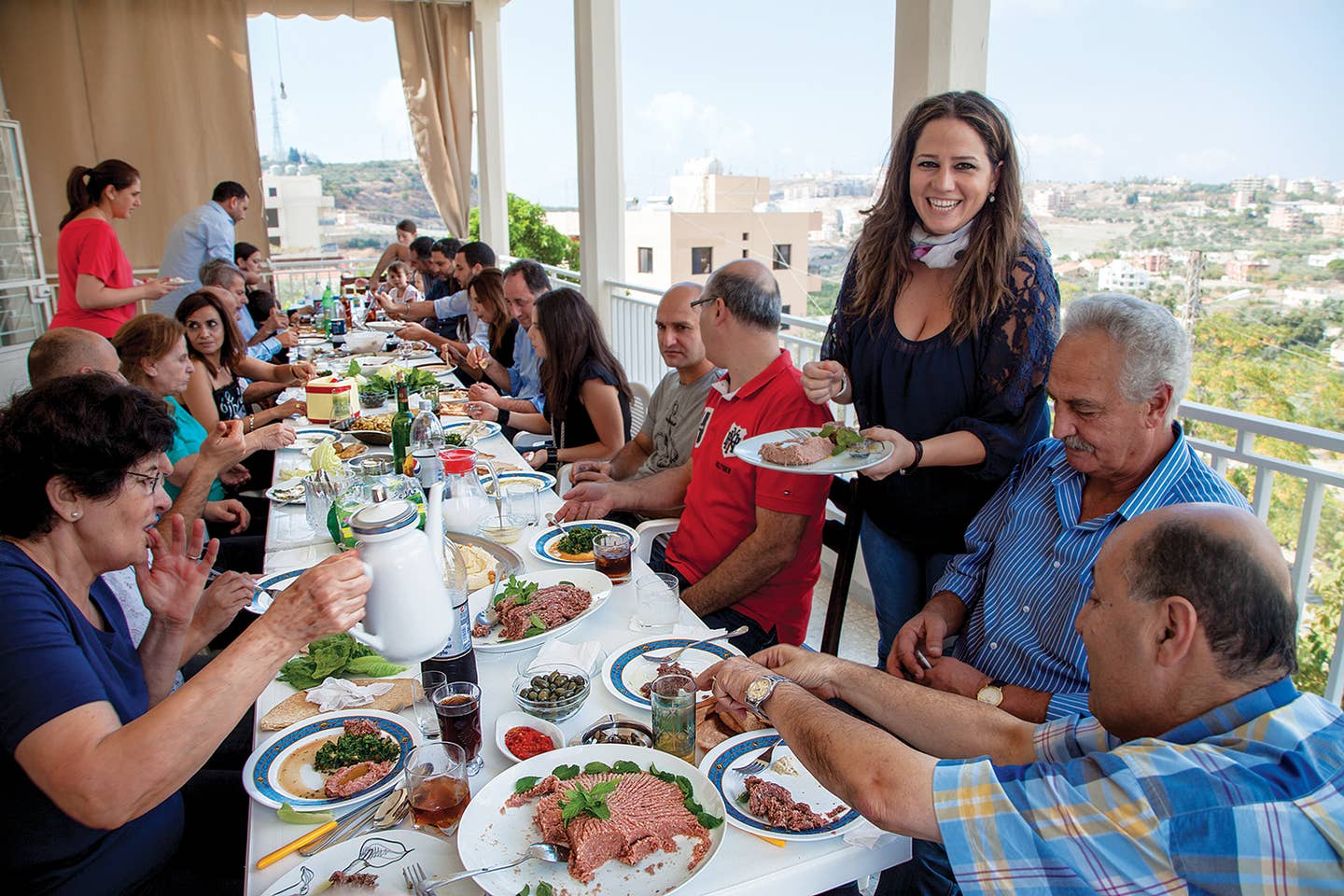 Travel
Home for the Harvest
A native son returns to Lebanon and his family's olive grove for a bittersweet feast
In the early 1900s, my paternal grandfather, Maroun Kassab, planted close to 200 olive saplings in the southern Lebanese village of Ain el Delb, just east of the biblical city of Sidon. His home sat among the young trees, and every day he would wake up before dawn and carry buckets of water from his well, tending to them one by one. This backbreaking work lasted years before the roots were strong enough to sustain the plants. From then on, the trees depended on Baal, the ancient deity of fertility, rain, and dew once worshipped by the region's indigenous inhabitants, the Canaanites. But although the trees were watered by the heavens, Jiddi, or Grandfather, still pampered them, trimming off the dead wood, pulling out weeds, and nurturing the soil.
Jiddi taught my father, his eldest son, how to care for the trees as lovingly as if they were family. During the October harvests, the two picked olives together. They referred to the groves as the rizzi', a Lebanese word that roughly translates as "blessing." Jiddi passed away before I was born, but the trees were handed down to my father and his siblings. The brilliant oil from their fruit was our inheritance, coursing through almost every meal.
I was five years old when war came to our village, upending our lives. We left the conflict and moved to Byblos, a coastal city north of Beirut. Our family of six exchanged trees and white soil for the safety of a two-bedroom apartment in a concrete building block. I grew up with fragmented memories of my heritage, pieced together from histories yearningly recounted by my parents. Each birthday, my secret wish was the return to our rightful lives. For years, I would determinedly blow on every dandelion I encountered, hoping that one of the thousands of seeds I scattered would carry my wish back home.
A decade later, in 1994, we returned, but to a bombed-out house and a grove overgrown with thorn bushes. Before we began repairing our damaged home, my father took up Jiddi's work again. He cut through underbrush; he spoke to the trees. The earth, it seemed, recognized his sweat. In just one year, the trees became rejuvenated, their regrowth robust, and come October, branches were weighed down by an abundance of fruit so heavy the leaves brushed the ground.
That year was the first olive harvest I'd ever worked. My father, my two brothers, and I picked alongside a group of Palestinian men and women who had been living in a refugee camp near our land. A 15-year-old who had never done manual labor before, I was complaining of dehydration within an hour of arriving. I laugh now at how spoiled I must have seemed to our workers, my soft hands almost exfoliated by their sand-papery palms after a handshake.
We woke early in the morning and set up large rugs and plastic sheets under the trees. Our work was slower than that of our neighbors; we picked each olive by hand while they would use bamboo sticks to strike the branches. This practice was banned in our grove. My father would repeat Jiddi's words: "Would you hit someone who feeds you?"
As the days went by, I began to toughen and complain less. Harvest became a peaceful experience, one I looked forward to every year. I especially loved sifting through thousands of green olives to find the plumpest and prettiest ones to give to my mother to brine for the year's supply. The rest would be taken to a nearby village to be pressed into oil. It became a ritual for my siblings and me to go to the press with our father on the first day of the harvest. Our fruit would be washed and crushed, then out would gush the olive oil in a cloudy brilliance of golden green, opaque and unfiltered.
As I grew older, in search of opportunity, I went abroad. At 20, I left Lebanon for Sydney, Australia, with my brother Fady. My older brother, Maroun, departed, too, for the United States. My memory of the harvest before we dispersed is most vivid. My father and I took the olives from the first day of picking to press them. Right beside the oil spout of the press sat an old woman baking paper-thin bread on a searingly hot metal grill. My father folded the crackling just-baked sheets, dipping the hot shards into the olive oil and handing them to me. We ate together in silent bliss.
The next October, and the many that followed, I would call my parents from Australia, wanting to hear every little detail: "Which part of the rizzi' is being harvested first? Is the fruit nice and plump?" I craved being there. I missed my home, and I missed the trees. When other people I knew tasted olive oil, they savored only the flavor, but my entire being would be transported. I would smell the stone my mother used to crush the olives for brining, and I would see her face; I would recall my father's suntanned skin and his car filled with hessian bags bursting with olives. I would remember my sister's smile as the two of us ate a breakfast of labneh, thick strained yogurt, drowned in olive oil. Finally, I could stand it no longer. I had to be there.
"What shall I cook for you?" That was my mother's first question when I told her she should expect me there for my first harvest in 13 years. When words fail, my mother cooks.
"Anything with olive oil, Immi!" I replied.
"I'll make you some kibbeh. And tabbouleh, too. The romano beans will still be around when you come, so we can make loubieh bil zeit. Of course there'll be stuffed grape leaves and—"
"Immi," I stopped her. "You're going to need more than that." Behind her back, I had planned a reunion with my siblings. We were all heading home.
I was the first to arrive in Lebanon. I landed at night, and my father drove me home. To our left the hills shimmered with electric lights from Beirut's ever-expanding urban sprawl, and to our right the Mediterranean Sea ebbed and flowed under a moonlit sky dotted with familiar stars.
My mother stood waiting at the door with tears in her eyes. We hugged and laughed as we sat down for a late dinner. Man'oushé, a flaky flatbread, was earthy with toasted sesame seeds and za'atar and brightened by wedges of ripe tomato flooded with the new-season oil. We shared sumac-dusted eggs pan-fried with olive oil and quick-cured olives my mom had prepared a few days before.
The next morning I woke early. My father was already up, brewing a pot of Lebanese coffee. We drove down to the olive trees. The cool sea air filtered through a large neighboring orange grove between the hillsides.
Within half an hour, the workers began arriving. This fall, they were Syrian refugees. They had fled their war-torn country by the thousands. Those helping us with the harvest were living in an unfinished building close to our home. They worked carefully, picking the fruit as they exchanged stories from the tops of the trees. Their situation was similar to the one that my family had endured almost two decades earlier, but to me, now, their plight seemed worse and their future more uncertain.
Over the next few days both of my brothers, Fady and Maroun, arrived, along with Fady's German wife and children. My sister, Mary, came from Beirut with her clan. An influx of aunts, uncles, and cousins from all over the country turned up for a big feast. Their children came, too, some whom I remembered and others who were born while I was away. Each family unloaded ma'amoul, shortbread cookies stuffed with dates or pistachios, when they arrived. As lunch drew near, the long table filled up with more dishes than I could count. We helped ourselves to stuffed grape leaves, slow-cooked with lamb on the bone. There were kibbeh, lamb and bulgur wheat croquettes, and kefta bil sayniyeh, rich, spiced patties of lamb baked with tomatoes. There were Mom's stuffed eggplants. And we filled out our plates with tabbouleh and baba ghannouj. We ate, toasting my parents and each other.
The meal extended well into the afternoon, and more food came out. I plucked up shish barak, little dumplings simmered in yogurt and bursting with juicy beef, and fattet hummus, tender, nutty chickpeas with fried pine nuts in aioli. Only at my mother and father's house have I seen such abundance. We ate and drank and reminisced loudly. The house overflowed with laughter. But when I examined my parents closely, I could see a familiar look in their eyes. It was the same expression I had seen on all of my previous visits—of happiness burdened by the awareness that this joyful moment would be short-lived.
To my father and mother, their family was a sight as perfect as a fully formed dandelion seed pod. They knew, however, that the wind would eventually blow, and that the seeds would soon scatter again, to strange places as far-flung as Sydney and New Jersey. But their hope, I knew, was that the winds might turn and the seeds come to land in a fertile olive grove right down the road.