Recipes
Batenjen Mehchi (Lebanese Lamb-Stuffed Eggplant)
Cinnamon-scented and simmered in tomato.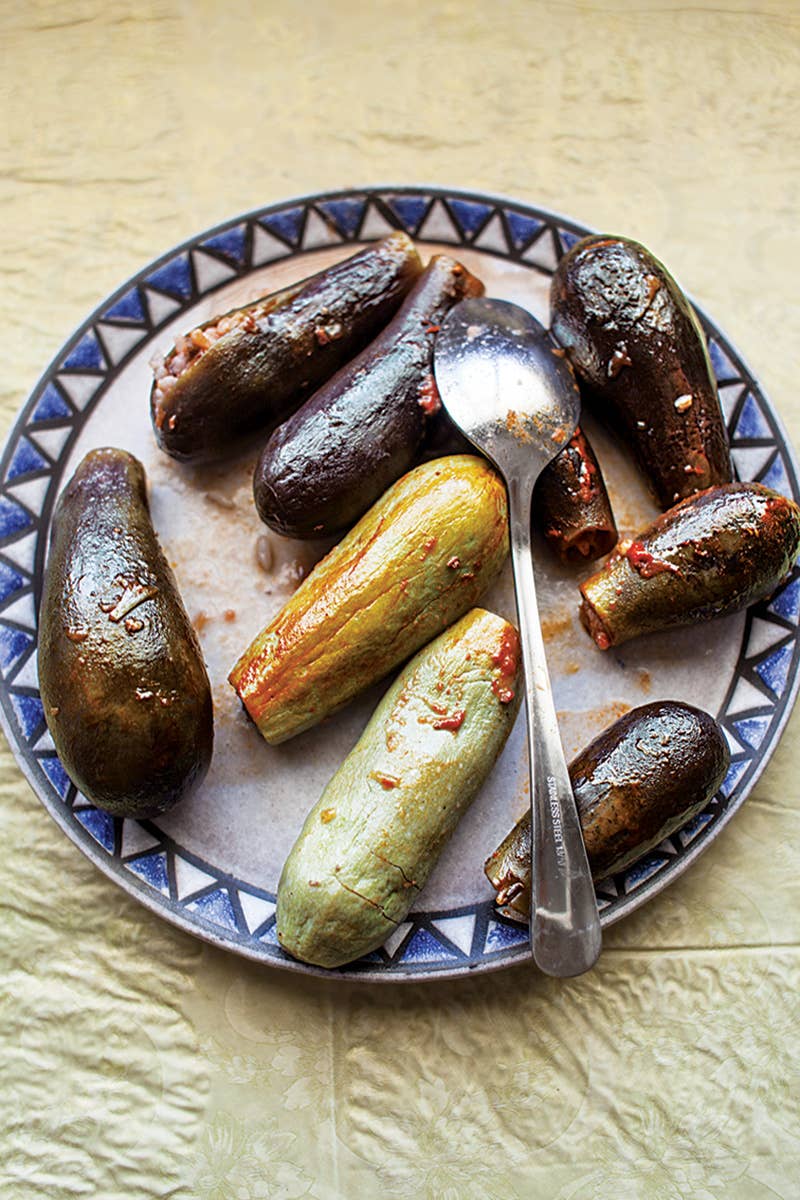 For batenjen mehchi, eggplants are stuffed with a mixture of spiced lamb and rice, then simmered in tomato sauce in this rustic, cinnamon-scented Lebanese dish. It comes to us from chef Fouad Kassab's mother, Isabelle, who prepares it during the autumn olive harvest using new-season olive oil from the family's groves. Use mild, small eggplants like Japanese or fairy-tale eggplants; if you can't find those varieties, zucchini may be substituted. This recipe first appeared in our October 2014 issue with the story "Home for the Harvest."
Ingredients
1⁄2 lb. ground lamb
3 tbsp. long grain white rice
3 tbsp. tomato paste
6 cloves garlic, minced
1 small white onion, minced
1⁄2 tsp. ground cinnamon
1⁄4 tsp. ground allspice
Kosher salt and freshly ground black pepper, to taste
24 Japanese or fairy tale eggplants
3 tbsp. extra virgin olive oil
1 tsp. dried mint
1 (16-oz.) can whole peeled tomatoes, crushed by hand
Instructions
Step 1
Mix lamb, rice, half each the tomato paste, garlic, onion, and cinnamon, the allspice, salt, pepper, and 3⁄4 cup water in a bowl; let sit 30 minutes. Using a paring knife, stem and hollow out eggplants, keeping them whole. Mince flesh and mix with lamb mixture; stuff eggplants.
Step 2
Heat oil in an 8-qt. saucepan over medium-high. Cook remaining garlic and onion until golden, 4–6 minutes. Stir in remaining tomato paste, cinnamon, salt, and pepper; cook 3 minutes. Add mint, tomatoes, and 1 cup water; boil. Reduce heat to medium-low and add stuffed eggplants; cook, covered, until eggplants are tender and the filling is cooked through, 30–35 minutes.