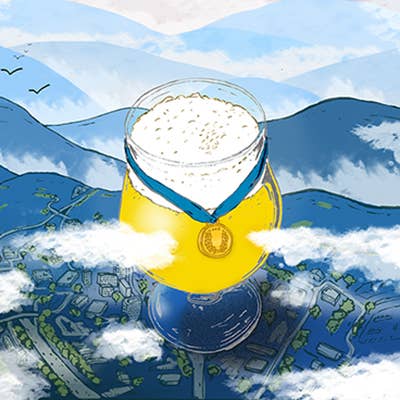 Drinks
The Brew: Wicked Weed, a North Carolina Brewery Worth the Visit
Meet the newest addition to Asheville's thriving craft beer scene
Craft beer is nothing new for Asheville, North Carolina. The pint-sized city of 85,000, nestled at the foothills of the foggy Blue Ridge Mountains, has supported a thriving beer scene since the early 1990s. But it wasn't until I got to know the innovative, year-old brewery Wicked Weed, who have become known for creative Belgian and West coast-style beers, that I really started to pay attention to the beer in town.
I first heard about Wicked Weed about a year ago, when I was in Asheville with a friend, attending a concert during a particularly frigid weekend. Shivering in the smokers' corner outside the venue, we gazed bleary-eyed across the alleyway onto a festive party happening next door. "That's Wicked Weed," my friend said, nodding toward the building in front of us. "A new brewery. Opens tomorrow. Should be awesome."
Wicked Weed—the name alludes to something Henry VIII said about hops being a "wicked and pernicious weed"—was founded in the waning days of 2012 by Walt Dickinson and his younger brother Luke, who previously worked at Dogfish Head in Delaware, along with childhood friend-turned-business partner Ryan Guthy and Ryan's parents. The brothers, who split brewmaster duties (Luke handles the creative arm while Walt acts as director of brewery operations), create small batches of nearly two dozen different beers on their modest 15-barrel system. They built the brewery from the ground up, installing state-of-the-art equipment and taking care to set up a separate space for producing wild-yeast beers (whose strains can infect and taint standard beer). Down the road from the main operation, they have an aging room that houses over 250 wooden barrels.
Not too long ago, I found myself back in Asheville, this time on the opposite side of that alleyway, tasting beers with Walt, my wife, and a small clan of local friends. In the year that's passed since that opening-night party, Wicked Weed has pulled in massive crowds, extraordinary praise, and even nabbed a gold medal at the Great American Beer Festival in Denver, the country's premiere craft beer event, for a tart brew they called Serenity. As Walt explained, "It was a big deal for a young brewery like us to win that medal."
Of course, Serenity was first on our list of beers to try. As we sat there talking and tasting, Walt swirled his glass and inhaled deeply. "We brewed this to mimic the flavors of a New Zealand Sauvignon Blanc," he said, as we raised our glasses and took our first sips. And it's true: The beer is undeniably wine-like, with a washed-out hay color, a crisp, smooth finish, and robust aromas of tropical fruit, delicate flowers, and rich leather. My wife, who isn't really interested in drinking beer, and who had made the trip largely to meet and make faces at our friend's new baby, loved it. So did everyone else—all of the brewpub's Serenity reserves were drained that day.
As soon as Serenity kicked, we moved on to tasting Wicked Weed's flagship beer, Freak Double IPA, a perversely powerful brew that Walt calls a "San Francisco-inspired hop monster." Each barrel contains over three pounds of hops, which in that quantity adds profound layers of pine and citrus aromas. But the finished beer smacks of sugary sweetness, making it dangerously easy to drink.
By the end of a full afternoon of tasting, I was more than ready for a nap. But before I left, I peeked in on Walt leading a brewing seminar for a group of students from a local community college. He was showing them Wicked Weed's new bottling line, which will soon be used to fill 500-ml champagne-style bottles with specialty beers, like Dark Angel Cherry Sour—a black ale aged with tart cherries and Italian plums in Four Roses whiskey barrels—for distribution around North Carolina.
But until the bottling line is up and running, you'll have to visit the brewery to taste their beer. Luke says Wicked Weed is on schedule to produce 3,200 barrels of beer by the end of their first year, more than double the amount forecasted in their business plan. "I don't know where we're going next," he says, but the business plan sounds on target with their approach to making the beer itself: "We'll do it at our own pace," says Luke, "under our own conditions."
Wicked Weed
_91 Biltmore Avenue, Asheville, NC
828/575-9599