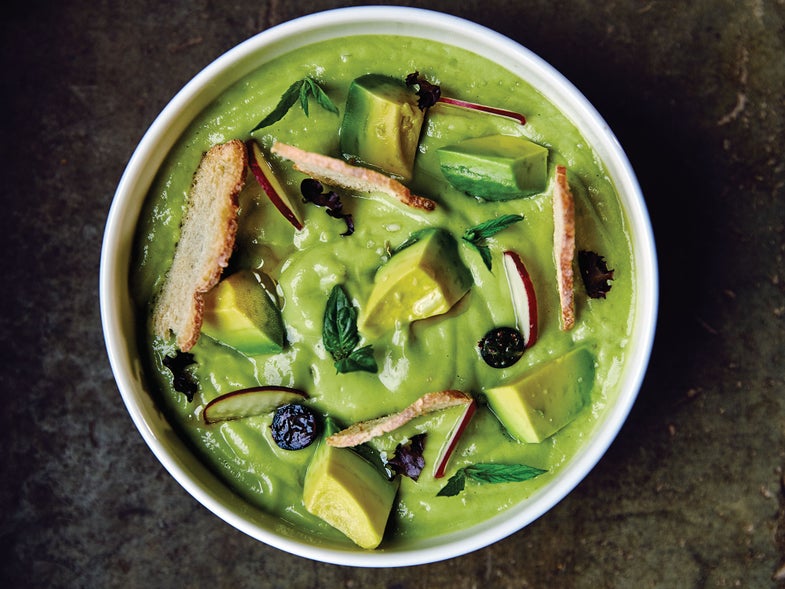 As ethereal as its origins, this unusual, chilled summer soup is a specialty at the Singular Patagonia, an otherworldly hotel that borders Sena Última Esperanza (or Last Hope Sound). If you can't find merken chile, feel free to substitute with red pepper flakes.
Featured in: The Epic Food and Landscape of Patagonia
Chilled Avocado Soup
A refreshing, creamy start to a summer meal.
Time: 15 minutes
Ingredients
4 ripe Hass avocados
2 cups sparkling water
1⁄4 cup extra-virgin olive oil, plus more for drizzling
3 ice cubes
Kosher salt and freshly ground black pepper
1⁄4 cup small basil leaves
4 red radishes, thinly sliced
15-20 thin slices of seeded bread, toasted, for serving
1 tsp. merkén chile
Sea salt
Instructions
Cut the flesh of one avocado into cubes and set aside. Scoop the flesh from the remaining avocados and put it in a blender with the sparkling water, olive oil, and ice. Blend until smooth, then season to taste with salt and pepper.
Divide the chilled soup between 4 bowls and garnish with avocado cubes, basil, radishes, and toasts. Sprinkle with merkén, more olive oil, and sea salt immediately before serving.