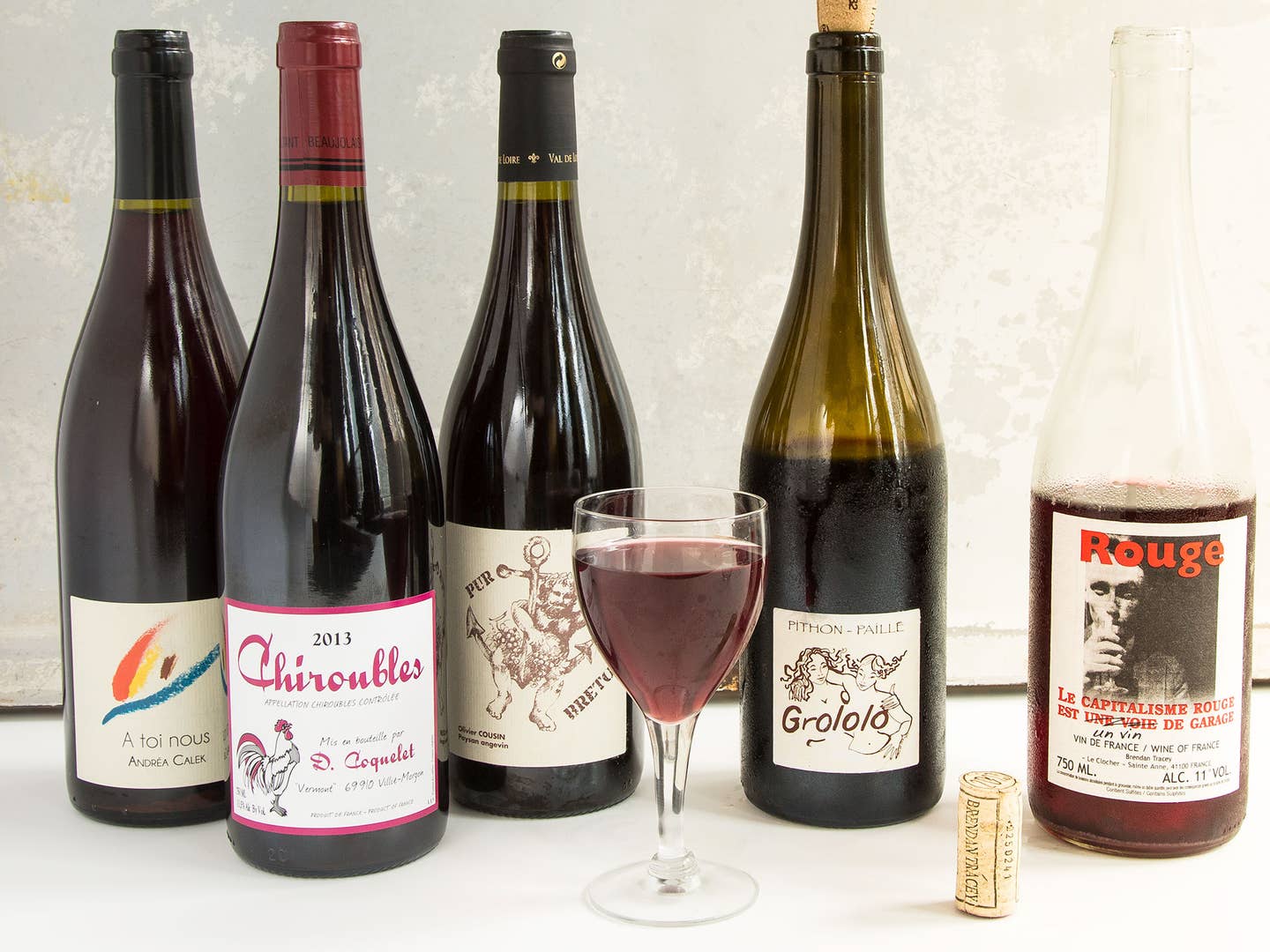 Drinks
For Your Next Barbecue, A Bottle of Red
Give the rosé a break, and chill these French reds instead
By mid-summer, drinking rosé day and night can tire even the most seasoned wine drinker. The obvious alternative is a dry and crisp white wine, but you're truly missing out if you ignore light, chilled reds as your summer companion for barbecues and patio hangouts.
An entire genre of young and refreshing red wines, largely coming from northern appellations in France, are an excellent answer to hot-weather drinking. In particular, certain French varieties like Gamay, Pineau d'Aunis, and Grolleau form the basis of these low-alcohol, high-acid, earthy red wines, which will quench your thirst without weighing you down. We're talking about what the French call glou-glou or vin de soif—literally, wine for thirst. And they are best served with a chill.
Jason Wagner, wine director and partner at the Lower Manhattan restaurant Fung Tu, features several light reds at the restaurant, which serves seasonal Chinese-American cuisine.
"Light reds are great because they can pair well with meat-centric dishes, or seafood dishes, and still be refreshing," Wagner says. "Often times these lighter red grapes are low in tannin, high in acidity, and low in alcohol so they're easier to drink and don't fatigue your palate."
Randall Restiano, wine director for Eli Zabar's restaurants including Eli's Essentials wine bar and Eli's Table, also loves drinking light reds in summer, particularly with grilled foods like charred shrimp.
"The char sometimes makes it a bit too strong for white wine, so a light red is perfect," he says. He also likes to pair these light reds with grilled vegetables, "like those big green scallions."
Most sommeliers, Restiano and Wagner included, suggest serving red wine at "cellar temperature"—around 55° Fahrenheit.
As Wagner says, "[There's] no need to get super precise with it. Stick it in the fridge and once the bottle is cool, you can open it up right away and let it slowly get warmer, or just leave it on the table for 10 minutes."
Here are five light reds to seek out for your next barbecue:
Olivier Cousin "Pur Breton," Cabernet Franc, Anjou, 2013 ($22 on winesearcher.com)
Sulfur-free wines like this one usually have some variation from bottle to bottle; if you get a particularly good bottle of Cousin's lush, pretty, and biodynamic Cabernet Franc, you'll want to drink it all summer. It's herbaceous, refreshing, and light, and a bit of aging in used oak barrels lends just the right amount of backbone.
Pithon-Paillé "Grololo," Grolleau, Anjou, 2013 ($22 on winesearcher.com)
The French love their wordplay, especially on wine labels. "Grololo" is slang for "big boobs" in French, and the European version of this bottle depicts completely topless ladies. Over here in Puritanical America, we might not get the full joke or the full show, but we can enjoy this brilliant wine nonetheless. It's made primarily from Grolleau—an indigenous grape typically used for rosé or blending, but noteworthy on its own—with some Gamay included as well. Pithon-Paillé is known mostly for their Cabernet Franc and Chenin Blanc, but this Grolleau is a standout: it's got dark plums, red fruit, and fresh violets on the nose; a healthy dose of spiciness; and some structure.
Damien Coquelet Chiroubles, Gamay, Beaujolais 2013 ($24 on winesearcher.com)
You may know about "Beaujolais Nouveau," which is bottled just a month or so after harvesting and drunk as a light, refreshing picnic wine. But Beaujolais has 10 notable locations called "Crus" that produce terroir-specific, remarkable, and often age-worthy wines, all made from the light red grape Gamay. Young winemaker Damien Coquelet produces beautifully expressive wine in Chiroubles, which has the highest altitude of those Crus, and which helps to preserve acidity in the grapes to make lovely, approachable, food-friendly wine.
Andrea Calek, "A Toi Nous," Grenache, Ardèche 2014 winesearcher.com
The Czech-born Andrea Calek lives in a trailer near the vineyards he tends in the Ardèche, in France's Rhône valley. Of the various sulfur-free reds he makes, the all-Grenache "A Toi Nous" is the most gluggable. It's kind of like a "Grenache nouveau," bottled after just one month in stainless steel. The wine has an almost translucent garnet hue and a wonderful earthiness due to whole-cluster fermentation as opposed to destemming the grapes.
Brendan Tracey, "Capitalism Rouge," Cot / Gamay 2013 ($23 at Union Square Wines)
In the hands of a former punk musician from California, these two Loire varieties make for a beautifully shaded light red, with a tart and "barnyard-y" nose, cherries on the palate, and a nice soft finish. Cot is the ancestor of Malbec, but the French version has nothing to do with the fruit-bomb Malbecs coming out of Argentina—this one is acid-driven rather than juicy and rich. Drink it at your Fourth of July barbecue and feel that revolutionary spirit.
Rachel Signer fell in love with wine accidentally while waiting tables in order to support herself while writing a novel, and now she runs around New York City's wine bars and industry tastings, asking annoying questions about sulfur. She also writes about food and sustainability. Keep up with her work on Instagram and Twitter.