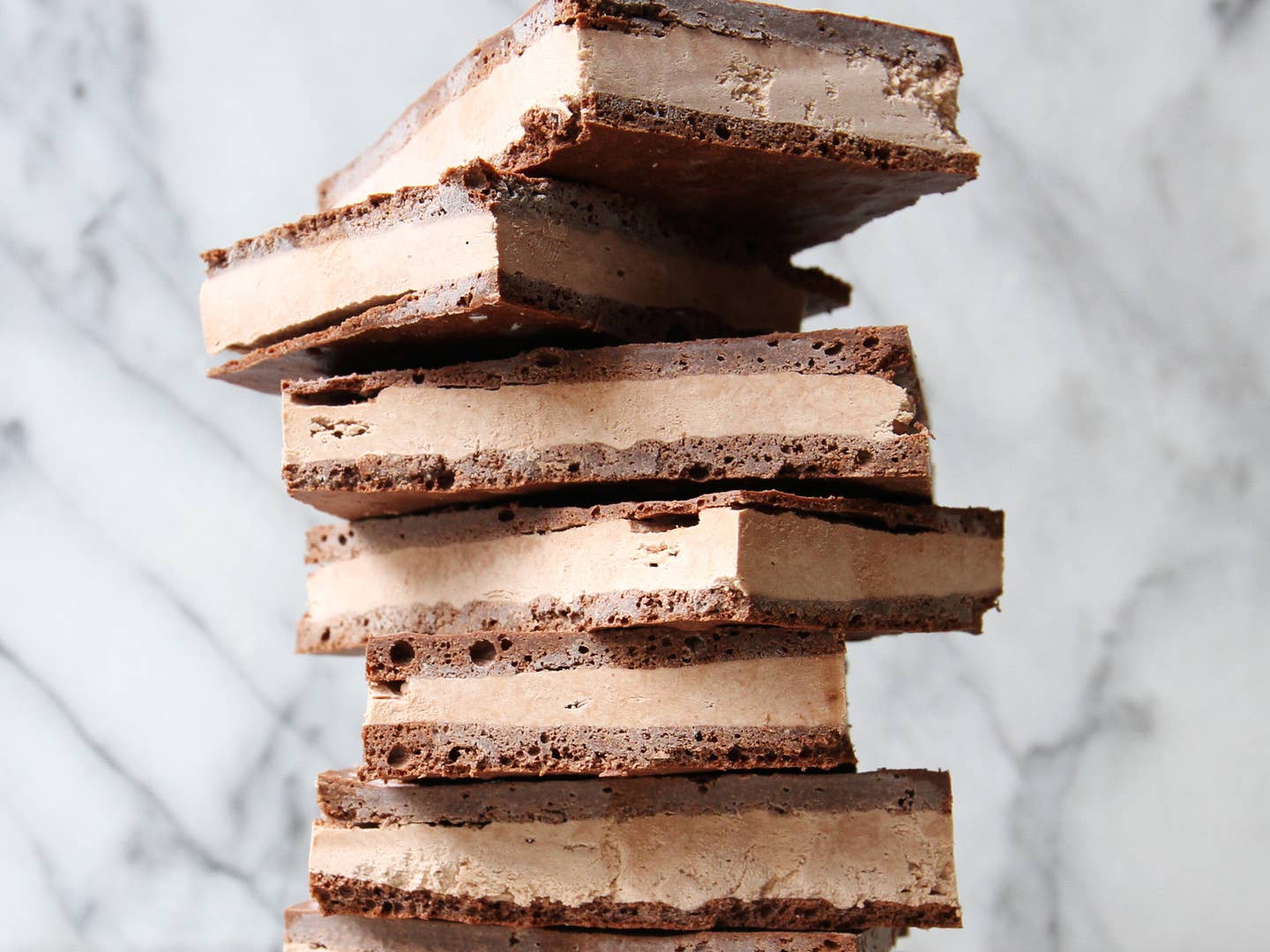 Culture
Behind the Recipe: Mint Chocolate Ice Cream Sandwiches
Baker Joanne Chang shares the story behind building an ice cream sandwich, without any sugar
After writing two books full of cinnamon rolls, homemade oreos, and Boston cream pie, Flour Bakery + Café owner Joanne Chang took on a new challenge this year—writing a cookbook that relies on using alternative sweeteners in place of sugar in baked goods. Instead of the refined white stuff, she turned to apple sauce, fruit juices, dates, and chocolate. Today, she's taking us behind an unconventional ice cream sandwich, which you'll love even if you're one to reach for Klondike Bars or Choco Tacos.
I don't view sugar as the enemy by any means—my focus in Baking With Less Sugar was about using different types of sweeteners and flavors. It became an intellectual challenge to see if I could create recipes where you didn't know the sugar was missing. I've always enjoyed pastries that are less sweet in general, anyway.
My inspiration was personal. One part of it was that I love to bake for my husband, but he's somebody who doesn't do well with a lot of sugar. When I bring stuff home from Flour, he'll always eat it but then he'll crash. So I was trying to bake things for him that he could eat without crashing. Another reason for this project was that at the bakery, we had a lot of guests asking if we made any desserts with less sugar.
When you're baking with less sugar, you have to recognize that it's not recreating the taste that will be a challenge. Your palate will naturally adjust, and you'll enjoy desserts that aren't as sweet. The challenge is figuring out how to adjust for texture, appearance, and keeping qualities (sugar is a preservative). Sugar adds moisture and tenderness, and it turns things golden brown. But what I love about all recipes made with less sugar is that they all have a ton of flavor—because you're not relying on sugar to make something taste sweet.
The ice cream in my mint chocolate ice cream sandwiches uses bittersweet chocolate as the "sweetener," but no sugar. The ice cream is just chocolate and heavy cream, so it's not actually ice cream—it's a chocolate mousse. We make a chocolate mousse cake at the bakery that's filled with three types of chocolate: white, milk, and dark. We've been selling this cake since we opened, and to make it, you have one large sheet cake, and then you cut it into smaller cakes. So, we end up with cake edges, which are part of the cleanup project; when we froze them and then ate them, we realized that the edges tasted like ice cream cake.
So I wanted to recreate the chocolate mousse cake to be ice cream sandwiches. We changed it up by adding a little bit of mint, and I created a chocolate cake that doesn't have sugar in it. Instead, it's sweetened with the chocolate in the recipe. It's a little darker in flavor, and it's a little bit tender to work with. You layer the cake with the mousse, you freeze it, and then you cut it into sandwiches.
The main issue is that since the cake doesn't have any sugar in it, and neither does the ice cream, it can freeze up really hard. Anything without sugar gets really hard when you freeze it because sugar is what makes things softer when they're frozen. So, we pull these out 15 minutes before we serve them. They aren't as sweet as sugar-sweetened ice cream sandwiches, but the flavor is deep. It's rich.