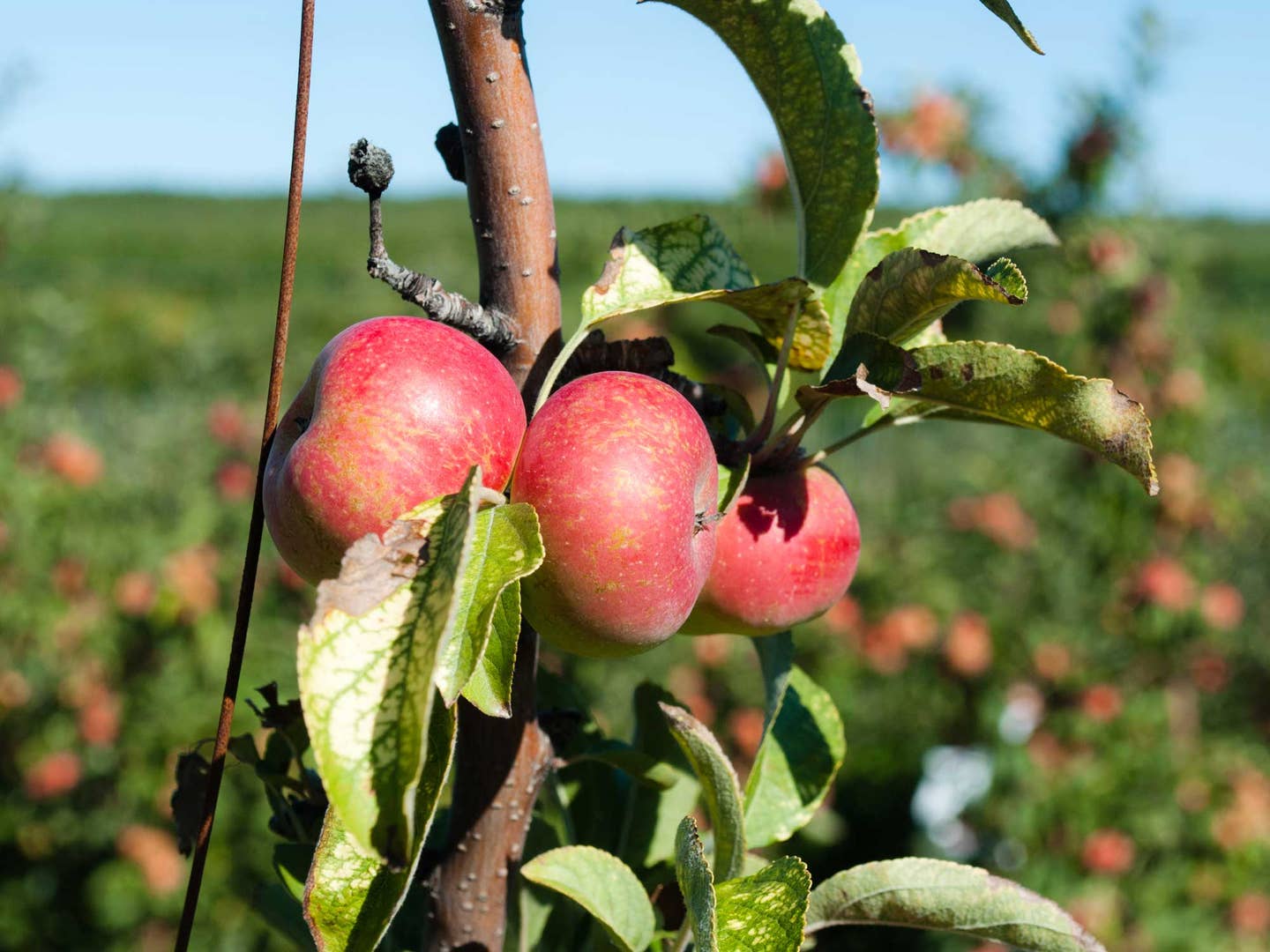 Drinks
The Best American Ciders of 2016
A bumper crop of stellar ciders caught our eye this year, so we tasted them all
We've been drinking a lot of cider at SAVEUR. Every day around 4:30 or 5 p.m. for the last few of weeks, a new batch of bottles emerges on the test kitchen counter and a few of us pop the corks to test the lot.
In some ways this surplus of ciders reflects the will of American farmers and craft beverage-makers to uncover and share heirloom practices that have been lost to time; in the wake of Prohibition, the cider industry, like the beer industry, was erased. But unlike beer, cider never quite recovered to its former colonial era glory.
Not so long ago, it would have been difficult to gather this many American-born ciders for a tasting that ranged from bubbly and sweet to bittersweet and still, barrel-aged to bone dry. Now we have a wealth of options.
Even so, the cider industry is playing catch up to Asturias, Basque country, and Normandy, where the stuff is as ingrained in the culture and indicative of terroir as the apples themselves.At present, the average American cider is likely to be either candy-sweet or flatly banal, but take heart: For every dozen dullards, there's an experimental weirdo bottle chock full of brettanomyces or a refined ale of crisp, juicy heirloom apples. (NB: Like local apples, many of these are only available regionally; keep an eye out when traveling and make cider your new souvenir.)
Of the dozens of bottles we've drunk through, these are the ciders that stuck with us.
Made by spontaneous fermentation and aged on the lees, this bottling of wild heirloom apples is dry with bright, delicate acidity. It's slightly musky with great mineral qualities and a bit of brine. All of Leif Sundström's ciders are produced in small quantities, so if you see a bottle, grab it.
Nearly everything from Hudson Valley Farmhouse is worth checking out (see the funky, dry Scrumpy available by the growler and the single-varietal Winesap in half-bottles), but the God Speed the Plough—a blend of Dabinett and heirloom varietals—is especially expressive. Full of rich fruit, honey, sunny hay, and just a touch of sweetness, this label is one of the cidery's best.
Bright sunny apple flavors mixed with sour citrus, the Arlo bottling from Shacksbury in Vermont is made with a blend of sweet American apples and bittersweet Basque varieties. The cidery's funky Lost Apple-Pét-Nat edition is also worth a taste if you can find it.
From the Finger Lakes in New York, Eve's has been making cider since 2001, and consistently produces some of the state's best: always pure (no added sugar, and reflective of the chilly, clean Upstate environment. Ripe and wine-y, the 2015 of Darling Creek is an excellent example of semi-dry cider. With only a touch of toasted maple sweetness, this fresh-tasting cider is more fruit than added or residual sugar.
Made with six varieties of apple from the Hudson Valley, Descendent's "Succession" was a pleasant surprise of dry, subtly sweet root beer flavors. This release has a slight sassafras bite and a healthy bubble, and—at $8 for 500ml—is a fantastic value.
This off-dry cider from New York is a pub style, meaning—like English draught ales— it's bright, quaffable, and full of lemon and orange flavors. Delicate with a backbone, and well paired with fish and chips or moules frites.
Flavored Ciders and CLOs (Cider-Like Objects)
From a historic, holistic orchard in the Hudson Valley, this dry raspberry cider is something to behold. It's made in collaboration with Aaron Burr's cider maker, and gets its blushy hue from whole Westwind raspberries added during fermentation. Funky, sparkly-spangly, and only the slightest bit fruity, this cider tastes like the love child of a raspberry shrub and champagne.
In a blind tasting, Eden's pink, fizzy cider might be mistaken for bubbly rosé. This lightly sparkling bottle is infused with sour-tart red currants and then mixed with a bit of sweet ice cider to round out the edges.
A blend of apples (70%) and Traminette grapes (30%), the Appinette from Aaron Burr, a nerdy, oddball cidery specializing in early-American style bottlings, is unsurprisingly winelike and pleasantly weird. Fruity but dry and earthy but bright, Burr's hybrid is a testament to the innovation happening in American cider.
Just south of Portland, Oregon, Roshambo ArtFarm's cider arm makes super quirky bottlings whose labels are adorned with colorful birds. This 100% quince cider (if you can call it that) is aromatic like stewed quince, but also rich and jammy like quince jelly. It's a wonderful foil to hard cheeses and sourdough bread.