Our 20 Favorite Food Instagrams of 2016
From restaurant gurus to kitchen whiz kids, here are the year's 20 must-follow feeds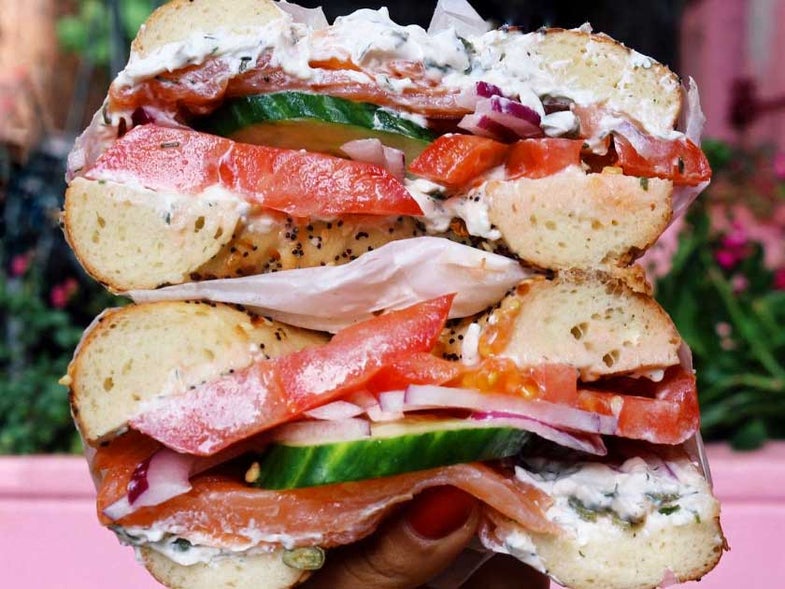 There's no denying that, for better or worse, social media now plays a major role in the food and drink world. What was once an industry for insiders has become more democratized, allowing chefs, home cooks, food writers, purveyors, and consumers to all inhabit the same digital sphere. Instagram, specifically, has given rise to a new group: bloggers and influencers, whose mouthwatering photos—and wide-reaching, staunchly loyal fanbases—have made them authoritative voices capable for the first time of competing with traditional media outlets.
And while it's easy to be skeptical of those who've sold out for the free food and big-ticket brand partnerships, it's unfair to paint the entire group with such a brush. Our favorite Instagrammers are bona fide food experts—ranging from restaurant-savvy diners to cookbook authors and, of course, finalists from our annual Blog Awards—who may eschew the latest fads and viral dishes, but embody SAVEUR's food-obsessive tendencies and #eattheworld philosophy.
We've written about our favorite coffee and cocktail Instagrams, and we're sure you're already following @SAVEURMAG. But if you're still craving more mouthwatering photos, here are our picks for the 20 best food Instagrams of 2016.
In 1985, this Michigan native jetted off to China with a camera and hasn't stopped photographing since then. Now splitting his time between Southeast Asia and Turkey as a fulltime photographer—his work as appeared in the New York Times, Lucky Peach, and SAVEUR—Hagerman documents culture through the lens of food and travel. What we love most is his ability to not only capture beautiful photographs, but also share the stories, and people, behind them.
An American living in Toronto, this pastry goddess can be counted on for baked innovations ranging from matcha-and-black sesame sourdough knots to cranberry-sage pie with a herringbone lattice.
As their Instagram handle suggests, Portland-based recipe developers and photographers Natalie and Holly are "reinventing 'proper' for the modern homemaker." Emphasizing bygone customs of hospitality, the two mothers are our go-to inspiration for festive pies, delicious desserts, and the ultimate weeknight meals: they were a finalist in the Most-Inspired Weeknight Dinners category of our 2016 Blog Awards.
Singapore is, by now, a universally recognized destination for food. Documenting it all is this photographer, stylist, and barista who, being unable to attend culinary school, taught himself how to cook watching videos and cooking shows online. An avid traveller in the region, he also snaps the must-visit spots across Asia, from Taiwan to Tokyo.
Readers' choice winner of the "Best Food Instagram" at SAVEUR's 2016 Blog Awards, modern-day dad and husband Nick expresses himself through home-cooked meals and food-loving adventures. Set in sunny LA, this playful feed is full of carb-y goodness (at least half of the featured foods come between two pieces of bread), with a few shots here and there of his adorable sons.
Does your wardrobe consist of black, white, and maybe one color? Is your Instagram a grid of objects on white backgrounds? If so, you may get a kick out of this minimalist, bowl-centric approach to food photography. In this feed, Boston-based Lucia Lee reminds us that there's nothing wrong with keeping things simple and clean.
CNN producer by day, food blogger by night, this modern New Yorker can be relied on for all the iconic shots of split bagel sandwiches, pizza slices, and cocktails—all served with motivational quotes to get you through the day.
For a very different take on a food Instagram, follow this Italy-based feed that shows off primo kitchen ingredients with a catch: they're all "floating" in the air.
Spending time in New York City and Seoul, Kim captures all the food-Instagram requisites—the perfectly poured cappuccino, a neatly smeared avocado toast, and swirly ice cream cones—all without sacrificing quality. And when it comes to the tried-and-true overhead table shot, no one does it better.
This professional photographer, stylist, and cook gave up a career in IT, taught herself photography, and now does creative work full time. Follow for photos of fresh-baked goodies, impeccably-furnished interiors, and the occasional scenic view of Portugal and Bosnia, between which she splits her time.
An expert on London's best high teas and cutest bookshops, this Vogue contributor has perhaps one of the most elegantly composed feeds on Instagram. If you're looking for pretty things and places, look no further.
Co-founder of Jarry Mag, Kristofcak gives us serious oven envy with his unbelievably symmetrical pie lattices, pastry twists, and galettes.
A veteran of food media, Sung is an editorial, commercial, and cookbook photographer has worked with loads of newspapers and magazines. Want to see photos of your next favorite cookbook before it comes out, or dishes that the country's top food critics are writing about? This industry insider is one to follow.
For both recipe and restaurant food porn, check out born-and-raised Japanese blogger and student Mika. Between the carefully-constructed salads and cute Tokyo cafés, you'll no doubt get a hefty dose of wanderlust from her gorgeous travel grams.
Based in northern California, Karragiannidis and her husband chronicle their quest for "real food, true health, and a full life" through this health-forward feed. While their Instagram is a source for cooking and grocery-shopping inspiration, their blog also has recipes and tips you can try out in the kitchen.
A finalist in SAVEUR's 2013 Blog Awards, this food blogger, and now New York Times bestselling author is still one of our favorites for simple, health conscious recipes. For those who are gluten-free or adhere to a paleo diet, this is your new go-to.
This former Londoner gave up the city for an idyllic life on the Hampshire countryside. Her maddeningly enviable feed hops between glamorous travels to cute coffee-and-tea shops and recipes that you can make from her website.
Long-time food photographer Marcus Nilsson first entered the food world as a sous chef for Marcus Samuelsson, coming to New York City by way of Sweden. His attention-grabbing style of both polished and irreverent photos of food, travel, and portraiture has gotten his work featured in tons of glossy publications including SAVEUR.
Another one of our Blog Awards Instagram finalists, this Seattle-based food photographer who sees food as an opportunity to do something creative, not just tasty. Our favorite part of her feed? What Wright calls "food gradients."
We'll admit: this isn't so much a food blog as much as a performance art project that, by the creator's own words, nobody asked for. Still, there's something visceral and strangely captivating about this mystery woman smashing her face into loaves of breads, pastries, and other starchy foods (she was the Editors' Choice winner of our Blog Awards 2016 Best Food Instagram). Does she hate carbs or love them? Is there a deeper meaning to the bread-smashing? We don't have the answers, but we're watching anyways.