Shopping & Reviews
Level Up Homemade Curry Paste and Spice Blends With the 5 Best Mortar and Pestles
Why modern cooks swear by this ancient tool.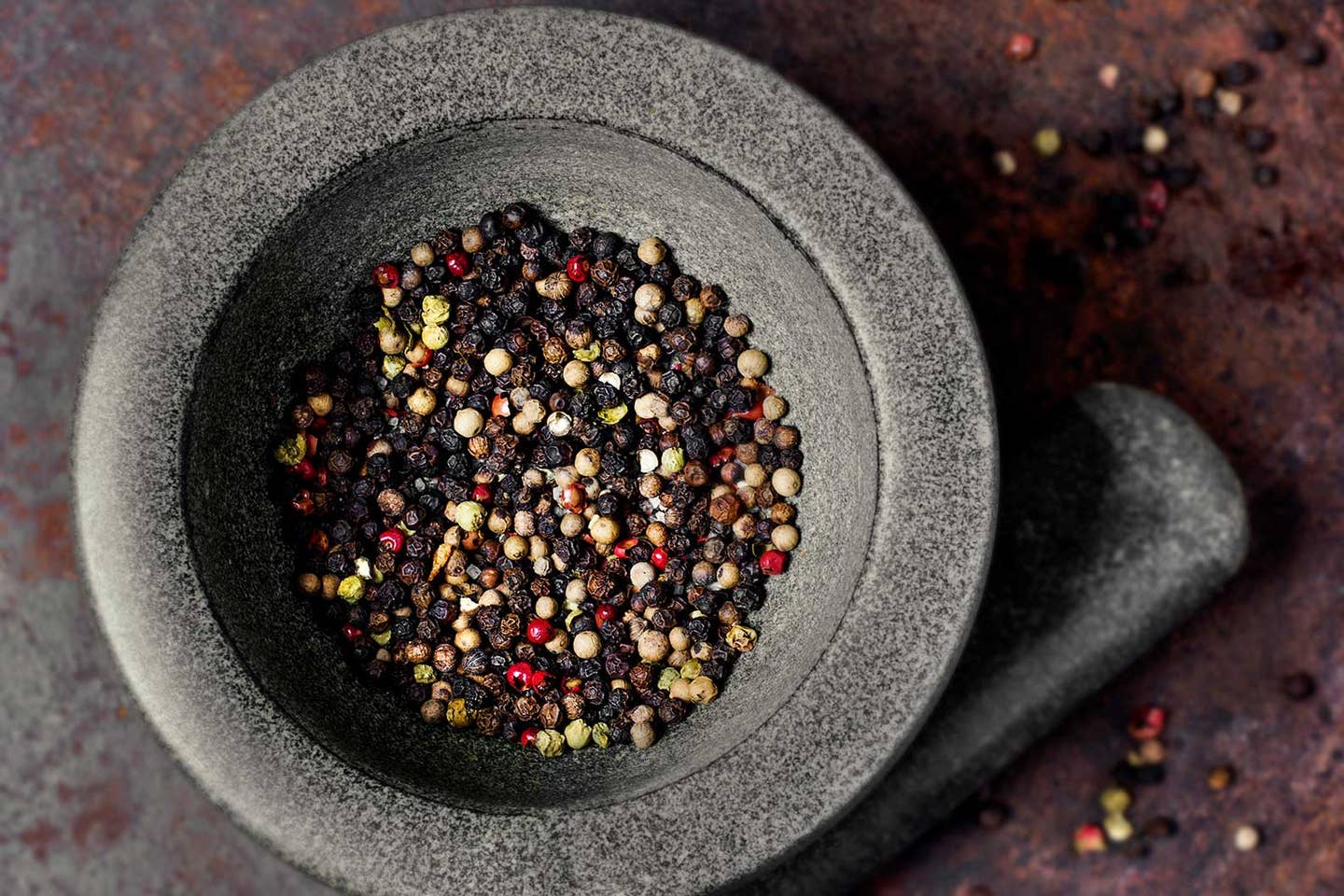 It's easy to get excited about the latest kitchen technology (we're looking at you, wi-fi enabled sous vide machines and smart countertop ovens with built-in cameras), but there are some designs that simply can't be improved upon. Enter: the almighty mortar and pestle.
The tool, made up of a heavy base (mortar) and pounding implement (pestle), can be traced back to the Stone Age, when it was used to crush and grind ingredients such as nuts and seeds into more edible powders or pastes. But modern cooks swear by the ancient tool as well: Unlike electronic alternatives such as a food processor, the mortar and pestle keeps the cook in full control and helps retain the essential oil in ingredients like fresh herbs and toasted nuts. It's the perfect tool for making fresh pestos, curry or garlic paste, homemade spice blends, or simply crushing whole spices.
While its design is exceedingly simple, there are hundreds of models on the market that come in a variety of shapes, sizes, and materials. Picking out what works best for you and your needs can be quite the daunting task, which is why we've put a bunch to the ultimate test to narrow down our favorites in each category.
We've also enlisted the expertise of Sarah Thompson, head chef of Wynn Las Vegas's Casa Playa, who frequently uses mortars and pestles (also known as molcajetes in Mexico — a larger model made of volcanic stone) for her most famous menu items such as salsa and guacamole.
"Everyone handles a mortar and pestle differently because manually crushing something is a very physical action," says Thompson. "But the resulting product is worth it because it invariably retains the vibrancy and textures of the original ingredient."
Explore our final list of the best mortars and pestles, as well as the features to look out for, below.
Best Overall
Material: Granite | Width: 5.9 inches | Depth: 2.75 inches
---
Heavyweight granite material
Anti-skid bottom makes grinding easier.
Gripped pestle makes it easier to hold
---
Heavy weight could be difficult for storage
Granite is prone to chips after sustained use
Why we chose it: Sturdy, well-proportioned, and boasting a padded, anti-skid bottom, this mortar and pestle will never let you down.
This model checks all of our boxes: A right-sized mortar that's easy to maneuver without sending food flying, an ergonomically designed pestle that's easy to grip, and a surface that's textured enough to help break down the food, but smooth enough that it won't emit any stone powder while grinding.
Plus, at seven pounds it is one of the heaviest of the bunch, meaning you can mash without worrying about the mortar slipping out from under you. A padded bottom also helps to keep it in place, resisting even the most aggressive of hand movements to grind, pulverize, or mix.
Frankly, there is nothing else on the market that excels in *every* category like this model.
Best Value
Material: Porcelain | Width: 4.6 inches | Depth: 2.5 inches
---
Microwave and dishwasher safe
Simple to clean
Will not absorb flavors or odors.
---
Porcelain is more prone to chipping and cracking
Too small for some tasks
Why we chose it: At less than $15, this set is a fantastically inexpensive starter for anyone considering a mortar and pestle in their kitchen.
Porcelain may not be the best option for a mortar and pestle used daily, but it certainly suffices when the price is right and the tasks are simple. Use this mini set to muddle herbs, grind nuts and seeds, or crush spices, but be mindful of the amount of pressure you place on the pestle — it can chip or break easier than stone versions.
Unlike stone varieties that can absorb the flavors and odors of the ingredients used, this is a breeze to keep clean: simply run the pestle and the mortar under warm water and dry with a towel. There is also a small spout on the rim so that you can easily pour out the finished products, making it even more user-friendly for beginner chefs.
Best Counter Appeal
Material: Granite | Width: 5.5 inches | Depth: 3 inches
---
Aesthetically modern and striking
Comes with a rubber mat for extra stability
Extra long pestle for better hand control
---
Black granite requires extra care
Why we chose it: Boasting a chic, modern black and gold exterior, Richro's mortar and pestle is as beautiful as it is functional.
Any contemporary kitchen will benefit from this black granite mortar and pestle model with a gold-lined base and rubber mat for extra grip. It is, first and foremost, the most style-driven option on our list, but it is also heavy, large, and a great for serving, too. Prepare your favorite mashed dishes in it and serve with an oversized spoon.
As with all black granite tools, you'll want to first season it with white rice by grinding a handful's worth with the pestle. Repeat the process until the white rice has absolutely no flecks of black or any sign of discoloration. Rinse with warm water, dry, and then It should then be safe to use.
Best Splurge
Material: Marble | Width: 5 inches | Depth: 2.25 inches
---
Pestle has a ridged tip for easier grinding
Beautiful, classic design
Part of a line so you can buy matching accessories
---
On the pricier side
Highly pigmented ingredients, such as turmeric, may stain the interior.
Why we chose it: Hawkins New York, a Hudson Valley based brand, sells this gorgeous white marble mortar and pestle that is as functional as it is stylish, making it worth the splurge in our book.
The white marble is heavy, ideal for holding its own against rigorous grinding, and would look great against an expanse of marble countertop. Though some marble can be too smooth to be effective, Hawkins' version has a pestle with a ridged, unfinished pounding surface for extra texture to help break down ingredients.The height of the pestle is nearly double the depth of the mortar, an ideal ratio in our book.
Best Large Capacity
Material: Cast Iron | Width: 7 inches | Depth: 4 inches
---
Cast iron is pretty heavy-duty
Great depth at four inches
Unique pestle that excels at grinding smaller ingredients
---
Cast iron requires an additional level of care
Why we chose it: At four inches deep and seven inches wide, this mortar and pestle is nearly double the size of our other favorites, yet not so large it becomes unwieldy. Perfect for pounding up a big batch of pesto, it can also manage smaller tasks without a problem.
The weighty and textured cast iron holds up to the task of grinding, especially with fibrous seeds like fennel and sesame that may be more difficult to turn into a powder. Plus, the uniquely designed pestle is easy to grip and lets you maximize surface area as you work, so every movement is more effective.
The only downside to this version is the level of care that goes into preserving cast iron. You do not want to clean this mortar and pestle with soap. Instead, scrub gently with a kitchen brush, blot with a towel, and let it air dry. Also, be sure to keep it seasoned with a thin layer of oil (preferably soy or flax) at all times.
How We Chose These Products
The selection of mortars and pestles on the market is quite vast, with wide ranges in size, material, and price. What makes picking the best of the best difficult is that each one purports to do exactly the same thing and do it well, so differences in quality can be quite subtle and specific to individual needs and preferences.
It is important to note that mortars and pestles are not just used in the United States. Aforementioned Mexican molcajetes and Japanese suribachi are probably the two most popular iterations of the tool (the former traditionally made of volcanic rock and the latter made of ceramic and wood) and are wonderful options for recipes native to their respective regions.
For testing purposes, we limited our scope to items that were designed soley as mortars and pestles. Additionally, while there are a handful of popular mortar and pestle materials like wood, plastic, and even glass, we focused only on harder materials like granite to ensure that first-time buyers were not disappointed with the outcome of their purchase. (The general consensus with mortars and pestles is that the harder the material and the heavier the duo, the better the results.)
Features to Keep in Mind When Shopping for a Mortar and Pestle
While this decision is completely dependent upon your cooking needs, mortars and pestles come in an abundance of shapes and sizes to accommodate any type of cook. High-sided mortars prevent ingredients from flying everywhere, but must be paired with a longer pestle so as not to scrape the cook's knuckles. A perfectly round shape is also essential, as oval-shaped mortars can make the grinding process more difficult and ingredients can easily become caked to its edges.
Stone material such as granite or marble is undoubtedly your best bet when it comes to grinding ingredients most effectively— stone is heavy and has just enough texture to help break down ingredients as you work. However, it's worth considering other materials, such as ceramic, glass or wood, that might serve different purposes, such as serving, light muddling for cocktails, or looking stylish in your kitchen's open shelving.
The best way to clean a mortar and pestle is dependent upon its material. Most stone-based varieties can stand up to warm water, liquid soap (unscented preferably), and a dish rag, but avoid anything that could scrape the inside of the mortar and cause particles to come off into your food.
No matter the material, always be sure your mortar and pestle is completely dry before using it or whatever you're grinding can turn into a paste!
Casa Playa's chef Sarah Thompson shares her quick tips:
Q: How do I judge what size of mortar and pestle I need?
"In terms of restaurant volume production, it's essential to use a larger size — 10-inch diameter and up. But for home use, cooking for less than 10 people, a smaller size, about 6 inches in diameter, will absolutely get the job done. If you have the space for a larger one, great! But it's probably not strictly necessary."
Q: How do I clean my mortar and pestle?
"It depends on the material, of course, but stone versions need to be cleaned gently, much like a cast iron — with a brush and water, salt, or even rice to remove impurities. Avoid extreme heat, like baking in an oven, as a means of sanitizing. The clay or stone will dry out, becoming brittle and eventually breaking."
Q: Do I need to prime or season my mortar and pestle?
"You definitely need to salt and scrub a mortar and pestle before using [it] to get rid of that initial layer of grit. Sometimes small pieces of stone will break off — it's normal, and it's good to get that out of the way before you're working with food.
The humble mortar and pestle has survived thousands of years in kitchen appliance innovation to remain a present-day staple in its most original form. While you really can't go wrong with any heavy stone model, we are confident that these options (and especially our best overall pick from Samliujiu) will suit all of your grinding, mashing, mixing, and crushing needs.