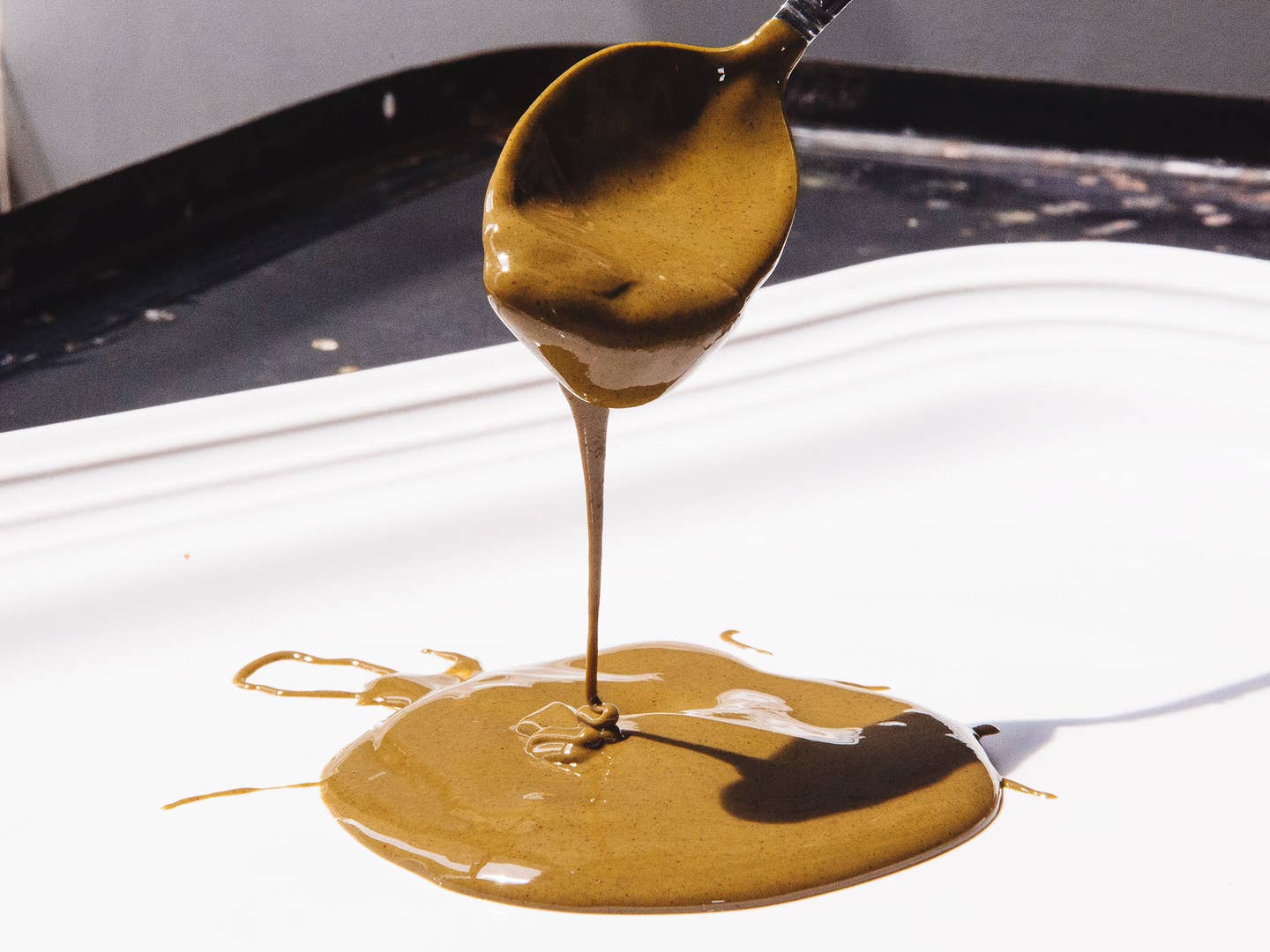 Shopping & Reviews
I'm in Love With This $100 Tub of Pistachio Paste
When is a nut butter worth three figures? When it's the silkiest, nuttiest, most explosively pistachio thing you've ever tasted
It's 8 p.m. and I'm sitting at my desk huffing pistachio goo from the bottom of a copper-colored tub. Said tub was once full to the brim with an olive drab paste as smooth as silk, heady to the extreme with the aroma of the queen of nuts, so intensely flavorful it made you wonder if you've ever really understood pistachios before.
I'm not the only one with a crush on Agrimontana. Dive into chef forums and you'll quickly see that it's the vastly preferred nut butter of pastry professionals, the Valrhona chocolate of pistachios. And once you take a taste, you see why: there's the familiar roasty-fruity-floral pistachio base, but it takes on an almost juicy quality, honeyed and sweet with just a little bitterness for structure. It makes ridiculously good gelato, and is concentrated enough to deliver outstanding pistachio flavor when mixed into pastry cream or ganache, whipped into mousse, or swirled into babka.
One taste will likely convince you of the quality, but I'd understand if the price gave you pause. A hundred bucks is no small spend, even on a best-in-class ingredient that you could conceivably make at home for less. Can you, though? Is it possible to make a similarly amazing ingredient at less cost? Not necessarily.
Take the raw price of pistachios, which bottom out at $12 a pound and climb into the mid-20s depending on region and grade. Then add in the pistachio oil used to loosen the butter into a fine silk without diluting the pistachio flavor—another $25 or so. Already, just for raw materials, it'd cost you at least $50 to make a couple pounds of paste. That's not accounting for the exceptional-quality Sicilian pistachios that go into the pre-made product—pistachios that don't often make it to the American export market. Nor the high-grade grinders required to pulverize the paste into its completely silky, grit-free consistency, which is nearly impossible to achieve at home, even with high-speed blenders. Factor in all those complications and the markup of pre-made nearly vanishes.
As with so many luxury ingredients, seemingly high prices really just cover exorbitant production costs; there's a way higher profit margin in a bottle of cheap fake balsamic than a cask of the real thing. And Agrimontana does sell their lovely paste in 8-ounce containers at lower price points. But trust me: this is one ingredient you don't want to run out of.
More Great Pistachio Products to Try
Fiddyment Farms Pistachio Paste: This Californian alternative to the Sicilian stuff comes in at a similar price point and has a similarly gorgeous silky texture. The roast is more pronounced than Agrimontana's offering, which leads to a less floral, more savory paste that's also more aggressively salted, and it has some intentional specks of grit to break up the creaminess.
Cartillone Crema con Pistachio: Don't confuse pistachio cream with pistachio paste. The latter is just pistachios and oil; the former cuts the paste with sugars, other oils, milk solids, and emulsifiers for a sweeter, thicker, less intense but friendlier substance. That doesn't mean it's inferior, just that it has different uses. Castillone's cream made a damn fine pistachio ice cream in our test kitchen, childhood-nostalgic and then some. It'd also be delicious mixed with mascarpone and stuffed into cannoli. Just don't expect it to deliver the intensity of pure paste, and don't substitute in recipes that call for paste. Another upside: it's only about one-third the price of the paste.