Culture
The 7 Spring Cookbooks We Can't Stop Reading
Spritzes, ice cream, and Korean food—our new favorite reads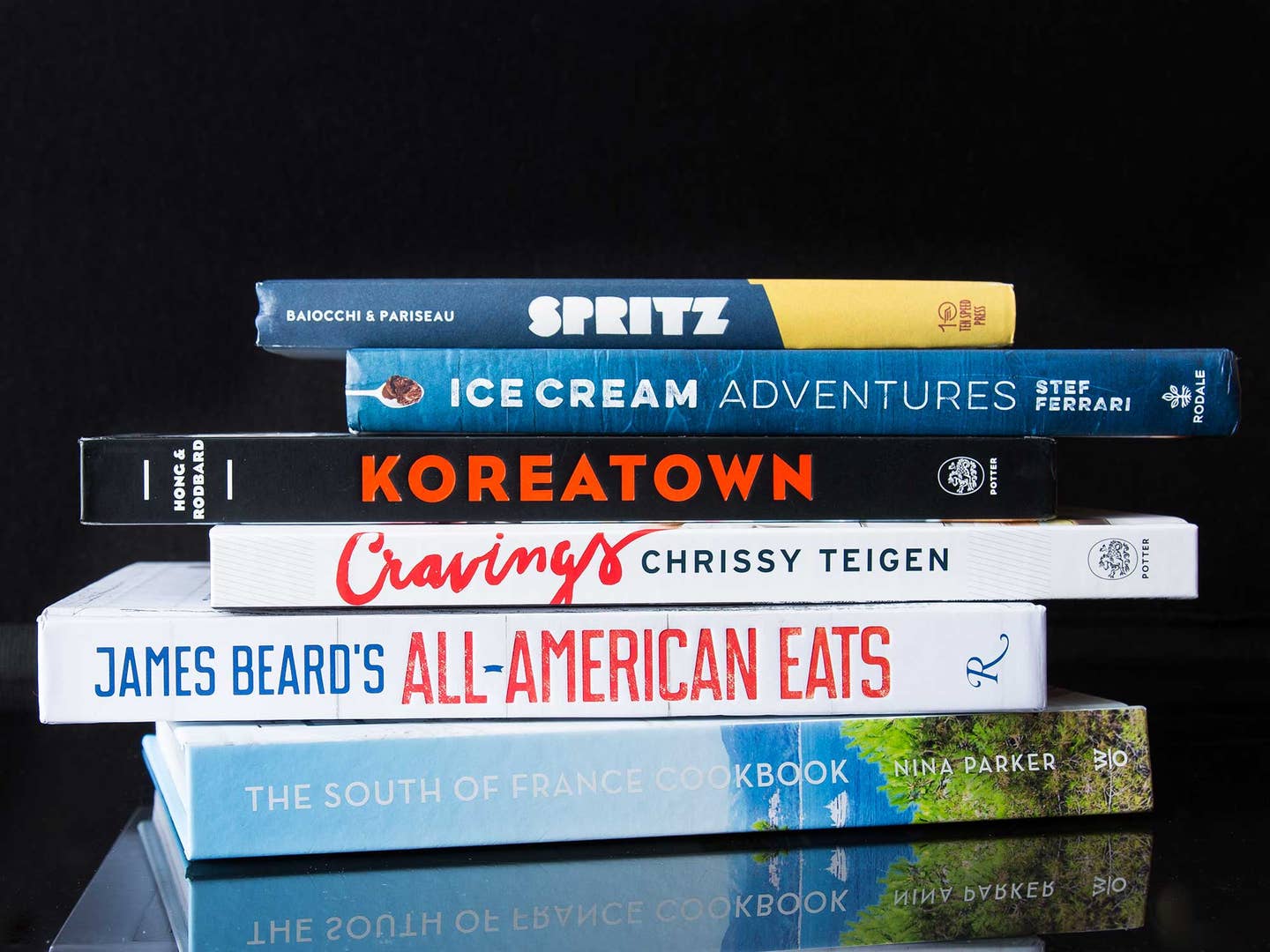 The SAVEUR office gets a handful of cookbook deliveries every day, and though we've taken to reflecting on the year's best in December (see our best cookbook picks from 2015 here), we can't wait until then. Here are the new releases we can't stop poring over.
When was the last time you laughed out loud at a cookbook? So long ago you can't remember, which is enough of a reason to give Chrissy Teigen's first book a spin. But it's the recipes that'll keep you coming back, from a whole chapter of "shit on toast" to Thai jok moo and drunken noodles.
For every homesick fan of their favorite local restaurant's standout banana pudding or crab cakes, or for travelers who miss that incredible fried chicken they had at a bed-and-breakfast in Kentucky, go read the James Beard Foundation's latest dispatches from Charleston, South Carolina to Honolulu, with recipes from restaurants locals love. And all of your favorites are here, like the legendary chicken and matzoh ball soup of Manhattan's 2nd Avenue Deli and the Texas-Style Oven Brisket at Louie Mueller Barbecue in Taylor, Texas.
Spritz, Talia Baiocchi and Leslie Pariseau (March 15th)
Come, take a trip to Spritzerland, where no bottle of bubbly is safe and Italy's best pool-party cocktail gets the spotlight it justly deserves. Talia Baiocchi and Leslie Pariseau's extensively researched history of the cocktail comes with enough spritz spins to make it through every beautiful day of the year, plus recipes for the food to match with them, like mondechili, the country-style meatballs found in northern Italy.
The total opposite of an aspirational travel book: Koreatown is as real as it gets: a love letter not just to Korean cooking, but also how it manifests in America's many Korean communities. There are recipes for barbecue and kimchi stew, sure, but also vital ingredient glossaries, Q&As with leading cooks and thinkers, and tons of on-location photography showing Korean restaurants, bars, and clubs in all their glory. (In the interest of full disclosure and, well, bragging, Rodbard is also one half of our regular series on Asian drinking food.)
Katie Parla is on a mission to bring the world a taste of Rome—not just the one you see in movies or a glossy guidebook—but the snails in ragu, liver sandwiches, and simple but amazing fish stews. The most exciting part of hers and Gill's book is this focus on back-alley recipes, recipes on the brink of extinction, and a fantastically detailed look into Rome's most remarkable dishes, all which makes this a new classic in the Italian food library.
Who doesn't dream of cliff-side dinners in the south of France the second the mercury starts to rise? Nina Parker has us all covered, without the expense of a plane ticket, with this gorgeous book. Her collection of simple, elegant recipes are as jaw-droppingly beautiful as the vistas in St. Tropez—the place she channels expertly in this leisurely tour of the town's dreamy coastal cuisine.
Brewer-turned-ice-cream-mastermind Stef Ferrari's New York ice cream shop, Hay Rosie, closed well before its time, but it lasted long enough to offer just enough of her far-out flavors to get hooked, including an ice cream sandwich on a toasted pretzel bun slathered with hot fudge and a shockingly craveable spicy popcorn ice cream. Hay Rosie may be gone, but Ferrari's latest, Ice Cream Adventures, can reach far more ice cream obsessives, and her uncompromising but extremely approachable take on the dessert is a refreshing change-up from the less intimate ice cream books churned out by celebrity ice cream parlors. Ferrari focuses heavily on fundamentals and encourages experimentation, so even if you prefer classic mint chip to her sage and chocolate version, you'll be able to make a better bowl of the stuff with confidence.