A Toaster Worthy of Your Precious Counter Space
It's not the most glamorous appliance, but perfectly toasted bread and bagels are a revelation.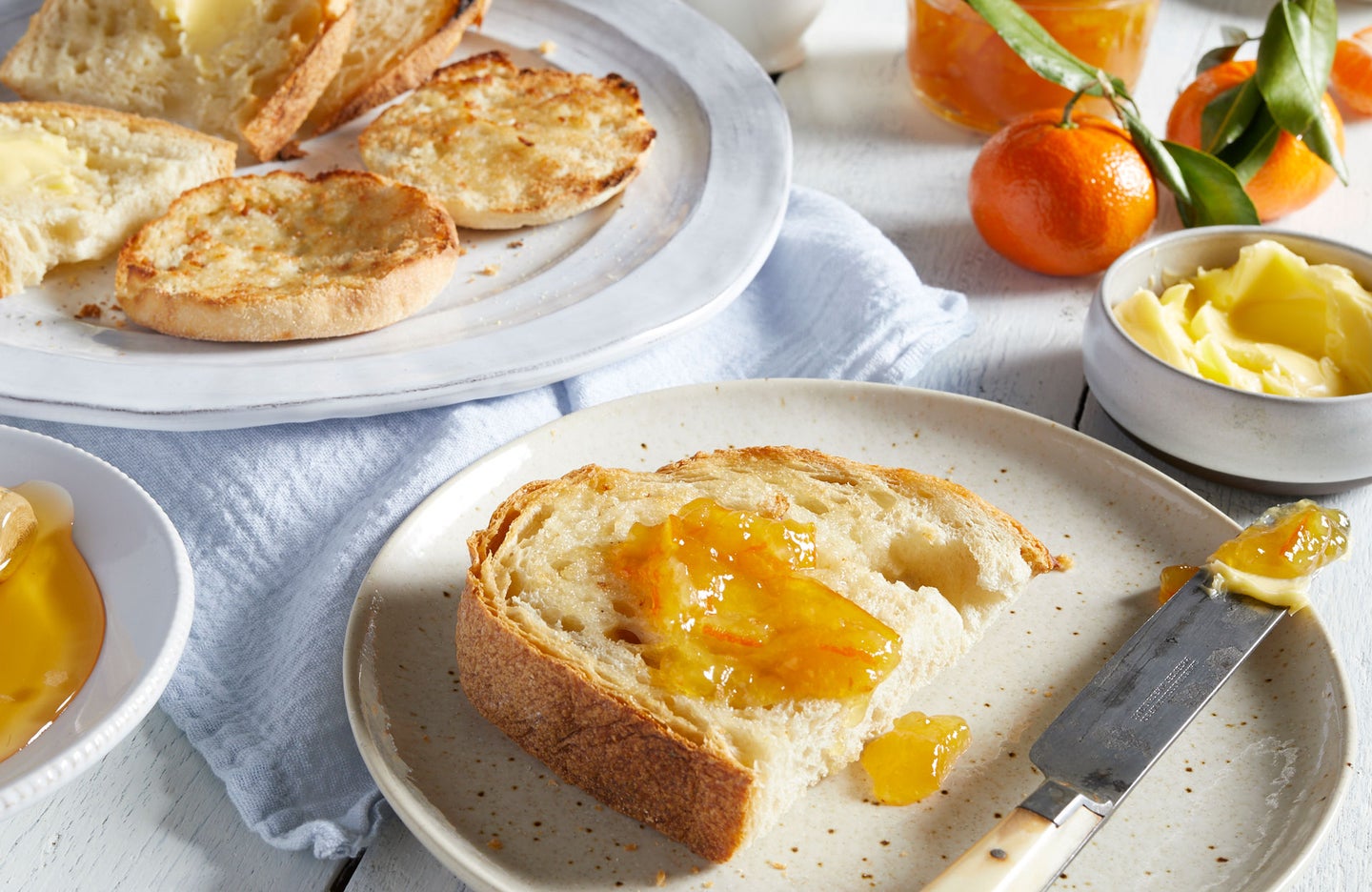 Ah, toast: simple, delicious, a blank canvas for snacks and meals any time of day, whether you just need some buttered toast to go with your morning meal, a crunchy vessel for peanut butter for that afternoon snack, or any other combination of endless possibilities. Okay, call me a toast optimist—I've been called worse—but, look, I'm just passionate about toast. Don't believe me? Just take a look at my four-slice toaster guide! 
If you're here, I'm guessing you're in the market for a new toaster, and only the very best will do, right? Well, I picked seven toasters from top brands and made A Lot of toast with them so I could report back to you, dear reader and fellow toast enthusiast, on which ones are the very best. 
How did I test them, you ask? I started by making a single batch of toast on each toaster's medium setting. If you look at a shades of toast chart online, I was looking for toast that you'd see squarely in the middle—golden brown, with a little bit of chew in the middle. Once that crisp, golden goodness popped, I gave every slice a thorough inspection, looking at the level of browning, whether the coloring was even, and whether the bread was toasted all the way to every edge, side to side, and top to bottom. 
I performed a second round of tests once each toaster was cool. This round consisted of making three batches of toast consecutively, without allowing the toaster to cool in between. Good toasters should have sensors that detect temperature and, if the toaster is already hot, decrease the amount of time it takes to achieve the same level of browning. I also checked the sides of each toaster after the final batch to see if it got too hot to touch. The best-performing toasters stayed either completely cool, or only got a bit warm after multiple batches of toast. 
After a week of testing and several loaves of bread, here are the top-performing toasters:
Features to Keep in Mind
Long-Slot Toasters: Long-slot toasters can be great because they give you the option to toast two slices of regular grocery store bread, or longer slices of bread you might get at a bakery, offering more versatility. 
Plastic vs. Metal Toasters: This mostly boils down to aesthetics. Plastic toasters have a tendency to look cheap or not as well made as their metal cousins, but their casings tend to stay cool. That said, a well-made all-metal toaster should be insulated to keep the casings from overheating, even if you make consecutive batches of toast. 
Features and Settings: We love a toaster that can take on different tasks! Not all baked goods toast equally, so bonus points went to toasters that had settings for different types of food, like frozen waffles, toaster pastries, bagels, etc., especially if they toasted those things well. 
Our Top Picks
To borrow a catchphrase, this toaster sparked joy for me. As I mentioned, I made quite a lot of toast, and this toaster was the most accurate (as in, it turned the right level of golden brown for each respective setting), browned the most evenly, and had as close to complete coverage (even toasting from edge to edge) as possible. The design is simple and elegant without a ton of bells and whistles for a clean, modern look. There are three buttons to toggle settings, including a frozen setting, a bagel setting, and an option to reheat your bread without adding more color. Despite the all-metal casing, this toaster only got a little bit warm to the touch on the sides, even after multiple batches of toast, but not hot. The dial on the front of the toaster lets you select a browning level between 1 and 7, but also serves as the "cancel" button if you push it in. Between the price, performance, and quality of construction, this toaster was miles above the competition.
This toaster performed almost as well as the Best Overall pick, but it costs about $60 less at the time of publication and has a really cool viewing window so you can watch your toast brown. This is also the only long-slot toaster I tested, so if you tend to buy odd-shaped or -sized bread from the bakery, this may be the better option for you. The slot is also extra wide to help accommodate thick-cut slices of bread, bagels, waffles, and other bread products. Like the Zwilling toaster, it has three buttons for toggling defrost, bagel, and reheat settings, and a dial for selecting the browning level that also functions as the "cancel" button. My only real criticism of this toaster is that it didn't brown as evenly as the Zwilling. Apart from that, it's a pretty good buy for the price.
I admit to having been a bit skeptical when I first heard about this brand and their "smart" toaster with a massive touch screen and a ton of options. It seemed, honestly, sort of frivolous and gimmicky. But then I tested the thing and was overcome with a deep shame—who was I to pass judgment on this toaster and its seemingly endless options and settings? I'm happy to declare that this is actually a great toaster. 
First of all, it really does have a TON of settings, all of which are selectable by tapping images on the touch screen, which you can swipe through like Tinder for bread products. The older model, which I also tested, let you toggle between regular bread, toaster pastries, bagels, waffles, and English muffins. This model, however, gives all of those options, and more, including cinnamon raisin bread, multigrain bread, sourdough, unfrosted toaster pastries, and more, for a total of 34 bread types. The R270 also lets you select whether your bread is gluten-free. Heck, you can even buy a panini press accessory, and the toaster, of course, offers that as an on-screen option, too. 
Once you select your bread type, you can modify the settings further by selecting "fresh," "frozen," or "reheat," and you can select a darkness level between 1 and 7 (the on-screen example gets darker or lighter, depending on which setting you choose). When you're ready to begin your toasting session, simply hit "start" and the toaster does the rest. The bread is automatically lowered into the toaster, and is lifted back up when it's finished with a friendly little chime to let you know your toast (or bagel or waffle, etc.) is ready. Despite its stainless steel casing, the sides stayed relatively cool, even after three consecutive batches of toast. Like the best overall pick, the crumb tray is on the front of the toaster instead of the back. This toaster also periodically (roughly once a week) reminds you to empty the crumb tray with an onscreen prompt. 
My only real gripe with this toaster is with the plain toast option—this was the only option that didn't get quite as dark as the on-screen example, so I found I had to use a higher setting to get the level of golden brown I wanted. Incidentally, it is actually important to select the right bread type for what you intend to toast. I wanted to see how the settings differed, so I toasted a plain piece of white bread on the English muffin setting, darkness level three, and it got totally burnt! Revolution, I apologize for my hasty initial judgment—this is a great toaster.
We Also Tested
This is honestly a perfectly good toaster. Its price, at the time of publication, is between the Best Overall and Best Value at about $70. It browned about as evenly as the Dash, but not quite as well as the Zwilling. I like how it's configured, too, with the settings buttons on the wide side of the toaster and the lever on the short side—it lets you keep more depth on your countertop. The stainless steel construction is solid and only got a bit warm during toasting. The shade selector is a sliding lever with lights that also act as a sort of timer—as the bread toasts, the lights go out, one by one, until the toast is ready. Although the shade selector was among the most accurate, this toaster allows you to add "a bit more" browning with an extra button, and the lever has a "lift and look" function that lets you check how brown your toast is without interrupting the toasting cycle. Personally, I didn't see the need for either of these functions, but your mileage may vary. 
This is a really cool-looking toaster if you're into aesthetics, but I generally found it lacking in the categories that really count for performance. It browned all the way to three of four edges on both slices, but one slot browned the toast considerably more than the other. There are two dials used to toggle settings. The upper dial lets you select between one slice, two slices, or the bagel setting. The lower dial essentially acts as a timer, with numeric options between 1 and 3, with a dot indicating the "optimal browning setting" as per the instruction manual. Rather than an automatic pop, you use an ejector lever to raise the toast yourself after the timer goes off. This is actually kind of a cool feature because it keeps the toast warm until you're able to get to it. Unfortunately, because the dial is simply a timer, consecutive batches of toast on the same setting got darker and darker with each batch. The sides of the toaster also got very hot after the initial toast test, and way too hot to touch during consecutive batches. Overall, this toaster is just okay—I expected better performance and safety features, given how expensive it is.
I liked the design of this toaster a lot, and it had some cool features, like a dial to select different bread types: bread, bagel, waffle, pastry, and English muffin. There's a button to set the toaster for a single slice, a defrost button, and a cancel button. A sliding lever lets you select a shade level between 1 and 7. Unfortunately, the toast it produced was very unevenly browned, and one slot made darker toast than the other.
This toaster felt the most well-constructed and solid of all the models I tested, and it stayed surprisingly cool after multiple batches of toast. It also toasted really well, and mostly evenly, but not edge to edge. Given the price and brand reputation, I expected flawless toast, but it just didn't deliver.
FAQs
Q: How long do toasters last on average?
In my experience, I've needed a new toaster every five years or so. There are lots of factors that can affect a toaster's longevity. The main issue is that the heating elements are made of very fine filaments that corrode over time. Toasting frozen or particularly moist items can speed corrosion up considerably because of the steam produced during the toasting process. 
Q: How do I clean my toaster?
Most manufacturers recommend wiping the outer surfaces with a damp cloth and then drying completely. Be sure to empty your crumb trays regularly, and never, ever insert any metal objects into the toaster. When in doubt, always consult your instruction manual or the manufacturer's website—most keep downloadable digital versions of their product manuals on their sites.
Q: What shouldn't I toast with a toaster?
Anything that'll drip or ooze into the toaster as it cooks! I remember someone in college setting off the dorm fire alarms because he tried to make a grilled cheese in his toaster. Don't be that guy.
Our Take
You don't have to break the bank to get a perfectly good toaster that browns evenly, consistently, and without overheating like the Zwilling, Dash, and Breville models. But if you've got money to burn and love having the latest tech in your kitchen, you could do a lot worse than the Revolution R280.
Every product is independently selected and vetted by editors. Things you buy through our links may earn us a commission.