Shopping & Reviews
5 Tabletop Wine Chillers to Impress Your Guests
Keep your vino at the perfect temperature with these chic wine chillers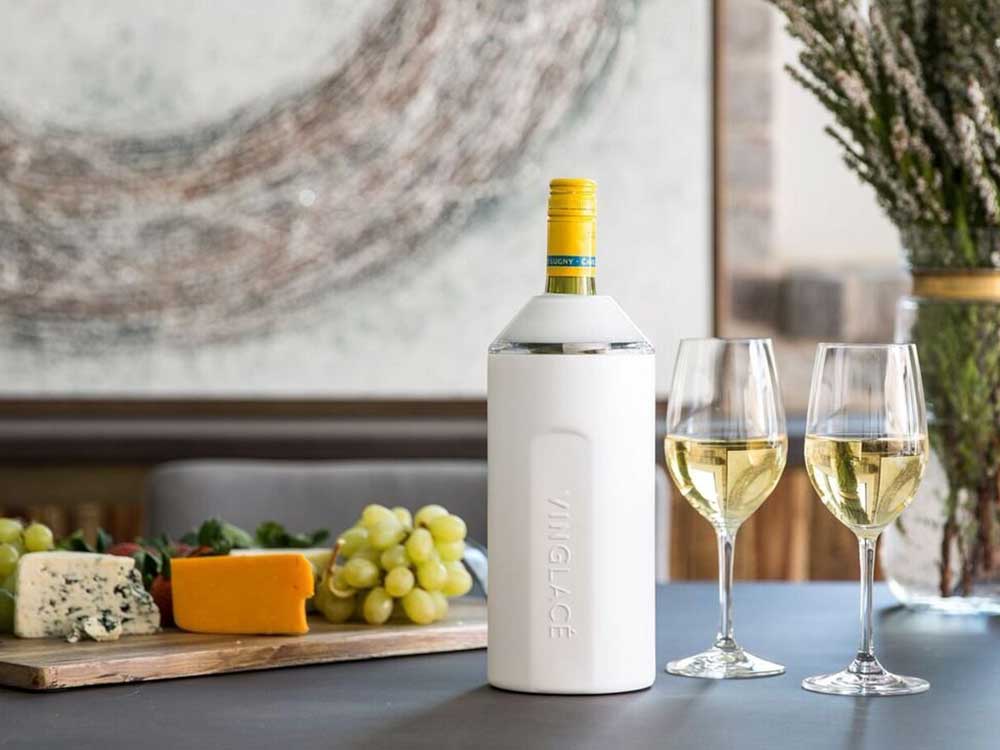 Is there anything worse than a tepid glass of Sauvignon Blanc? We think not. The best temperature for serving most white wines is between 40 and 60 degrees. So whether you're a wine enthusiast, a dinner-party host extraordinaire, or simply like to enjoy a cold glass of rosé on a warm summer day, a tabletop wine chiller is essential. Here are five of our favorites, from a sleek cooling carafe to a wine sleeve you can easily pack for picnics.
VacuVin Rapid Ice Wine Cooler Carafe
Sometimes we want to have our cake and eat it too; maybe you want to decant your wine and keep it cool at the same time. In that case, enjoy the cake; we've picked the winner for you. This product comes with a one-liter carafe meant to be stored in the cooling base. Just remove the gel sleeve from the base and put it in your freezer until you're ready to use it. Once the gel sleeve is inserted, the base can cool your drink in minutes and keep it cool all evening. You can also use it to serve water, milk, juice, or pre-batched cocktails.
The Vinglacé is constructed of stainless steel and comes in a variety of metallic hues such as white, black, graphite, and copper to suit your needs. A double walled vacuum seal prevents heat transfer between the insulated bottle and the environment, which means you won't need any ice or have to deal with condensation dripping onto the table. Just keep in mind that you need to ensure the bottle is already cooled before using, since the Vinglacé will stabilize the bottle's temperature, but won't chill it.
Wine Enthusiast Iceless Wine Chiller
These days wine bottles have labels that act as conversation starters or art pieces in their own right. This wine cooler is constructed out of transparent BPA-free acrylic and lets you display your bottle with pride so you don't lose this creative element at your dinner party. This double walled ice chiller needs no ice or freezer time, simply place your pre-chilled wine in the bucket and enjoy three hours of cold wine or champagne.
Modern Innovations Marble Wine Bottle Cooler
The marble wine cooler functions by using the natural properties of marble; a smooth, durable, and dense stone that retains cool temperatures for a prolonged period of time. To chill the wine, place the cooler in the refrigerator or freezer for a few hours prior, and then place the bottle inside. It is recommended to use it with an already chilled bottle. When you're not drinking wine, this chiller can add to the overall decor of your kitchen; use it as a vase or to hold countertop utensils.
Le Creuset Wine Cooler Sleeve
This wine sleeve by Le Creuset is made of nylon, comes in nine bright colors, and works by inserting two gel packs that you keep frozen in your freezer. Having a picnic in a park? Watching an awe inspiring sunset on a beach? Pairing wine and great conversations on your front stoop during a warm fall night? This sleeve is exactly what you need when the weather is warm and the wine needs to stay cool.