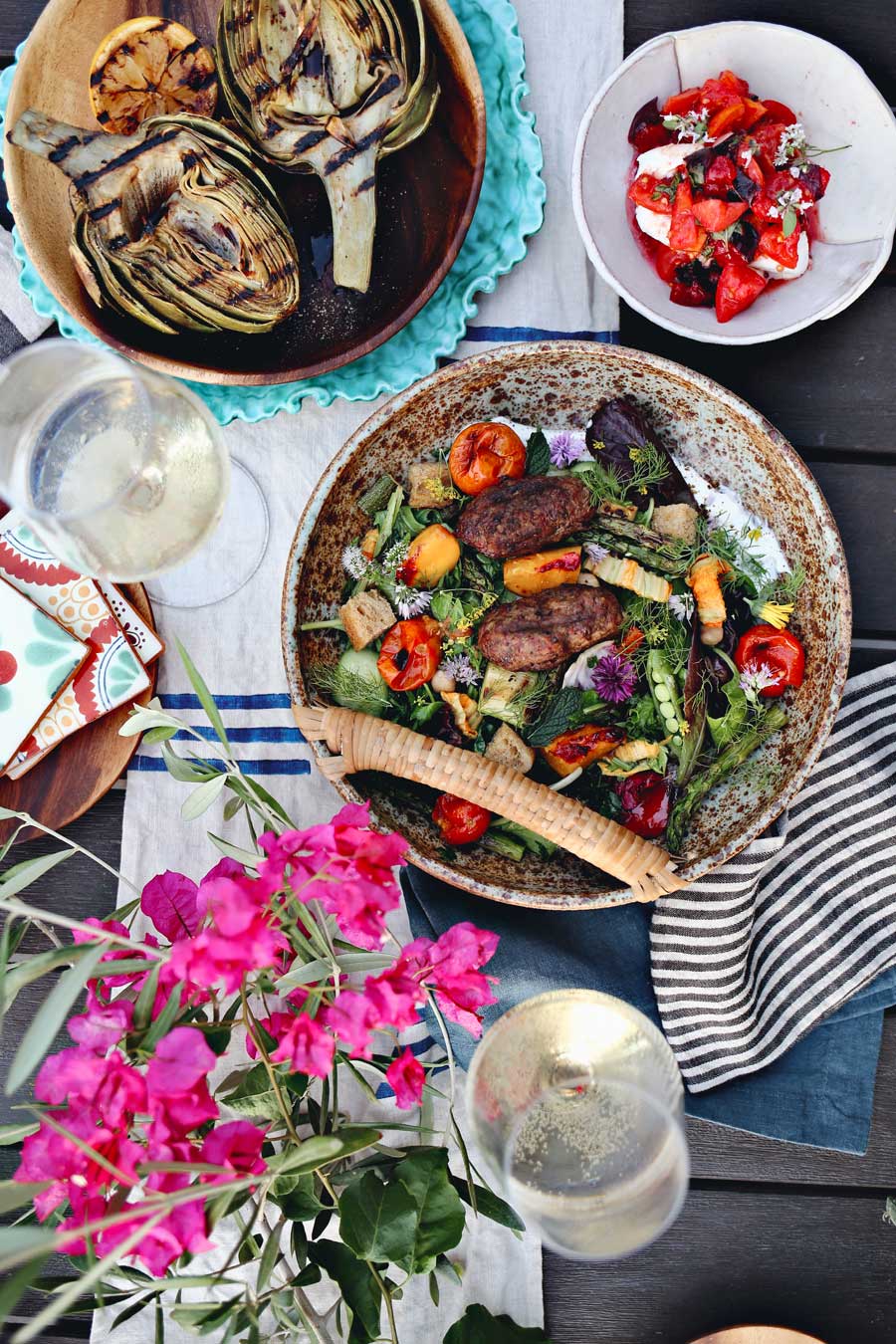 Culture
Meet the SAVEUR Blog Awards Finalists: 6 Essential Entertaining Blogs
Want to throw the perfect soiree? These blogs will show you how.
The SAVEUR Blog Awards are here, and from a pool of tens of thousands of reader nominations we've selected 66 finalists in 11 categories. Now it's your turn to vote for a winner. Cast your ballot here early and often; you can vote as many times as you like by September 12th. Today: meet the finalists for our Best Entertaining Blog category.
Some people may be intimidated by big gatherings and cooking for a crowd, but not these 6 bloggers. They're fearless about entertaining, and they want to share all their tips and tricks with you.
The Blog: Elizabeth built this blog as a creative outlet for herself and to show people (young people especially!) that entertaining is fun! That you can be a twenty-something and enjoy the thought of having people in your home. That you can have your bros over for happy hour and you can even have your family over for dinner! The College housewife is about inspiring yourself of what your home can do for you no matter how old, where you live, or what you're good at. Making an aromatic pot of soup, a platter of killer enchiladas or a table setting, are ideas that you will find on this platform.
The Blogger: Elizabeth is a 25-year-old lover of all things creative, stylized, and wholesome, as well as an event planner, food lover, and hostess to the people close to her heart. She created this blog a few years ago during her junior year of college in Colorado. While being a student was fulfilling, blogging fed her creativity. On any given night you can catch her in her modern boho Orange County home, sharing a bottle of red wine with her boyfriend Jared, playing with her golden retriever Rascal, and enveloping herself with the new world of food and entertaining.
The Blog: Dine x Design is a celebration of style through the love of entertaining, a passion for cooking, a curiosity in creative people and an appetite for a well-designed lifestyle. Come on in for the parties (cocktails included), seasonal recipes, tabletop inspiration and original interviews! We're dishing out all the tips, ideas and how-tos that will have you serving up style in no time. Let's dine by design together!
The Blogger: Kristin Guy lives in Los Angeles, California with her husband and Wheaten Terrier pup Ginger. She is a stylist/photographer who specializes in food, table top, home & garden. When she's not working on national brand campaigns (or cooking in the kitchen) you can find her exploring the latest around town, working on her clay game in the ceramics studio or tinkering in her expanding urban homestead (chickens and greenhouse coming soon).
The Blog: Huckleberry Collective is a flower and food-based blog where creator, Christina Brockman, develops beautiful work focused on styling, florals, recipes, and everyday life. Christina's passion for aesthetic imagery is the fuel behind each story-telling shot you see. The name Huckleberry Collective came to be through a combination of Christina's Maiden name, Huckaby, and Collective, because of the curated content. Huckleberry Collective exists to motivate and leave you creatively re-charged with each unique post. Whether it be décor for your next party, or a week-night dinner Christina has you covered.
The Blogger: Christina is a food and floral enthusiast, residing in Birmingham, Alabama with her husband Will, and Dachshund Basil. She is a lover of red wine, old hymns, cheese, florals, and community. With a background in marketing, she has a passion for creating posts that cultivate conversation and spark inspiration. Depending on the day, you can find Christina in a room full of florals or up to her elbows in powdered sugar. She is a woman of many hats and creative outlets, with her main focus being Huckleberry Collective, a place for followers to come and be inspired.
The Blog: The Sweetest Occasion is an ode to the beauty of everyday—a celebration of family, friendship and making the most of our days surrounded by the people who bring us joy. Here you'll find Cyd's best entertaining tips, party ideas, recipes, festive cocktails and more! Stick around for the party—it's always fun around here.
The Blogger: Blogger Cyd Converse has an undergraduate degree in architecture and a Master of Business Administration, paired with years of work in both event design and marketing/pr in the stationery and design industry. She believes all of this gives her a unique perspective when it comes to crafting content. With an especially keen editorial eye and a passion for all things beautiful, she is on a personal mission to help readers infuse their everyday life with a sense of celebration.
The Blog: The Every Hostess is a gals (or guy's) source for everything you need to know from styling events, recipes, what to wear, cocktail hour and more. From parties, recipes, what to wear and more, you are guaranteed to find inspiration for every occasion!
The Blogger: Kaitlin is the editor of The Every Hostess which is a website that encompasses parties, what to wear, recipes and more. Ever since she was a little girl she was always planning her next birthday, pool or Halloween party. Kaitlin puts the blame on her mother for having a niche for party planning because of the extravagant parties she would throw her. The inspiration for starting this blog was to find ways for women to become an "Every Hostess" and create simple, affordable, yet chic events.
The Blog: The philosophy is simple: a well designed space should not only feel dreamlike, but be liveable, usable, and totally and completely you.
The Blogger: With over a decade of experience in the industry, plus many, many years arranging (and re-arranging) her bedroom as a child, it's safe to say that Jacquelyn Clark, owner and principal of Lark & Linen Interior Design, lives and breathes design. Having previously worked for top tier architecture firms in Toronto, followed by two years as editor for the world renowned lifestyle and design site, Style Me Pretty Living, she has mastered the art of design under incredible guidance, and lives to tell the tale via her daily blog by the same moniker, Lark & Linen. With a Bachelor of Design, a Leadership in Energy and Environmental Design certificate, as well as her National Certificate for Interior Design Qualification under her belt, she is well-equipped to tackle any project, both large and small.