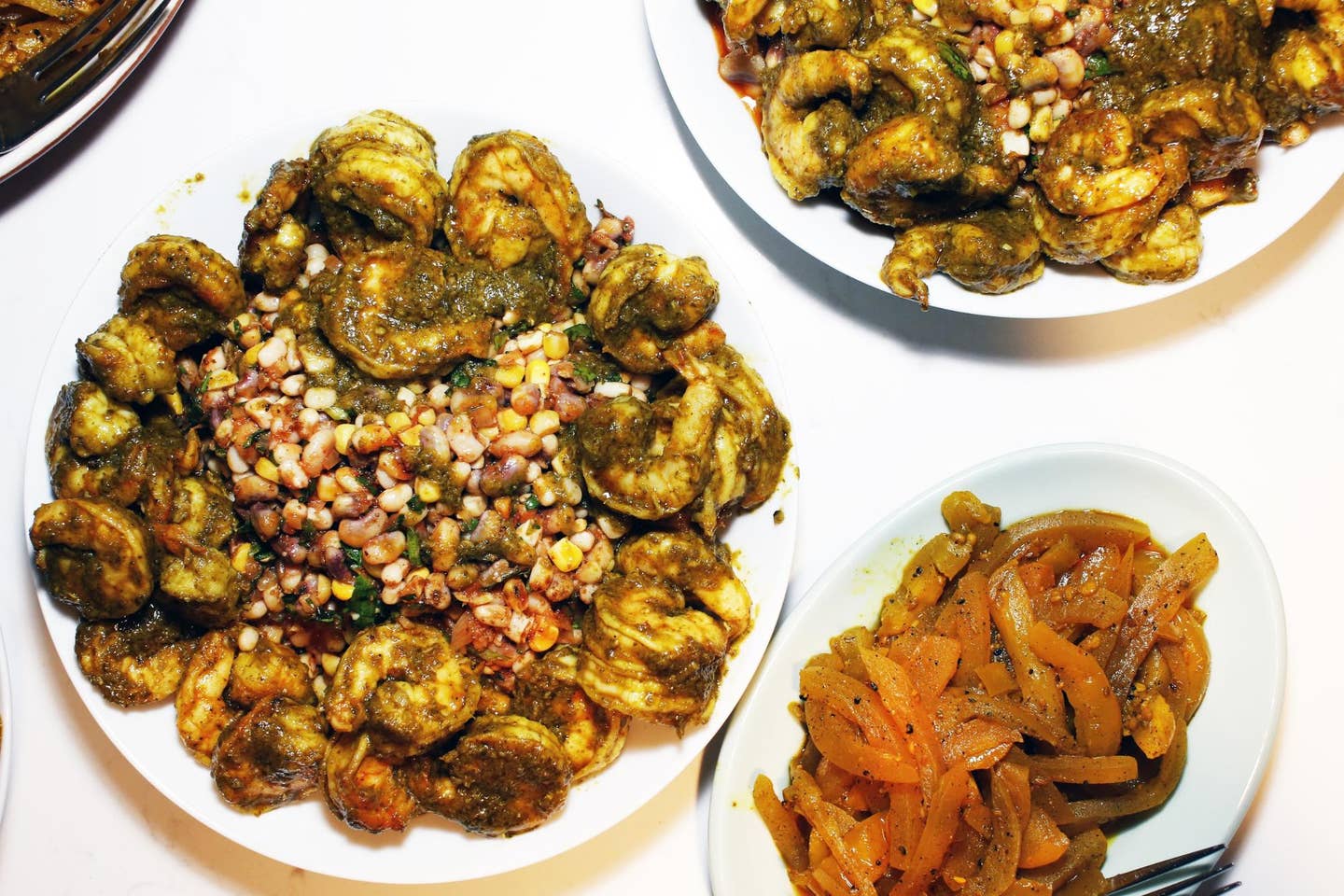 Culture
How the 'Brown in the South' Dinner Series Is Redefining Southern Food
A group of chefs have created a culinary experience that is both Southern and Indian—and that shows how the cuisine is evolving
Whenever chef Vishwesh Bhatt is asked where he is from, he always responds the same way: "I'm from here." In this case, "here" is the American South, which Bhatt has called home since emigrating from India at the age of 17. It's also the location of Bhatt's celebrated restaurant Snackbar, where his Indian-meets-Southern cooking is helping push the region's cuisine in a new direction. This changing culinary identity was the theme of the evening when Bhatt joined us in the SAVEUR test kitchen for a special edition of Brown in the South, a pop-up dinner series that celebrates chefs of Indian descent who live and cook in the region. The star-studded collective also included Asha Gomez of The Third Space in Atlanta, Cheetie Kumar of Garland in Raleigh, and Meherwan Irani of Chai Pani Restaurant Group in Asheville.
With eight restaurants, more than a dozen James Beard Award nominations (including a win for Bhatt in the Best Chef: South category earlier this year), and an award-winning cookbook among them, these chefs are all at the top of their craft. What brings them together, however, is that they all happen to be Southerners of Indian origin, simultaneously taking pride in their heritage and laying claim to their place in the South. The chefs treat the southern United States as a region of India, melding their interpretations of Indian classics such as vindaloo, chaat, and curry, with the best ingredients that the South has to offer, from okra and tomatoes to watermelon and pork.
While diners might be tempted to describe the resulting dishes as fusion, the chefs are striving to leave that label behind. "Sweet tea isn't fusion—tea and sugar aren't from the South. Those flavors have become part of the cuisine, and we're trying to do that with our flavors without it becoming a separate thing," explains Irani. "I hope one day, the way we make pickles, okra, and barbecue isn't thought of as fusion, just as you don't think of sweet tea as fusion." Brown in the South is just one example of how Southern cuisine is becoming richer and more complex as it changes. As Bhatt puts it, "Cornbread just tastes better with a little cardamom in it"—we couldn't agree more.