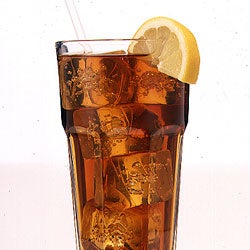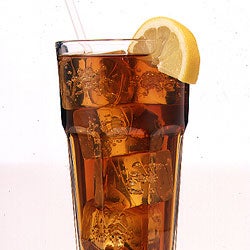 Southerners take "sweet tea"—as genuine iced tea is known as in the South—very seriously. And what about bottled iced tea? A travesty.
Sweet Iced Tea
Throughout the South, sweet tea is nothing to be taken lightly—most families have a preferred recipe, this is ours.
Ingredients
4 quart-size tea bags, preferably black tea
2 cups sugar
Instructions
Bring 2 quarts cold water to a boil in a pot over high heat, then add tea bags. Immediately remove pot from heat and allow tea to steep for 4 minutes.
Meanwhile, combine 2 quarts cold water with sugar in a 1-gallon jug. Remove tea bags from pot, pour hot tea into jug, and stir well. (Adding the hot tea to the cold sugared water, rather than the other way around, helps keep the tea clear and preserves its flavor.) Fill the biggest glasses you can find with ice and pour tea into them. Refrigerate leftover tea (it tastes even better the next day).