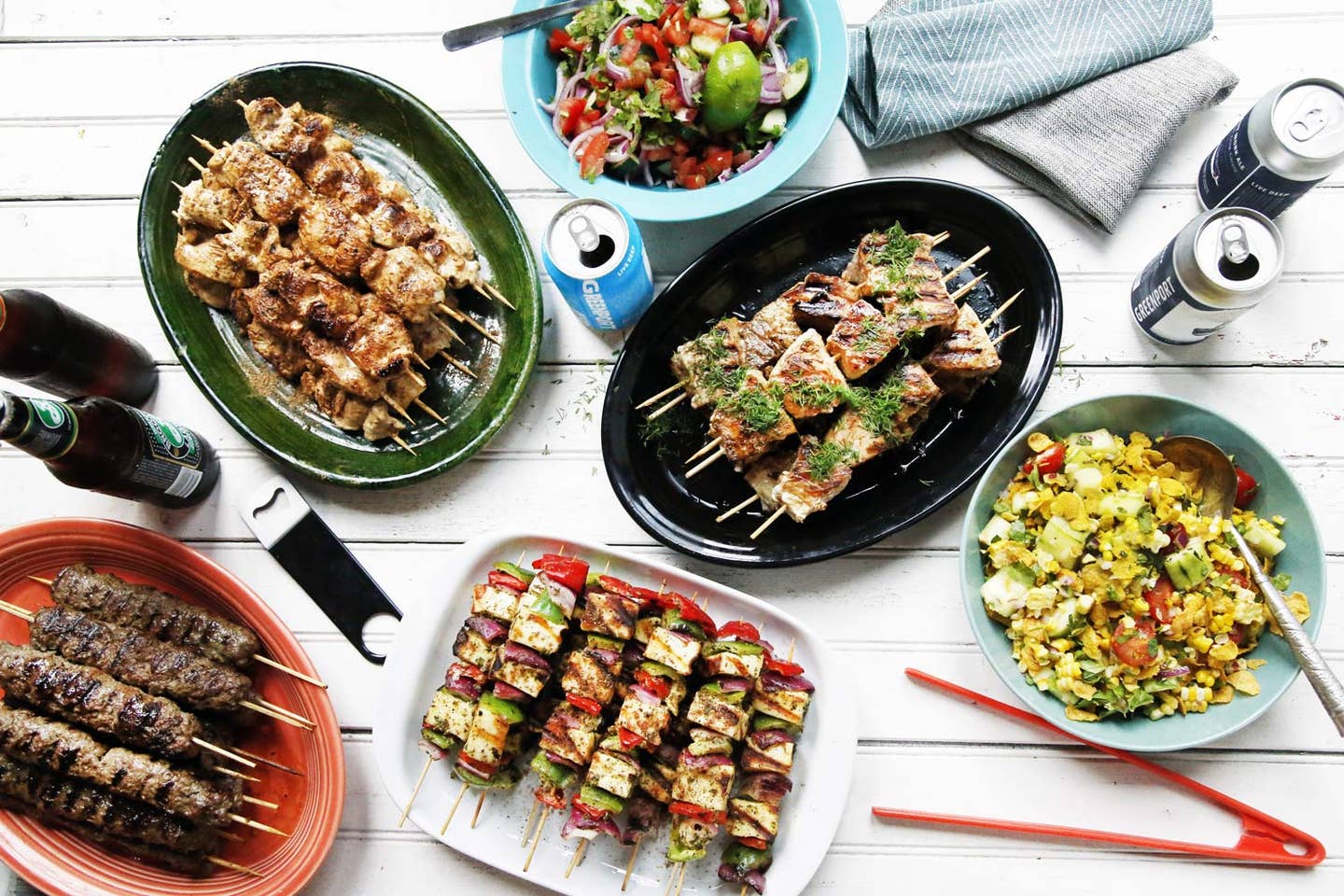 Techniques
6 Magnificent Indian Grilling Recipes You Can Pull Off Indoors or Outdoors
Starring four different kinds of kebabs, this versatile cookout menu is worth firing up your grill (or grill pan) for
Most Indian restaurants pay homage to the food once served on the tables of the Mughal emperors. Cooked in ghee and redolent with aromatic spices, ubiquitous staples from tandoori chicken and butter chicken to saag paneer and rogan josh all owe their roots to Mughal high cuisine. But those dishes don't tell the full story of the culinary influence of the Mughals. An equally important legacy is found in the streets and alleyways of almost every city in India. From Delhi to Calcutta, kebabwallas ply their trade, cooking skewers of marinated meats over glowing sigris (charcoal-fueled open-fire grills) and serving them on parathas—usually with a squeeze of lime and a few slivers of onions fragrant with chaat masala.
These late-night street grills were the inspiration behind my Botiwalla restaurants in Atlanta—and the menu below. Mix and match the skewers and sides for the ultimate cookout, starting with the iconic seekh kebab, a skewer of spiced minced meat—and the gold standard of kebabs in India. With a large enough grill, you can cook lamb in one corner, chicken in another, and still make room for fish and vegetables. You can also do as the SAVEUR test kitchen did and pull off the whole menu indoors: simply break out your grill pans and get those burners going.
Lamb Seekh Kebabs
My riff on this beloved classic starts with ground lamb and dials back the heat and Indian spices—flavoring the meat with just a pinch each of turmeric, ground coriander, and Kashmiri chile powder. Then I bump up the cilantro, garlic, and ginger, and add lots of fresh mint to brighten the dish. The trick is to grill hot and fast so that the meat is smoky and charred on the outside, and tender, juicy, and almost delicate on the inside. Serve as a kebab with naan, lime wedges, and chutney; or form the meat into a skinny burger instead, and sandwich between pav, the soft, sweet Indian rolls, along with a cabbage slaw and Maggi ketchup.
Chicken Tikka Kebabs
Chicken tikka is the sweet and sour pork or the beef and broccoli of Indian cuisine. The O.G. bastardized north Indian export has launched thousands of curry houses in the U.K. and U.S. This version calls for treating chunks of boneless chicken breast (you can also use thighs for even juicier results) with a dry rub and a wet marinade. The dry rub is super simple—just Kashmiri chile powder, turmeric, and salt—while the wet marinade is the perfect balance of yogurt, lime, and spices. Thread the double-infused chicken onto skewers, and again grill hot and fast, turning frequently to avoid over-charring. One bite of the smoky-spicy-juicy end result, and you'll never again want to pony up for the dry, flavorless, and dyed-red chicken under the buffet heat lamps that's trying to pass itself off as "chicken tikka."
Machli Kebabs
While most fish in India is fried—I don't think I've ever seen it grilled—this recipe inspired by my Persian ancestry rocks on the grill. Start with a firm, chunky fillet—swordfish is my go-to—and a bright, slightly sweet marinade of fresh mint, cumin, lime, and garlic. Baste with plenty of ghee on the grill, then garnish with fresh dill and dried sumac.
Paneer Tikka Kebabs
Yes, you can grill cheese on a grill! Well, the right kind of cheese. Here, bite-sized chunks of paneer, a dense, pressed fresh cheese, is marinated in a gingery herbed yogurt and grilled with sweet, colorful bell peppers and onions.
Grilled Corn Bhel
Bhel is the closest that many Indians will come to eating some type of salad. We traditionally don't eat a lot of fresh leafy greens. Our greens tend to be dark and fibrous (think mustard greens instead of baby spinach) and lend better to stewing instead of salads. Typically served by street vendors, bhel is a "salad" of puffed rice, crispy chickpea noodles, wheat crackers (puris), chiles, onions, cilantro, peanuts, and potatoes dressed with chutney and the occasional dollop of cold sweetened yogurt. My bhel-inspired corn salad keeps the crunch factor with homemade corn poha (you can substitute store-bought corn flakes) and adds grilled corn kernels, cucumbers, tomatoes, herbs, and a three-minute cumin-lime vinaigrette.
Kachumber
A Hindi word for "chopped up into small pieces," kachumber is also known as Parsi salad. It was served with pretty much every meal I had growing up in India. The first time I went to a Persian restaurant, I saw an almost identical dish called "salad Shirazi," which made sense once I looked up the history: The Parsis immigrated to India from a region of Persia known as Pars, of which Shiraz is the capital. With just four main ingredients—cucumbers, tomatoes, red onions, and fresh herbs—the slaw-like salad couldn't be simpler.