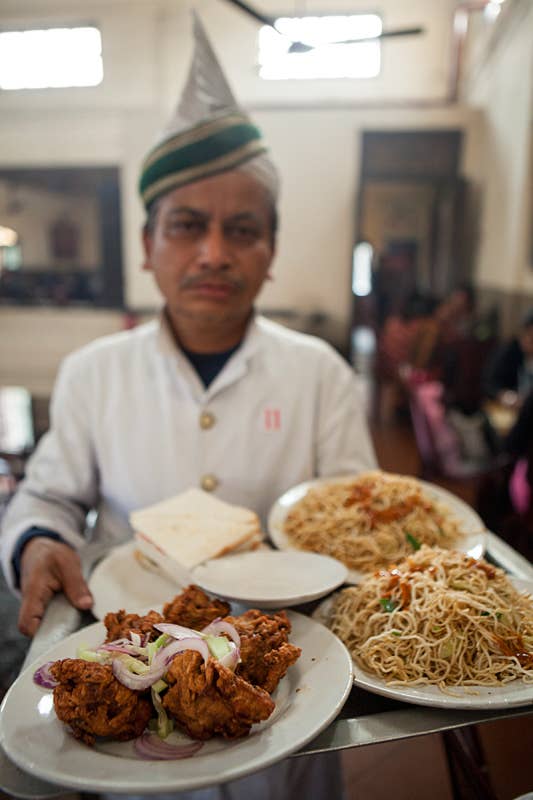 Travel
Travel Guide: Calcutta, India
The former capital of British India, Calcutta is rich with history. Established in 1686, it became a major port city and a hub of commerce and manufacturing where British and international influences, along with with Calcutta's own unique identity, were absorbed into the subtle flavors and diversity of Bengali cuisine. With an emphasis on fish, vegetables, lentils, and rice, along with its glorious range of mishtis—sweets—Calcutta has much to explore. As a native Calcuttan and a food and culture enthusiast, I have compiled a few of my essentials to help you discover and understand this eclectic region of West Bengal.
–Subjamay Banerjee, Calcutta native and Kensington Tour Guide
College Street Coffee House
The most famous branch of the India chain, the historic Coffee House on College Street was an important meeting place for political revolutionaries in the mid-20th century. Today, it's still a beloved gathering place for adda—long and lively discussions on art, culture, and politics—held over cups of strong coffee and steaming, potato-filled samosas.
1st fl, 15 Bankim Chatterjee St, Kolkata
Kewpies Kitchen
Kewpies, a small, family-run restaurant housed right in the owner's home, offers one of the best introductions to Bengali cuisine in town with the restaurant's signature thalis (platters) that feature rotating samplings of local dishes such as bhetki paturi—mustard fish steamed in banana leaf.
2, Elgin Lane, Off Heysham Road, Behind Netaji Bhavan, Kolkata
+91/33/2486-1600
kewpieskitchen.com
Oh! Calcutta
Try the colonial-influenced culinary delights of Bengali Nawabs at Oh! Calcutta's flagship restaurant downtown (a location that spawned a nationwide chain). Dishes like bhapa hilsa, steam-cooked fish with green chiles and a tangy mustard paste, and mutton rezala, lamb in a yogurt-based stew, are not to be missed. Book a reservation to avoid unnecessary wait times.
10/3, 4th Floor, Forum Shopping Mall Elgin Road, Bhawanipur, Kolkata
+91/33/2283-7164
specialty.co.in
Nizams
This restaurant is the place to go for biryani, a spiced long-grain rice and meat dish, and Calcutta's famed kati rolls, a street food featuring kebabs rolled up in paratha, a pan-fried flatbread. My favorites include the richly spiced beef biryani and the egg and chicken kati roll.
23/24, Hogg St, New Market, Dharmatala, Taltala, Kolkata, West Bengal
+91/98/3619-4669
Bhim Chandra Nag
This legendary mishti shop in north Calcutta has been serving up classic sweets like kheer kadam, khoya balls with powdered sugar, and its immensely popular sandesh, sweetened Indian cheese dumplings, for more than a hundred years. Bhim Chandra Nag's authentic desserts balance sweetness and a delicate creamy texture unmatched by most other sweet shops, and they have the customer following to prove it.
5, Nirmal Chandra Street, Near Bow Bazar Market, Bow Bazar, Kolkata
+91/33/2212-0465
Sen Mahasay
A small, local favorite sweet shop, Sen Mahasay is known for its classic sandesh, a sweet, cottage cheese "fudge", and its mihidana, a sweet and crispy West Bengali dessert made of gram flour mixed with water, deep-fried in ghee, and soaked in sugar syrup. Stick with these two favorites, which are the most thoughtfully prepared in flavor and presentation.
AE 332, Sector 1, Salt Lake, Kolkata
+91/33/2334-8271
Magen David and Beth El Synagogues
The only two operating synagogues in West Bengal's capital, these stunning architectural landmarks represent the city's Jewish population, which is primarily of Baghdadi origin. The synagogues are a testament to the history of Calcutta's Jewish population, which was six thousand strong in its heyday and today numbers less than one hundred.
Beth El Synagogue: Pollock Street, near Brabourne Road, Kolkata, West Bengal
Magan David Synagogue: Biplabi Rash Behari Road near Sukeas Lane, Kolkata, West Bengal
Kumartuli
This potter's quarter in northern Calcutta is truly one of the city's wonders. It is best to go during the preparatory months of the Durga Puja festive season, when artisans will be hard at work crafting intricate statues of the goddess Durga. While most of the Durga idols on the market are crafted by lesser-known artisans, you can seek out several renowned potters, like Ramesh Chandra Pal, who works out of a studio at Raja Nabakrishna Street.
Near Banamali Sarkar Street, Kolkata
kumartuli.com
Marble Palace
This 19th-century mansion in North Calcutta is one of the best-preserved and most elegant houses of the era. Entry is free, but you must obtain a pass from the West Bengal Tourist Office 24 hours in advance of your visit.
46, Muktaram Babu Street, Opp Ram Mandir, Jorasanko, Kolkata
+91/33/2269-3310
westbengaltourism.gov.in
Tagore's House
This 1784 family mansion within Rabindra Bharati University pays homage to Rabindranath Tagore, arguably India's greatest modern poet and the winner of the Nobel Prize in Literature in 1913. The site is a must-see for anyone interested in Bengali history and culture.
6/4 Dwarakanath Tagore Lane, Rabindra Bharati University Campus, Jorasanko, Kolkata
Street 246D Rabindra Sarani
+91/33/2269-5242
museum.rbu.ac.in
Dolly's The Tea Shop
A quiet oasis in the middle of the bustling Dakshinapan shopping center, Dolly's offers fifty varieties of tea along with perfectly grilled sandwiches. Try the peach and apricot tea or the mint iced tea while taking a rest from shopping.
Shop No. G-62, Ground Floor, Dakshinapan Shopping Complex
2 Gariahat Rd S, Dhakuria, Kolkata
+91/33/2423-6445
Chowringhee Bar
This sophisticated bar at the Oberoi Grand Hotel in the heart of Calcutta carries a wide variety of wines, fine spirits, and classic cocktails to enjoy with the great selection of finger food. With a steady stream of live jazz music every night, it is the perfect place to spend an intimate evening in the heart of the city.
15 The Oberoi Grand, Jawaharlal Nehru Road, Chowringhee, Kolkata
+91/33/2249-2323
oberoihotels.com
The Anchorage Bar
This riverfront restaurant is part of the Floatel, a floating hotel on the Hooghly River. The bar specializes in perfectly balanced classic cocktails such as the cherry-garnished Gypsy, made with gin and sweet vermouth, mocktails such as the Guava Delight, guava juice spiked with Tabasco sauce, and fresh seafood platters. Opt to dine outdoors to take advantage of the evening views of the Hooghly River.
The Floatel 9/10 Kolkata Jetty, Strand Road, Dalhousie BBD Bagh, Kolkata
+91/33/2213-7777
floatelhotel.com
Taj Bengal Kolkata
This iconic luxury hotel is within walking distance of major Calcutta attractions, such as the Victoria Memorial, Royal Calcutta Race Course, Horticulture Gardens, National Library, and the Zoological Gardens. The exceptional service and amenities, beautiful décor, and reliably delicious food have given this hotel a well-deserved reputation for unsurpassed excellence.
34B, Belvedere Road, Alipore, Kolkata
+91/33/6612-3939
tajhotels.com
Planning an Authentic Trip
When it comes to getting the most out of a place, whether on vacation or reporting a story, we seek out people who know their stuff to guide us and give us a glimpse of the true heart of the place they call home.
Practical Travel
A trip to India is guaranteed to be filled with unforgettable experiences and flavors, but there are certain things you should know before you go to make the most of your trip. Here's our advice on how to get there smoothly and hit the ground running once you land.
Best Guide Books
Traveling to India takes a bit of planning, which is why we've rounded up the best guide books and apps to help you navigate this vast and varied country.