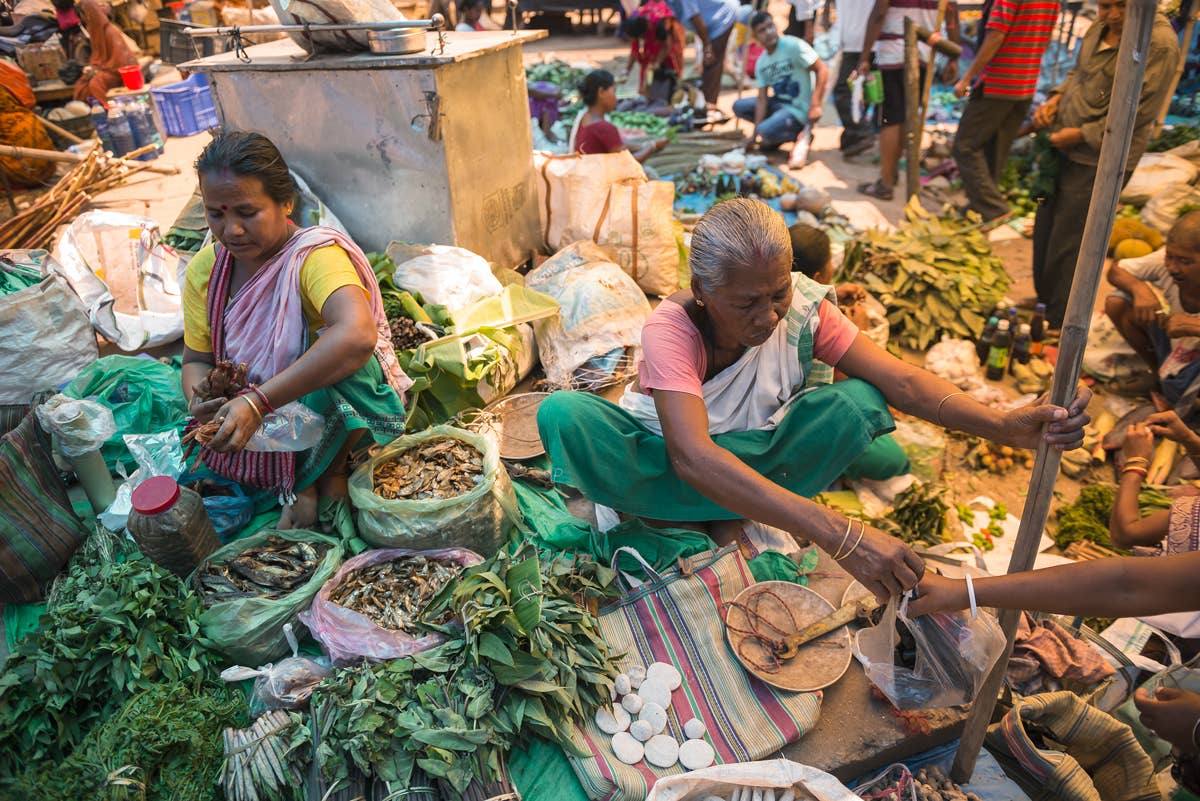 Travel
Travel Guide: Guwahati, India
As a lifelong resident of Assam, I've explored every reach and corner of the region: From the state's capital Guwahati, to the buoyant streets of Sibsagar, an important center for tea and oil trading built around an eponymous lake ringed by temples and other attractions; from Dibrugarh's silk markets, lush greenery, and rushing rivers to the cloistered villages of neighboring states such as Nagaland and Meghalaya. An enormous diversity of tradition thrives here in the lush foothills of the Himalayas, where the imperious Brahmaputra River, fed by a tenacious monsoon season from May to September, sustains the primeval beauty of Assam—much of which remains nearly untouched by development. There are, too, many tribes, ethnicities, and religions in the northeast, from the modern urbanites of Guwahati to the ancient tribes of Nagaland. The cuisine is as diverse as the people preparing it, but all make expert use of native ingredients such as bamboo shoots, banana leaves, fresh fish, and fowl in simple yet flavorful dishes.
The best time to visit is during the temperate months from October to April, when the days are sunny and the nights cool. Poised on the banks of the Brahmaputra River, Guwahati is the gateway to seven northeastern states and boasts many options for culinary, intellectual, and cultural stimulation. With hills that hold a 10th-century temple dedicated to the goddess Kamakhya and surrounding swathes of wildlife sanctuaries, archeological ruins, and even a silk weaving center, the city makes a great home base from which to plan an adventure into the more remote areas of the northeast.
—Pradip Chetry, Assam native and tour guide with Kensington Tours
Khoorika Restaurant
Local chef Atul Lahkar serves traditional Assamese cuisine at this popular, canteen-style eatery, with delectable dishes like pork with bamboo shoots and home-style dals. Khoorika—meaning barbecue—is a focus at this local favorite; its renowned thali is served with barbecued meat and kheer, a flavorful rice pudding, for dessert.
1st Floor, Kamal C Plaza, Bora Service
G S Road, Ulubari, Guwahati
+91/986/498-2948
Maihang
Maihang, a lively restaurant with a warm, welcoming ambiance, offers a range of northeastern-style dishes cooked using traditional methods. Try the classic Assamese thali, the stir-fried mustard greens, and red rice kheer for dessert.
1st Floor, Shanti Palace
Near Bora Service, Ulubari, Guwahati
+91/98/5437-3978
Namsing
The culinary traditions of the Mishing people, who make up an ethnic group dispersed throughout the northeast region, are on offer at Namsing. Favorites include patot diya chicken, which is roasted in banana leaves, and a flavorful pork salad.
Opposite Guwahati Commerce College
+91/97/0736-6028
Delicacy
Widely regarded as one of Guwahati's top restaurants specializing in northeastern dishes, Delicacy delivers fresh, rich food in the form of sumptuous vegetarian dishes from akhaj (a traditional Assamese thali composed of rice, lentils, potatoes, vegetable curries, and raw papaya) to tantalizing Assamese mainstays like masoor tenga (fish in a rich tomato stew). Also try the kukura kumura, a surprising dish of chicken and pumpkin or duck curry garnished with black sesame seeds.
Krishna Market, Ganeshguri Charilali
+91/36/1223-3402
Kaziranga National Park
Take an elephant safari through this UNESCO World Heritage site, one of the last areas in eastern India undisturbed by human presence. Go in the early morning when the wildlife, especially the rare, native one-horned rhinoceros, can be seen moving about in search of food.
Bokakhat, Golaghat District +91/37/7626-8095
Kamakhya Temple
Seated in the Nilachal hills about five kilometers from the Guwahati city center, this beautifully situated main temple has seven oval spires, each topped by three golden vessels. The monument to the mother goddess is a spiritual respite from the urban bustle. Go in the afternoon to avoid crowds.
Kamakhya Mandir Rd, Kamakhya, Guwahati +91/81/9599-8359
ISKCON (International Society for Krishna Consciousness) Temple
Devoted to the worship of Lord Krishna, the ISKCON temple is slightly smaller but no less impressive than nearby Kamakhya Temple, and offers panoramic views of Guwahati at sunset. Worshippers and visitors wander the lush gardens and share authentic prasads—foods offerings to the Gods that are shared as meals in the afternoon. Slightly off the beaten path, this temple is known for its extreme serenity.
Ulubari Charali, South Sarania
+91/0361 2525963
Banyan Grove on the Gatoonga Tea Estate
Assam is the world's largest tea-producing region and is known for brightly colored, malty tea, which is grown in the fecund Brahmaputra valley. Jorhat, in the heart of Assam, is often referred to as the tea capital of the world. To taste and learn more about the traditions of Assamese tea, visit Gatoonga Tea Estate, where you can tour the factory and get an insider's look at the production process.
Gatoonga Tea Estate, Gatoonga, Jorhat
Tipi Orchidarium
The Tipi Orchidarium is one of the largest orchid centers in India. The botanical paradise houses more than 50,000 orchids and has an orchid museum of rare and endangered orchid species. The greenhouse is the main attraction, decorated with about a thousand of the majestic flowers, which surround a central pond and fountain.
West Kameng District, Jia Bharoli
+91/36/0220-3566
Hajo
The city of Hajo is an important destination for Hindus, Buddhists, and Muslims alike. Very accessible from Guwahati and located on the banks of the Brahmaputra, this small town is full of temples, shrines, and mythology. A temple dedicated to Lord Vishnu draws its own crowd of travelers and natives; the Powa Mecca, rumored to be constructed of soil from Mecca itself, is believed to mirror the sanctity of its origin, and it was here in Hajo that the Buddha is believed to have achieved Nirvana.
32 kms West of Guwahati, Kamrup District
Namphake
Namphake is home to a small population of Tai Phake, a people who trace their origins and customs to Thailand. Spread along a tributary of the Brahmaputra, Namphake is an outpost of ancient tradition. The locals are very spiritual, and a splendid monastery adorns the center of town. This microcosm retains a great deal of autonomy (all disputes are settled by the monks), and it is said that the Assamese police have never set foot in the village.
6 kms from Naharkatiya, Assam, and 37 kms from Dibrugarh
Fancy Bazaar
Tiny shops at this busy bazaar sell exotic fabric, handmade toys, and homemade products. Bamboo and other decorative pieces are sold by local artisans. Take a rest and enjoy steaming hot momos and refreshing tea at one of the many small eateries.
Near the Central Railway Station, Guwahati
Pan Bazaar
Find anything and everything—from clothing, accessories, and jewelry to books and furniture—on this shopping avenue.
Café Hendrix
This community-driven blues café features live sets from up-and-coming musicians from all over India's northeast region. Café Hendrix closes at 10 p.m. every night, so get there early for a warm hubbub of people, music, and drinks.
G S Road +91 098 6402 1111
The Lounge Bar
Located in Guwahati's Christian Basti, this bar offers an exciting entry into the city's night life. Catering to the city's growing under-30 population, The Lounge Bar serves an alluring array of food, wine, and cocktails in a buzzing atmosphere.
Hotel Dynasty, SS Road
Lakhtokia, Guwahati
+91 986 410 4973
Silver Streak
Part of the Hotel Brahmaputra Ashok, a chic, sleek Guwahati hotel on the banks of the river Brahmaptura, Silver Streak is one of the first lounge bars in this part of the country to offer fine international liquors and DJ-curated music.
MG Road, Guwahati +91 361 260 2281
Hotel Rajmahal
Located on Assam Trunk Road, this ten-story metropolitan hotel is within walking distance of attractions such as Golghar and the Patna Museum. Lounge at the rooftop swimming pool, where you can enjoy cocktails and light snacks, or grab a table at Banzara, a multi-cuisine restaurant serving Indian, Chinese, and Continental food.
A.T. Road, Guwahati
+91 361 254 9141
Hotel Dynasty
For a luxurious stay in a prime location, book a room at Hotel Dynasty, Guwahati's top hotel. Minutes from both Fancy Bazaar and Pan Bazaar, the property provides excellent access to life in the city.
+91 361 2516021
dynastyhotel.in
Kiranshree Portico
Kiranshree Portico offers luxury and modernity for the budget-conscious. Located on Guwahati Shillong Road, in the middle of the city's premier business center, this hotel can serve as a base for daily excursions into town. Guests have access to the fitness center and the café, which offers a simple à la carte menu of sandwiches, burgers, baked goods to curb the appetite between meals. At night the hotel also features a restaurant serving Chinese and Indian cuisine and a hotel bar.
Paltan Bazaar, Guwahati - 8 +91 361 2735300 10
Planning an Authentic Trip
When it comes to getting the most out of a place, whether on vacation or reporting a story, we seek out people who know their stuff to guide us and give us a glimpse of the true heart of the place they call home.
Practical Travel
A trip to India is guaranteed to be filled with unforgettable experiences and flavors, but there are certain things you should know before you go to make the most of your trip. Here's our advice on how to get there smoothly and hit the ground running once you land.
Best Guide Books
Traveling to India takes a bit of planning, which is why we've rounded up the best guide books and apps to help you navigate this vast and varied country.