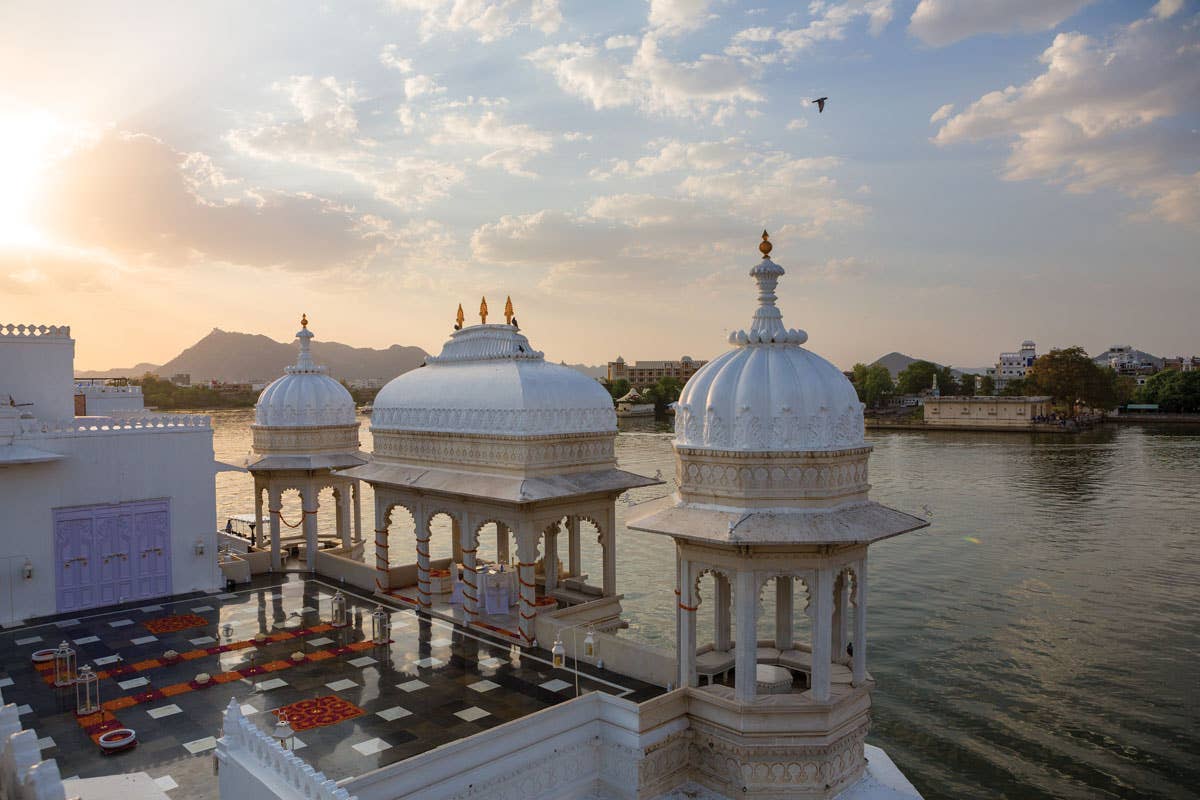 Travel
Travel Guide: Rajasthan, India
Of all the places in India, Rajasthan seems to me wildest at heart. Leopards and tigers roam forests referenced in Kipling's The Jungle Book; Nomadic tribesmen gather in Pushkar for the annual Camel Fair; forts that once repelled Akbar the Great's grand armies crown its ranges, and carved sandstone chhatri, or pavilions, dot valleys where fantastically wealthy Rajputs paused on hunting expeditions with their entourages and elephants. A mysterious westerly wind known as the Looh can rise up without warning, casting sand far and wide as it blows inland from the Thar Desert. Even in Rajasthan's capital cities—Udaipur, Jodhpur, Jaipur—the alarm cry of peacocks mingles with the call to prayer and ringing of temple bells.
The cooking here is also tempered by an arid climate and has a long history dating to Silk Road trade caravans. On one hand, it is austere and make-do, with dried fruits, seeds and spices most common in recipes; on the other, the princely life of the Rajputs lend panache to certain dishes and delicacies, especially jungly maas, a wild game curry, and milky sweets lavishly coated with edible silver known as varq. On urban streets, vendors sell batter-fried stuffed peppers and tangy lassi topped with whipped ghee. In rural villages, the day often starts with a single chapati smeared with ground chiles, and by necessity may suffice long after the flocks return home at sunset. No matter the location or caste, however, I have always found a Rajasthani welcome warm and impetuous, much like the flower petals tossed by pranksters clinging to the roof of a crowded bus as it sped past me one day in the Aravalli Hills.
—Shane Mitchell, SAVEUR Contributing Editor
9:00 AM: A Mewari Morning
Start your day in Udaipur, "the White City," by enjoying breakfast and the exceptional menu of rare teas at the Taj Lake Palace—a white marble hotel built on an island in Lake Pichola and the former summer retreat of Maharana Jagat Singh II—before setting off on a walk around the Kingdom of Mewar's historic capital.
Jharokha at the Taj Lake Palace Lake Pichola +91/29/4242-8800 tajhotels.com
11:00 AM: Explore the Seat of Royalty
A launch will transport you to the dock at City Palace, the sprawling complex of museums and private apartments where members of the Mewar dynasty still reside. Don't miss the vintage car collection and a remarkable cut crystal objet d'art museum; then pass through a triple-arched gate onto City Palace Road to browse crafts shops that sell everything from handcrafted Kathputli puppets to kitchen knives in Jagdish Chowk.
2:00 PM: Historic Cuisine
For a midday cooking lesson, visit Vijay Bedla and his wife, Sugan Kumari, at Bedla House. The family's recipe collection stretches back centuries; lunch is one of the best culinary experiences in Rajasthan. Sugan's homemade raw lemon pickle is hotter than a blowtorch.
Bedla House Govind Bhawan, Chetak Marg +91/29/4252-2362 karancuisine.com
6:30 PM: Unwind at the Palace
Return for sundown cocktails on the rooftop terrace at Lake Palace as kids bellyflop into the cool waters from bathing ghats onshore. Sate your hunger with a traditional royal Mewari repast at the elegant Neel Kamal restaurant, where dining options include soweta degchi maas, braised lamb and corn cooked with cloves, cinnamon, mint, coriander, green chiles, and buttermilk, and panchkuta, a typical desert food in which local beans, berries, seeds, and fruits are tempered with spices.
Taj Lake Palace Lake Pichola +91/29/4242-8800 tajhotels.com
Day 2 - 3: Rural Rajasthan
9:00 AM: Rajasthani Roadtrip
Leaving Udaipur, start a multi-day road trip with an India Beat driver, who will accompany you onward in Rajasthan. Be sure to ask the Taj to pack a picnic lunch and bottles of water for the first leg of your journey, an approximately three-hour drive toward the town of Jawai Bandh in the Pali district.
India Beat indiabeat.co.uk
12:00 PM: Temple Time
Plan to reach the remarkable 15th-century Jain temple complex of Ranakpur when it opens for visitors around midday, stopping along the way at Eklingji, an outstanding Hindu temple compound made up of 108 temples, the first of which was built in 734. Kumbhalgarh Fort, a UNESCO World Heritage Site, is on the way as well.
Kumbhalgarh, Rajasthan +91/29/4241-1535
9:00 PM: Camping with Leopards
Without stopping, it's about three hours to Jawai Leopard Camp in the rural Pali District. Settle into a deluxe canvas tent fitted with air conditioning, a private bath, double beds, and a verandah facing acacia woodlands and granite hills. Dine by lantern on cinnamon-spiced laal maas, goat curry with freshly baked naan. The camp's kitchen also prepares Rajasthani ker sangri with local dried runner beans and berries. Game drives to spot leopards depart before dawn—a lavish morning tiffin with cakes, tea sandwiches, and champagne is served in the bush.
Jawai Leopard Camp +91/11/4617-2700 sujanluxury.com
Day 4 - 5: Exploring Jodhpur
8:00 AM: Roadtrip
On the route toward Jodhpur, desert capital of Marwar, you'll pass through villages where red-turbaned Rabari tribesmen tend their camels, women gather water at communal wells, and black-faced langur monkeys lounge on the steps of temples dedicated to Hanuman. Rinse away dust from the road at Raas, a boutique hotel in the old walled city.
Raas Hotel Tunwar ji ka Jhalara, Makrana Mohalla +91/29/1263-6455 raasjodhpur.com
11:00 AM: Exploring Jodhpur
Lanes radiating off nearby Sardar Market and Ghanta Ghar clock tower square are full of stalls selling chai, tobacco, spices, ittar perfumes, dowry chests, kitchen utensils, and more. Jodhpur is also street snack heaven: Stop for cooling yogurt topped with whipped ghee at Mishrilal ki Lassi in the market archway, and the best mirchi vada (fried peppers stuffed with potatoes) at Shahi Samosas on Nai Sarak Boulevard. Follow the crowded lane through Katla Bazar, where dozens of vendors tempt you with such regional sweets as ladoo (sweetened chickpea or coconut flour balls cooked in ghee), gulab jamun (cardamom syrup–soaked dumplings), and ghewar, a honeycomb-like Rajasthani specialty.
Mishrilal ki Lassi Clock Tower, Sardar Bazar Market
Shahi Samosas Nai Sarak Boulevard
7:00 PM: Dinner and a View
Ask Vishal Gautam, chef at Raas's Baradari restaurant, to prepare onion-stuffed pyaz ki kachori for dinner; then end the night on the hotel's rooftop bar staring up at the ramparts of Mehrangarh Fort, built in the 15th-century by city founder Rao Jodha.
Raas Hotel Tunwar ji ka Jhalara, Makrana Mohalla +91/29/1263-6455 raasjodhpur.com
Day 6 - 7: The Pink City, Jaipur
8:00 AM: The Road to the Capital
Jaipur is a six-hour overland trek—and even longer if you get distracted in colorful Pushkar by the pilgrims, camels, beggars, and sadhus who gravitate to Brahma's holy city. Once you've arrived in Rajasthan's capital, arrange a private culinary workshop—samosas, matar paneer, smoked yogurt, chicken makhmali murg—with Kaushika Kumari at Diggi Palace, her extended family's home, part of which has been turned into a hotel that also hosts the annual Jaipur Literary Festival.
Hotel Diggi Palace
Diggi House, Shivaji Marg, Sawai Ram Singh Road
+91/14/1237-3091
hoteldiggipalace.com
Market Day
After morning chai at Sahu Chaiwalla, don't miss a walk through the wholesale flower and vegetable market near Johari Bazar.
Sahu Chaiwalla 365 Chaura Rasta (adjacent to the Shah Building)
Pause for lunch at venerable Lakshmi Misthan Bhandar (LMB for short). Established in 1954, this restaurant and sweet shop serves the best weekend brunch and vegetarian thali (papad mangodi soup, dumplings in yogurt, ker sangri) in town, but you'll have to line up with the regulars.
LMB
Johari Bazar
+91/14/1256-5844
Since Jaipur is famous for jewels, pick up a modest gem-studded bauble or two at Tholia's Kuber. On the grounds of Narain Niwas Hotel, Bar Palladio is a fabulous watering hole populated by ex-pat artists and top Indian fashion designers.
RoadTholia's Kuber Jewellers
Mirza Ismaili Road
Bar Palladio
Kanota Bagh, Narain Singh Road
+91/14/1256-5556
bar-palladio.com
10:00 AM: Back on the Road
Ajabgarh, two hours outside Jaipur, may be the closest thing arid Rajasthan has to an actual oasis. In this fertile valley, okra fields are dotted with age-old chhatri (dome-shaped pavilions) shaded by date palms. (Shah Jahan and Akbar both idled here.) The Meena also herd their handsome Rajasthan-breed goats along the rural roads—this tribe traces its origin to an early Hindu myth about Meen Dev, a fish god and incarnation of Lord Vishnu.
12:00 AM: An Educational Respite
Stay at "modern palatial" Amanbagh, in a former royal hunting compound, and allow the indulgent staff to deliver freshly pressed pomegranate juice to your own pleasure pavilion. Chef GSN Bhargava conducts one-on-one cooking classes in an organic kitchen garden. His knowledge of Rajput dishes is extensive, so beg him to prepare khud khargoosh, garlicky rabbit covered with roomali roti. It's baked underground with a copper pipe vent for adding clarified ghee. The hotel will also arrange open jeep tours of the valley and candlelight picnic dinners in one of the chhatri near the ruins of Ajabgarh Fort.
Amanbagh
Ajabgarh, Alwar
+91/14/6522-3333
amanresort.com
Planning an Authentic Trip
When it comes to getting the most out of a place, whether on vacation or reporting a story, we seek out people who know their stuff to guide us and give us a glimpse of the true heart of the place they call home.
Practical Travel
A trip to India is guaranteed to be filled with unforgettable experiences and flavors, but there are certain things you should know before you go to make the most of your trip. Here's our advice on how to get there smoothly and hit the ground running once you land.
Best Guide Books
Traveling to India takes a bit of planning, which is why we've rounded up the best guide books and apps to help you navigate this vast and varied country.