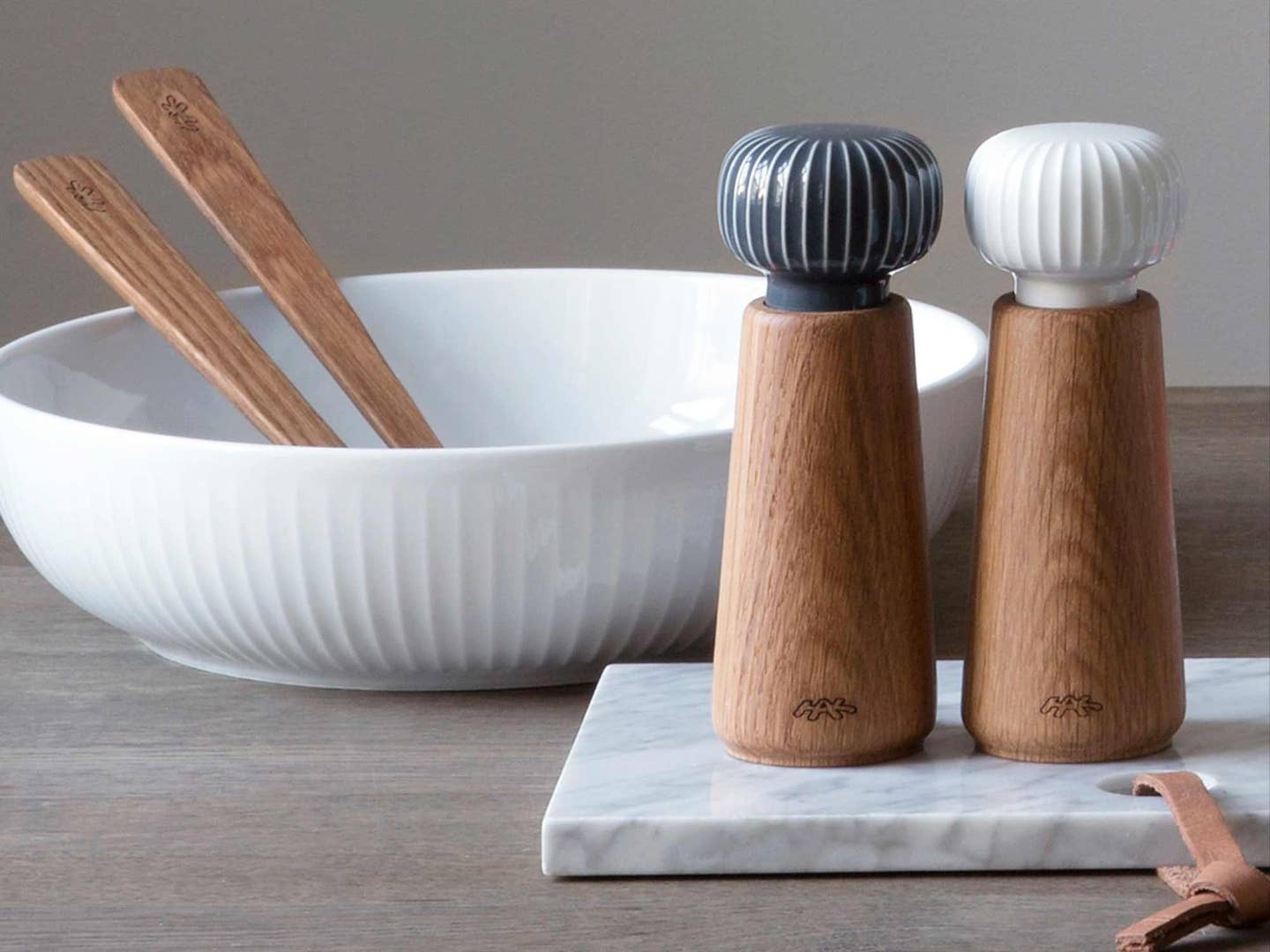 Shopping & Reviews
8 Mod Kitchen Accessories to Fulfill Your Danish Design Desires
Turn your kitchen into the epitome of Copenhagen cool
It's obvious why Danish style is at the top of most design enthusiast lists: It's the perfect balance of simplicity and functionalism. Modernist details like geometric shapes and bold colors make for a beautiful combination reflective of Copenhagen's famous waterfront, the canal of Nyhavn. Copenhagen has been home to many iconic staples over the years and it continues to influence many of our own design choices by offering quality made pieces that are playful but will never go out of style.
We've picked out a selection of must-have items that will fling you into a major Copenhagen crush. With a mixture of natural materials, geometric shapes, and the occasional pop of color, there is something for everyone when it comes to sprinkling a little sleek and mod Danish design into your kitchen.
This jug is hitting all three Scandinavian design musts: bold colors, minimalist details, and geometric shapes. It is a work of art and one that can be proudly displayed on an open shelf.
The combination of light oak wood and ceramic make these salt and pepper mills an object of art. Make the every day feel extraordinary by just swapping out one or two of your kitchen tools with design-focused pieces that will inspire.
A staple in most Copenhagen kitchens, form meets function with this cleverly designed casserole dish. The wooden handle, when removed, can be used as a spoon, as well as a tool for lifting the hot lid off from the vessel. Brilliant meets beautiful.
Even washing dishes in Copenhagen exceeds in style—up your scrubbing game with this wooden horse hair bristle brush that will make any sink look like a rustic modern still life.
Leave it to the Danish to make even the lowly paper towel stand look like a show piece. This is an elegant way to add current trends of marble and brass into any kitchen with ease.
Geometric shapes and natural materials continue to be a running theme in Copenhagen-inspired design. These trivets would look stunning hanging on kitchen walls while not in use.
A handmade natural basket is a quick way to add softness to any kitchen counter. The leather straps give this bamboo basket a modern edge, which would make for the perfect focal point to stylishly display your latest market haul.
This colorful textile is the easiest way to implement playful Copenhagen design into your space. I like to think of the tea towel as an art installation in rotation, where you can swap out different colors and patterns depending on your mood.