Our Best Gift Ideas for Culinary School Graduates
The SAVEUR test kitchen's top picks for all the culinary students in your life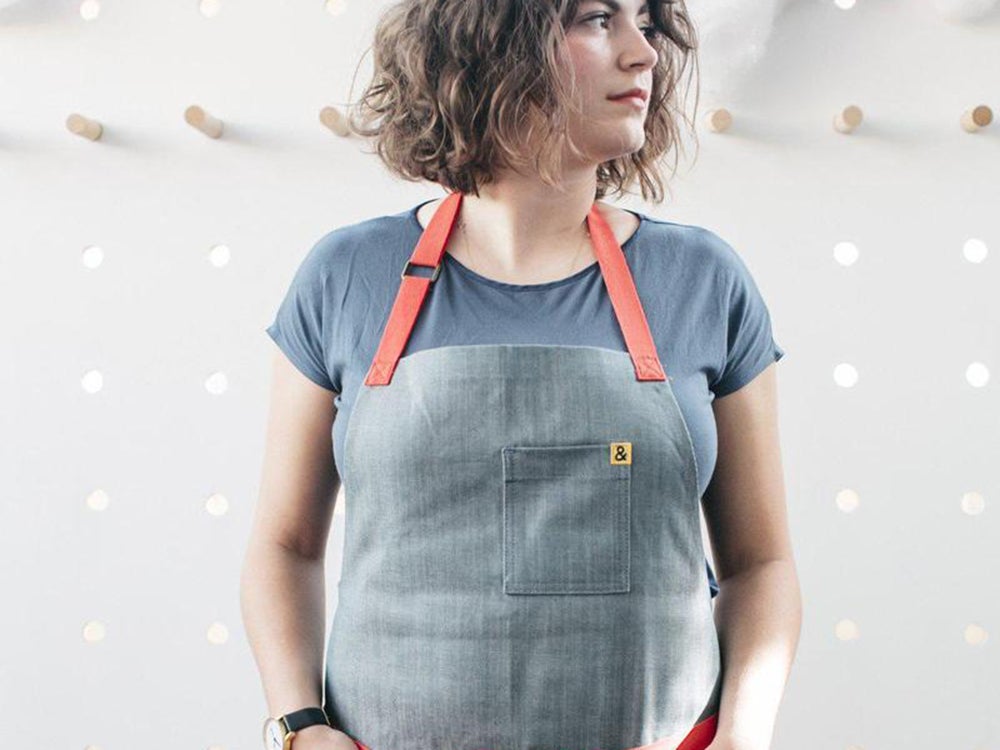 We may earn revenue from the products available on this page and participate in affiliate programs.
Graduation season is approaching, and with it, the inevitable spike in sales of resumé paper, monogrammed portfolios, and interview suits. But students seeking out a food-focused career are headed down a very different path than their college counterparts. There are all sorts of practical, useful tools they'll need as they make the leap to professional chef. If you have a loved one celebrating a new culinary degree this year, treat them to some of the stylish, SAVEUR test kitchen-approved gear below.
The Basics
Help the budding chef in your life dress for the job they want with a crisp, well-made apron from Hedley & Bennett. This industry favorite comes in a range of styles, colors, and materials.
Many culinary programs include a full knife set and carrying case in the cost of tuition, but the standard-issue kit can be clunky and decidedly uncool. A handsome and compact knife roll lets a cook arrive at their first day on the job in style, with just the essentials.
Your grad may be through with culinary school, but as in so many industries, there's still plenty of on-the-job learning to come. They'll want to bring a durable notebook to work for recording recipes, techniques, and other nuggets of kitchen wisdom.
While it may not be the most exciting gift, a box of Sharpies is always helpful in a professional kitchen. The waterproof, nontoxic markers are absolutely necessary for labeling and dating pantry staples, freezer ingredients, and leftover mise en place.
Coffee breaks are few and far between in bustling kitchens, and restaurant folks often need to take their caffeine on the job. A reusable mug with a spill-resistant lid will help prevent messes from slowing down service.
Cuts and burns are an inevitability in restaurant life. While responsible chefs will keep a medicine cabinet stocked, it never hurts for staff to be prepared as well. Keeping a mini first aid kit in your bag for emergencies is a smart move for cooks of any level.
Restaurant cooks often keep a digital thermometer on hand for cooking meat to temperature, safely cooling stocks and sauces, and for pastry cooks, executing sugar and chocolate work with lab-like precision. Pro tip: when health inspectors stop by unannounced, they love to see cooks sporting these in their coat pockets.
Snazzy chef knives are a point of pride amongst professional chefs, but not every trimming and whittling task requires taking out the big guns. Your culinary school grad will find a few nimble and inexpensive paring knives in their knife roll useful for hulling strawberries, tournéeing potatoes, and slicing strips of zest from citrus.
Which brings us to the fancy chef's knife: Japanese knife brand Korin, another industry favorite, sells excellent blades in a range of price points, most of which come beautifully packaged for gifting. Culinary grads will appreciate a high-quality knife in a stain-resistant, easy-to-sharpen alloy. This one has a symmetrical bevel, so righties and lefties alike will be able to use it comfortably.
While skilled knife sharpening services are increasingly available at kitchen shops and even online, many pros prefer to take care of their arsenal themselves. A two-sided sharpening stone will allow them to do so; this one comes with all the necessary accessories—a nonstick bamboo base, an angle guide, a polishing cloth, and a detailed instructional e-book.
For the Fine-Dining Inclined
This elegant finishing spoon is just the thing for adding a swoop of sauce to a perfectly plated dish. A ribbed and ergonomically balanced handle gives the user increased control during service; the spoon is also available with a perforated bowl for plating solid components.
High-quality, breathable chef pants with a bit of stretch go a long way toward making a new cook feel slick in formal chefwear. This gorgeous, handmade version from Polka Pants is a luxe option for women, while Tilit has great options for both men and women—not to mention a sweet line of jumpsuits.
Fine-dining line cooks use these fussy plating tweezers to artfully arrange delicate components on their dishes. They're great for food styling, too.
Baking and Pastry
For consistency, professional bakers and pastry chefs (and recipe testers) nearly always execute their recipes by weight. Our favorite kitchen scale, this affordable, battery-powered version from OXO, is easy to clean and swaps between metric and imperial weights at the push of a button.
For pastry projects like mixing custards, folding egg whites into cake batter, and gently stirring chocolate into cream for ganache, there is no better tool than a heat-resistant silicone spatula. Most kitchens have a few of these for cooks to share, but it's worth getting your own.
In busy kitchens, tiny metal pastry tips have a tendency to disappear. Send your culinary school grad out into the restaurant world with their very own set of the basics.
Aside from the scale, bread bakers and pastry chefs use bench knives and bowl scrapers most frequently. Both are handy for dividing up dough, scraping the sides of bowls down during mixing, and all manner of cleanup.
Everyone in the kitchen will find a pocket-sized offset spatula useful, but they're more or less indispensable for pastry cooks, who use them for decorating cakes, arranging dainty entremets on serving platters, and smearing butter on toast for a mid-shift snack.