Culture
A Tribute to the Matriarchs of the Lowcountry
A women-led dinner in Charleston celebrates the life-affirming recipes passed down by generations of maternal role models.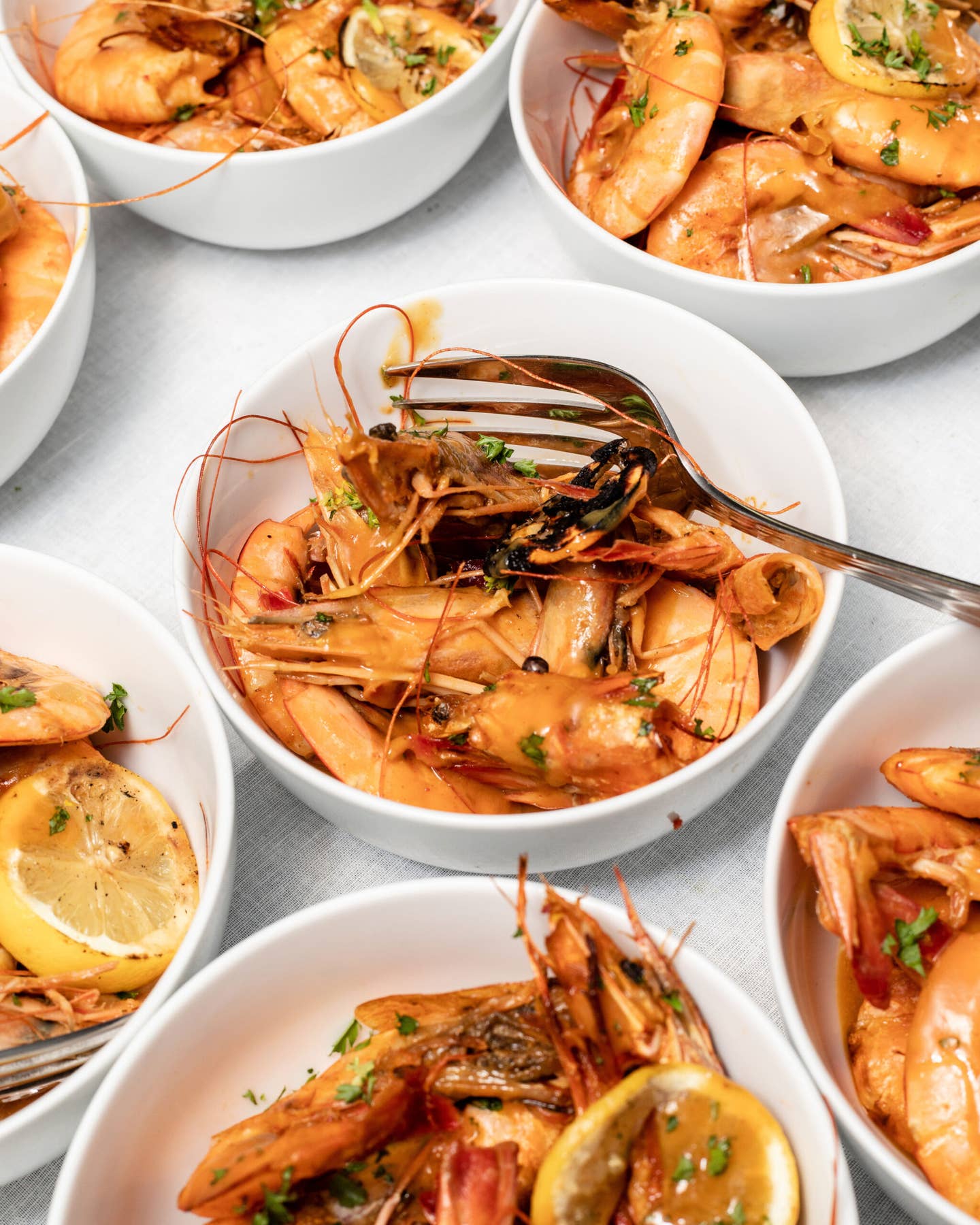 "I spent so much time in my grandmother's kitchen growing up," said Charleston, South Carolina-based chef Amethyst Ganaway. "A lot of it was out of necessity, but I was also a greedy kid. She taught me how to make the 'for real' shrimp-and-grits, and my great-granny Adele's coveted banana pudding from scratch, sitting and stirring the damn custard on the stove."
On a recent spring day during the Charleston Wine + Food Festival, Ganaway stood next to another stove, in a former rice mill overlooking the Ashley River, stirring the roux for brown oyster stew in a commercial-grade stockpot. Around her, an all-female crew of volunteers hustled to chop greens, grill shrimp, whip up cornbread batter, and season quail before a celebration dinner honoring their elders. Local suppliers deposited heritage ingredients on steel prep tables—Sea Island red peas, Peculiar Pig Farm pork chops, Carolina Gold rice, sorghum syrup, loquat jam.
As the afternoon progressed, the beats and laughter amplified, while everyone navigated between hot stations with the grace and ease afforded by old friendships. "Food is a big part of our culture," said Ganaway. "And it hit me hard when Miss Martha Lou [Gadsden] died, and her restaurant closed down. Even before moving back home I noticed the lack of female representation in the Charleston food scene, and this dinner is about giving Black women the respect they deserve at the end of the day."
In the Carolina Lowcountry, the conveyance of culinary traditions is particularly strong in Gullah Geechee communities, where knowledge keepers—some in their late 80s or early 90s—have preserved such canonical dishes as deviled crab, okra soup, chicken bog, and red rice. They are the living links to the foodways of enslaved ancestors, and their cooking skills are intrinsic to one of America's oldest regional cuisines. These women are fondly considered matriarchs. They feed everyone who walks into their kitchens, bring prized pies and layer cakes to church picnics, treat thirsty neighborhood children to ice-cold chilly bears, and teach daughters and granddaughters how to season a dish without measuring spoons.
Perhaps the best known is Emily Meggett, bestselling author of Gullah Geechee Home Cooking: Recipes from the Matriarch of Edisto Island, and a beloved "other mother" to so many. "As you grow up and realize that people are getting older, you look at them differently," said Ganaway. "These ladies are leaving a legacy for their families. And I've been thinking about the legacy my grandmother is leaving for ours." For a cooking culture that has largely passed down techniques orally for most of its history, guardians of Gullah recipes bear great responsibility for passing the torch. (And the kitchen matches.) Ganaway and her young crew represent the generation who will carry it onward.
As guests arrived, the chefs pulled yeast rolls from the oven, gave a final stir to the okra-and-shrimp purloo, and topped Emily Meggett's recipe for sweet potato cake with a swirl of frosting. Ganaway offered last-minute tweaks on the pass. Her intention was to serve each course family-style, in hopes of sparking conversation among strangers at the long tables.
Meanwhile, artist Natalie Daise unveiled her portraits of the mothers being celebrated, including Albertha Grant, founder of Bertha's Kitchen, chef Sara Green of Gullah Grub on St. Helena Island, and cookbook author Sallie Ann Robinson from Daufuskie Island. Embraced by dark green collard leaves, each woman is depicted wearing a brightly patterned kitchen apron and a halo of woven sweetgrass. Then, Meggett, dressed in a matching black suit and bedazzled hat, was seated at the head of one table. (No one knew that night, but it would be the Edisto matriarch's last public appearance. Meggett passed away on April 21.) Ganaway's own grandmother sat beside her. And just before hot platters hit the tablecloth, A$iahMae, Charleston's poet laureate, recited her new poem "Benefaction."
The first time I ever prayed it was at a kitchen table/God bless the
hands that prepared the food/thank you for the love in them/the love
that labors/cradles cheek and ladle/seasons & pinches with senses….

and before we partake/we give/praise be to the
chefs/and praise to the spirit of nourishment that moves through
them that my grandmother named God/and we respect it/by cleaning
our plates.
Plates were certainly cleaned that night.